Trendy Women's Winter Coats
A trendy new winter coat can add a fresh new feel to a tired wardrobe. Sometimes adding one or two new pieces each season can breathe new life into your existing clothing collection. A new winter coat can be worn over numerous items in your closet to create a new look for the season.
Long coats are in, and when done in a sleek style and neutral color like this one, they can be worn with virtually anything.
Faux Fur
This trendy white faux fur coat has all the makings of an amazingly glamorous addition to any wardrobe. The faux fur will keep you warm while you still get to look like you stepped straight off the runway. No frumpy coats here!
Edgy Yet Chic
Look sexy and chic in a black leather coat. Not only is leather a trendy look, but a black coat like this is also a classic winter staple. This coat combines a motorcycle style with a bit of a cropped length. Because of this, all eyes will be on you whenever you wear it. The black leather and metal accents give this coat an edgy look that is perfect for a night on the town or a day of errands.
Lady in Red
Be the center of attention in this red wool coat by Dior. The basic red pea coat is given a trendy update through the fitted bodice and flared bottom. No buttons are visible, which gives this version of a classic a sleeker look.
Tailored Fit
Part cape and part coat, this Balmain creation, worn by Lineisy Montero, will turn heads with its tailored shape and interesting design. It looks great for work or dress and will complement many items in your closet. Its light, neutral shade pairs well with almost any color, but the contrast from black accessories is undeniably striking.
Colorful Twist
Ready to add some serious pizzazz to your winter wardrobe? A blue fur coat, like this one by MONGOL, should do the trick. This short coat will work with anything from jeans to a dress. The color is an eye-catching shade of blue that will complement many of your existing clothing pieces, add color to an otherwise neutral outfit, or even bring out your eyes in some cases.
Fun Alternative
This textured red coat by eNVy ROOM is a bit reminiscent of Little Red Riding Hood, but much more grown up and stylish. This fun piece makes an excellent addition to a winter wardrobe comprised mostly of black and charcoal gray. The long length will shield more of your body from the cold than some of the shorter trendy coats out there.
Fun and Trendy Colors
If red isn't your thing but you'd love to add some unexpected color to your wardrobe, how about mustard yellow? This coat was seen in the Kyiv Fashion 2016 Festival of Vogue. The retro-feel design proves that classy styles don't have to be boring, and that classy and trendy can sometimes go hand in hand.
Minimalist with Fun Details
This coat, seen on the runway during the Moschino show, is a style that anyone could wear, from the average Jane to royalty. It takes the traditional trenchcoat style for a whirl. The A-line flare of this coat would pair beautifully with dresses for work or special events. The light khaki shade ensures that it will go with everything and also flatter most skin tones.
Camel-Colored Leather and Shearling
Shearling is a hot trend, especially when paired with leather in a camel shade. This has an old school vibe, but it's made new again with the low v-neck in the front and details that play up a feminine shape. Wear it with everything from jeans to casual dresses.
Patterned Fur Coat
Fur (faux or real) keeps ladies warm in the winter, so it makes a popular choice when it comes to trendy or traditional coats. This one embraces a new trend by incorporating a patterned look. Stripes and variations in color make this more interesting than the typical fur coat.
Metallic Cropped Bomber Jacket
Metallics are a fabulous trend because they go with everything, complement most skin tones, and are often part of coats that have interesting cuts. This one is a cropped style shown at the Scottsdale Fashion Week in Arizona. The black at the cuffs and collar ground this style, making it less alien and more wearable. As you can see, metallics can be worn with bright colors without looking out of place.
Pretty Pastel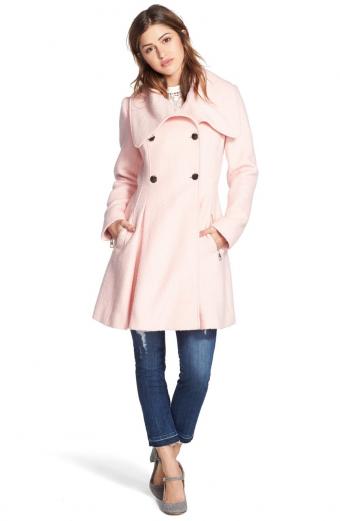 More Details
If you want something unexpected in your new trendy winter coat, this Guess design in pastel pink demonstrates how amazing a pale color can be in a coat. It will stand out among coats in black, charcoal, navy, and even the occasional red or yellow. It's the quieter trendy coat option that may just intrigue you. Wear it on top of all your other favorite fashion trends for fall and winter.