Made popular in the 1950s and 1960s, this little suitcase was an item to be treasured by many children. Using it meant packing for a special night at Grandma's house. Little boys and girls would tuck their pajamas, toothbrush, and a change of clothes into their own small bag. Many baby boomers are in search of this bag for the fond memories it can bring.
Where to Find Going to Grandma Suitcases
Although these suitcases are hard to find, they are also occasionally listed online at auction sites such as eBay and antique sites such as Ruby Lane. Frequently, antique and vintage clothing shops will get on in from time to time, and you can check when shopping flea markets or garage sales, too. To ensure you score one as quickly as possible, contact retailers that specialize in these goods and ask to be notified if one comes available.
Gone Funky
Gone Funky features numerous collectible items, including vintage luggage. The stock changes frequently, so check back often.
Etsy
Etsy is a large community of different shops, many of which carry vintage items. Search all the shops at once with Going to Grandma's luggage for the best results.
Bonanza
Bonanza is a community of shops that features everything from new to handmade and vintage. Search by category or use the keyword for the type of Going to Grandma's luggage you want.
Antique Cove
Antique Cove offers antiques and collectibles from several decades. They frequently carry vintage suitcases of all sizes and styles, including Going to Grandma's luggage styles. You'll need to regularly check for new additions to the offerings.
Types of Going to Grandma's House Suitcases
The most popular colors of a Going to Grandma's house suitcase of the time were red and blue. These adorable overnight travel bags are hard sided with a shiny fabric lining and a latch closure. There are also Going to Grandma suitcases, from the 1970s, that are made from vinyl and are soft sided with a double zipper closure. Each vintage suitcase has a design of a young boy or girl along with the words Going to Grandma's. Below are brief descriptions of several of these vintage children's suitcases:
Boy's Light Blue Option
This light blue suitcase features a picture of smiling young boy wearing a blue and red striped shirt and blue pants. He is carrying a blue suitcase walking down a path with his dog. The white path has bright green grass and yellow flowers on the side and there are fluffy white clouds in the sky.
Boy's Dark Blue Suitcase
Another little boy's going to see grandma's suitcase features a young boy dressed as a train engineer wearing blue and white striped overalls and a blue and white cap. Around his neck is a red neckerchief, and he is holding a red lantern in his hand. Next to him is little locomotive on a track.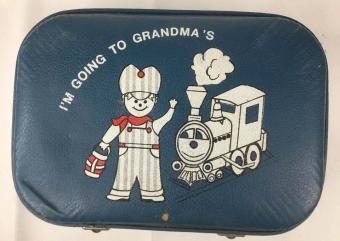 Boy's Blue Soft Side Luggage
Another boy's Going to Grandma's luggage is a soft sided suitcase from the 1970s has a picture of a small boy wearing a blue and white baseball cap, a blue shirt and white jeans. He is holding a teddy bear in his arms.
Girl's Red With Yellow Coat Suitcase
This girl's vintage red suitcase features a picture of a little girl wearing a yellow coat, carrying her teddy bear and a little red suitcase. She is walking in front of a white picket fence.
Girl With Blue Skirt Suitcase
This girl's red suitcase features a young girl wearing a pleated blue skirt and a yellow sweater with a red stripe. She is carrying her schoolbooks and a red lunch box. The girl is walking in front of a white picket fence with green grass and yellow flowers in front of it. There are white clouds in the sky.
Girl With Pigtails Red Suitcase
Another little girl's red suitcase features a little girl with pigtails wearing white pants and a yellow shirt with a yellow bow in her hair. She is standing in front of a white picket fence and playing with her little dog.
Going to Grandma's House Suitcase Sizes
Most of the Going to Grandma's suitcases that are of a vintage era measure 13"x10"x 5". The majority of these suitcases were made by the Mercury luggage company.
Substitutes for Vintage Going to Grandma's Suitcases
The vintage style Going to Grandma's suitcases are sometimes difficult to find. You may decide to substitute with a more current similar suitcase. You can find various designs at Amazon, Miles Kimball with personalization options, and Mercury Luggage for ongoing designs.
Possible Uses of Your Vintage Going to Grandma's Suitcase
Going to Grandma's suitcases are highly sought after by collectors and decorators. They make lovely display pieces and are often used as a decorative accessory in a child's room. Many women, young and old alike, enjoy using this novelty suitcase as a make-up case or as a special handbag for a night on the town. It is also a great place to store small items or to use as a sewing box. Some people that are good at crafts have even turned these little suitcases into unique cases to carry their laptops.
Create Some New Memories With Going to Grandma's Luggage
Whether you want to score one of these suitcases for yourself, or your grandchild, there is no denying that vintage suitcases have a special appeal. From the colors to the history, a vintage Going to Grandma's suitcase will add a little charm to your life.