Whether it's with a tank top and skirt or a winter coat and hat, there are many ways to wear a scarf. The best part about this cold and warm weather accessory is that it is so versatile and can add a bit of visual interest to even the simplest outfits.
Cool Weather Wear
Here is a great example of a long scarf paired with a lighter coat during the cool fall and spring months. In this example, the woman has simply wrapped the scarf around her neck and pulled the ends forward to drape over her body.
Shorter Scarves
A great way to wear a scarf without wrapping it directly around your neck is this sort of faux knot. Simply fold the scarf in half, wrap it around the back of your neck bringing the folded loop and the loose ends forward. Then, pull the loose ends through the loop and you're ready to go!
Handkerchief Scarves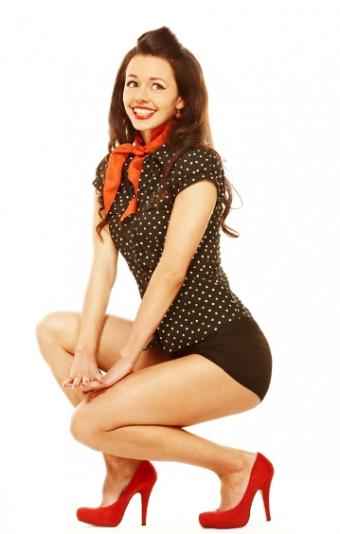 Some women's scarves are small, similar to handkerchiefs and made to be worn strictly as accessories. In this example, the woman adds a pop of color to her brown outfit by wrapping the scarf around her neck and loosely tying two simple knots.
Cold Weather Accessory
One of the simplest ways to wear a scarf is by wrapping it around either around the collar of your coat or around your neck and allowing the ends to fall loosely on the front of your body.
Silk Scarves
To accessorize her outfit, this woman loosely wraps the scarf around her neck and allows the ends to fall free in front.
Keeping Warm
If your goal is to keep warm, grab a long scarf and wrap it around your chin and face, then pull the ends to the front of your body, like the woman in this chilly weather example.
Warm Weather Accessory
Many women pair scarves with tank tops, like in the woman in this example, as accessories rather wearing a necklace.
Head Scarves
Wearing a headscarf takes the bulk away of cold weather gear because it is two accessories in one.
Wide Scarves
Have a great wide scarf you want to wear but can't quite figure out how to pull it off? Show off the beauty of a wide scarf by draping it over your shoulders like this woman.
If you experiment in the mirror with your scarf a bit, you will find there are many ways to wear a scarf.