Expand Your Wardrobe
Sport coats are a versatile wardrobe option for men. Coats are available in modern and classic styles in colors ranging from light to dark and fabrics ranging from lightweight linen to heavy tweed. You can easily dress your look up or down depending on what jacket you select and what you choose to pair it with.
Casual Professional Look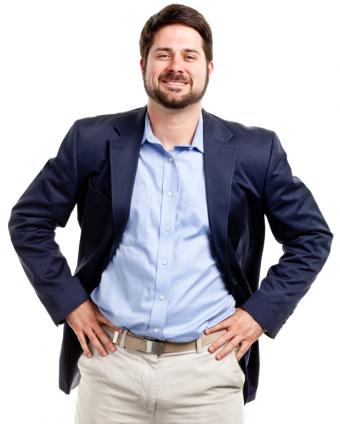 Khakis, a light blue solid color shirt and a dark blue sport coat make a great combination for offices where ties aren't required but jeans are just a bit too casual.
Khaki Jacket with Dark Slacks
Khaki isn't just for trousers. For a classic, timeless look, pair a khaki jacket with a light blue solid color shirt and navy slacks. This looks great any time of year for any occasion where a full suit is not required.
Two Stripes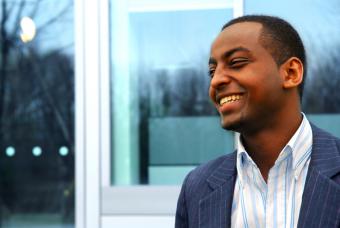 While you shouldn't go overboard with mixing patterns, pairing a pinstriped sports coat with a shirt featuring thin stripes in coordinating shades can be quite attractive. If you decide to add a tie to this look, go for a solid color that matches the dark color in the jacket.
Dress Up a Nice T-Shirt
You don't have to stick with collared shirts to look great in a sport coat. This nice t-shirt looks great paired with a lightly patterned wool sport coat. The look works because the shirt is in great shape and made from quality fabric, and the color blends with one of the shades in the pattern of the jacket.
Henley Shirt
A henley-style shirt can also be an appropriate collarless choice to pair with your favorite sport coat. Look for one that is good quality and in a color that coordinates with the sport coat you will wear it with.
Gray with Plaid
If you're looking for a dressed up look that isn't quite as formal as a dark business suit, wear a gray sport coat with a plaid shirt and solid color tie in a coordinating shade. This look is perfect for spring or summer special occasions, as well as offices where ties are the norm.
Brown and Khaki with Denim
Pairing a khaki twill sport coat with a brown tie and coordinating shirt with a great pair of jeans and a brown belt is a terrific fall look that's casual and comfortable.
Casual Chic
Pair a simple white shirt, jeans and a leather belt with a dark sport coat for a chic, casual look. This is perfect for a business casual workplace or a casual dinner party.
Staying Warm
When the temperatures turn chilly, pairing a sweater with a sport coat and jeans can be a great casual look, especially when the jacket and sweater are the same color. The untucked shirt with this ensemble adds to its informal appeal, making it a great choice for weekends, vacations and causal outings with friends.
Coordinating Argyle
You don't have to stick with a monochromatic look to pair a sweater with a sport jacket. Consider selecting an argyle sweater to go with your favorite cool weather sport coat. Choose a sweater with a block of color that matches the jacket.
Turtleneck Style
Wearing a turtleneck with a winter weight sport coat, such as one made from corduroy or tweed, is a great way to keep warm while looking stylish during the winter.
Modern Tweed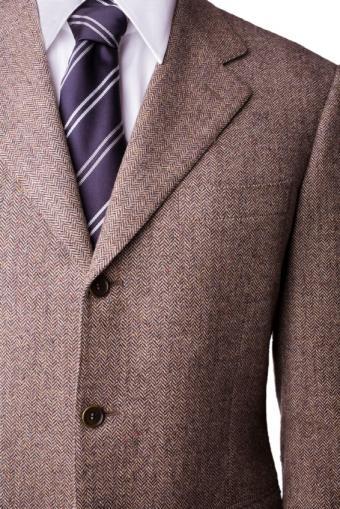 A modern tweed sport coat looks terrific with a white dress shirt and striped tie in a contrasting shade. Pair this combination with brown or khaki slacks for a sophisticated look.
Dressed Up and Preppy
Pairing a pink striped shirt and matching solid color textured tie with a casual navy blazer is a great way to achieve a preppy yet dressed-up look for spring or summer. This look is appropriate for many business settings, as well as social events and outdoor activities like weddings, yachting events, polo matches and more.
Dapper Bow Tie
A great way to look dapper is to pair a bow tie and dress shirt with your favorite sport coat. Opt for a tone-on-tone look like the one pictured here, or go for an interesting bow tie design that complements both your shirt and jacket.
Trendy Sport Coat Look
If you're heading out for a night on the town and you want to look trendy, consider a monochromatic look featuring a stylish sport coat, fitted dress shirt, suspenders and modern-cut slacks. This look is terrific for gallery openings, party-going and more.
So Many Choices
With so many choices, it's easy to see how you can wear a sport coat for just about any occasion. Be sure that your sport coats fit properly, then dress them up or down with different types of shirts and accessories as appropriate for the occasion.
Whether you're going casual in jeans or dressing up for a professional or social occasion, you're sure to look terrific!