Have you ever fallen in love with a purse, but then decided against it because it was the wrong size? Maybe you bought that handbag on sale, but later decided you hate the color, so it just sits in your closet? Either way, there are many reasons to go bespoke. Below are some retailers that offer quality custom bags and details about how to design your own.
DIZAIND
Hailing from Switzerland, Dizaind is a custom handbag company established in 2014. Created by a woman who couldn't find quality handbags to match her shoes, she knew that she was onto something. Things you should know about buying your custom bag through Dizaind:
Pricing and Design
Prices start at roughly $250 and can go up to around $500. You can create a bag online using the company's special 3D design tool, including its style, exterior and interior colors, straps, handles, accessories, and materials. Dizaind will also let you sample eight of its leathers for only $20. This way you can be sure you love the color. They also recently released a new feature - the Monogram Option in 3D. Now not only are their bags are custom made, but also personalized just for you as well.
Shipping and Returns
Shipping is free on all orders, and you can pay for your purse with PayPal for that added amount of online security. Once your order is placed it will take about four weeks to reach your doorstep.
Although your bag is a one-of-a-kind item, if you hate it, you can still send it back within 30 days with all tags attached, and a full refund will be credited back to your credit card (or you also have the option to remake your bag).
Popular Dizaind's Bags
The Amy: Starting at just under $265, this saddle bag is the epitome of sleek and sophisticated. There are three different options with this bag - Classic Silhouette, Classy Meets Modern, and Back to the Future. The image below shows the Classic version, done in a romantic pink, red and black with silver hardware that would be perfect for date night.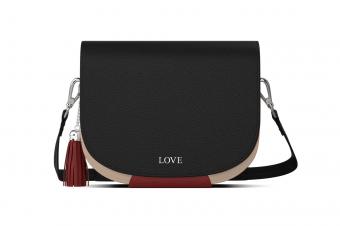 The Cindy Classy & Jazzy: Coming in the form of a satchel bag, this top handle also comes with a shoulder strap. You can get the Cindy in four different versions - Modern Yet Ladylike, Glamorous Modernity, Classy and Jazzy, or Geek Chic. Pictured here is an example of the Cindy Glamorous Modernity style. Brown and beige colors with a pop of bright yellow adorn the outside of this customization while its hardware is gold colored to tie everything together. This is a great office bag and will pair well with any outfit. Pricing for the Cindy bags starts at about $315.
MON PURSE
Mon Purse handcrafts your bag in Europe, so you can get that nice Italian purse without having to travel overseas. Sign up for their emails and receive 10 percent off of your purchase. These award-winning purses have been seen in Vogue, Elle, Vanity Fair, Bazaar, and The New York Times.
Cost and Customization
When buying from Mon Purse, expect to spend about $500 (that's what the average customized bag costs from this retailer). You can create your own design online with their 3D imaging tool. Select your bag style from many gorgeous designs, including shopper, bucket, tote, bowler, crossbody, clutch, and other styles. You can also choose to add your monogram, initials, or other special touch. Personally choose your lining, leather, hardwares, etc. The design process can be done in five simple steps on the website.
Delivery and Quality Guarantee
Shipping is free over $150, or about $8 for orders under that for U.S. and Canadian customers. You can expect your custom Mon Purse to arrive in four to six weeks. However, one con is that you cannot return a customized or monogrammed item from this retailer if you decide you don't like it. If there is a problem with the quality in the manufacturing of the purse, you can contact Mon Purse withing one year of your original order.
Examples of Mon Purse's Bags
Top Handle Bag: This bag is a work of art on your shoulder and starts at about $580. This top handle purse also comes with a full length strap for convenience, and the customization shown below features smooth two different leather textures in a gorgeous red tone with gold hardware.
Bowler Bag: This is a classic-looking bag style that starts at around $430 for the Mini Version and $550 for the Classic. Shown here is a Classic customized with burgundy, cream, bronze, and floral print leathers. Its inside is lined in a pretty pale pink and its hardware is made of rose gold metals. Tote this bowler bag around with you everywhere during the spring and summer months.
LAUDI VIDNI
Founded by two Harvard graduates, Laudi Vidni is here to make you the bag of your dreams. Laudi Vidni also hosts events where you can purchase and bond over your love of bags such as corporate events, birthday bashes, bridal parties, etc. When buying your custom purse from Laudi Vidni you will get $25 off with email sign up.
Cost and Design Process
Laudi Vidni has an enormous selection of options to choose from in terms of purse types and sizes. Expect to pay about $400 for your purse, however, prices can go upwards of $900. You can request up to five swatches to be mailed to you for free, which can make it easier to select your preferred materials.
Price and Creation
With Laudi Vidni you can easily create your purse online. They make it easy with a simple three step process: choose your leather, leather, and hardware with their easy-to-use customization tool. Depending on the type of bag style, you may have the option of choosing materials for things like center panels or side stripes, trim, the back of the bag, straps or handles, and more. All products are made in the US.
Shipping and Satisfaction Guarantee
Allow three to five weeks to receive your custom bag. Shipping over $150 is free, or $15 per bag under that cost in the U.S. The company also offers a 'You'll Love It Guarantee.' According to guarantee, they want you to have a worry-free bag you'll truly love. If you don't love it, they'll take it back with no questions asked. Return your bag within seven days for a refund or exchange.
Laudi Vidni's Purse Styles
Andante Satchel: Very stylish, yet professional, the Andante is starts at around $225 and would make a great work bag. The linked satchel customization features smooth grain leather in the color storm for its body, with leopard-print sides, black handles, and gold hardware. You could also reverse this look and use leopard for the body as shown below. A style like this is a great way to show your personality through your purse.
Mini Brio Bucket Bag: Small and stunning, this crossbody bag is chic and starts out at about $425. The linked design shows this mini bucket bag with supple neutral tones of leather for its body and straps and silver hardware. The only con with this bag is that it is hard to properly envision the colors. Laudi's white color doesn't show as true white, and you cannot tell that oxblood red has been chosen from the strap. As shown below, you can choose from a range of colors to suit your style, from simple neutrals to bright shades and prints.
SOBO FASHION
Bags from SOBO FASHION are fashion forward and unique. The body of this customizable bag is made from EVA, which is like a rubber foam. EVA is environmentally friendly, waterproof, lightweight, flexible, and soft to the touch. Follow their Twitter account for up-to-date news on their hottest styles and where they have been featured.
Style Selection and Price
When designing your bag with SOBO FASHION, there is only one shape and body to this bag: it is 16" long, 12.5" tall, and 5" wide. There are 12 different colors and over a dozen different handles to choose from. Some are classic and simple while some are more trendy, so there is something for any woman's style.
If you would like trim, you can choose from a variety of colors and options in alcantara (a suede-like material), velvet, or vegan faux-fur trim. Your customized bag will cost you around $150. Sobo's bags are less expensive than other brands because of the materials they use. However, that does not mean that they skimp on quality.
Shipping and Warranty
Shipping is free on orders over $150, and about $15 otherwise. Bags and small leather goods are protected from defects and craftsmanship and materials for six months from the date of purchase.
Looks in Sobo Fashion's Bags
Nautical Vibes: Because of Sobo's EVA material, these bags make excellent beach bags. This nautical bag has a white body, blue alcantara trim, and white rope handles. You can expect to pay about $150 for this piece.
Edgy Vibes: For the fashionista, people will definitely notice this custom bag. This stylish bag is seen in Sobo's "iced coffee" color, complete with chain handle made with vegan leather. This one costs about $125 with shipping.
BAGS OF LOVE
Bags Of Love (BOL) let's you customize your handbag with images. These can be images you found on the internet or your own personal photos. BOL's bags are all made of high quality Italian materials and your image will be flawlessly printed onto your new bag. They have so many trusted reviews on many websites, so you can shop with confidence.
What You Can Expect
Customizing your bag is done all online, and there are two sizes to choose from; small and large. The size small is 11.2 x 8.2 x 2.6 inches, and the size large is 15.2 x 11 x 3.4 inches. Prices start at about $130.
You have four colors to chose for your handbag: soft pink, black, pale blue, and ivory beige; and you can choose between Italian nappa leather or soft sheen patent vinyl for your bag's trim. Your image of choice will be printed on satin and it is 100 percent permanent. The same, or a different image, can be printed on the other side of your purse, if you like.
Shipping and Guarantee
Shipping is $10 and you cannot return your customized piece. You can expect a quick turnaround of one to two days with this retailer. Bags Of Love offers also offers a ten-year guarantee.
Examples of BOL's Bags
Because BOL's bags are all super personal, here are some previous buyer's bags for inspiration:
The Large Family Bag: This cute tote bag has beige for the trim color and leather for the finish. Here it is pictured in the larger size and it's perfect for everyday wear. This is a really sentimental option, featuring a bunch of family photos on its front, it will make a nice gift for relatives that live far away. It is priced at about $200.
Happy Mother's Day Small Tote: The perfect Mother's Day gift, this bag is featured in the smaller size and it has black patent vinyl for the trim. If you don't have a ton of images, this is a chic idea. This bag will cost you around $130. If you are pet-obsessed, many people have gotten this tote with their cat or dog's picture on the front.
Tips for Going Custom
Although you already know that you want to create an original, you may want some tips when embarking on your search for a custom bag for inspiration and guidance:
If you have a ton of black bags, go bold and really let your imagination run wild. This is a totally custom bag, don't be scared to let it reflect that.
If you are more conservative and don't favor colors, maybe you want to go bolder with your hardware choices.
Think about monogramming. It's a nice touch and easily makes your bag look more expensive and posh.
If you're someone who likes to match their purse to their shoes, by going custom you will be able to get that perfect match.
Advantages of Made-to-Order Bags
Chances are that if you are looking to purchase a custom handbag you already know that your bag is going to be special. Bespoke handbags often take time, and they are not cheap, nor should they be. They reflect your design ideas and you'll want them done in a quality fashion. Advantages of made-to-order bags include the following:
They are works of art, your creations, and they have not been sitting on some department store shelve collecting dust.
These are one-of-a-kind never tried on bags. You will receive your bag in pristine condition, with no wear and tear from handling.
You can guarantee that your bag is unique, and you won't see other woman carrying it.
Your customized bag will take you from season to season and not go out of style like the latest designer "it" bags.
Be Your Own Designer
Even if just this once, you can fully take on the role of a designer. Everything from top to bottom, inside and out, is your design. You have complete say in how you want your bag to look. Treasure your bag and you will have it for years to come. Bespoke handbags are almost always handcrafted with the finest leathers and materials, so even though may take a bit more time, they can be worth the wait.