Chic and Sexy Women in Overalls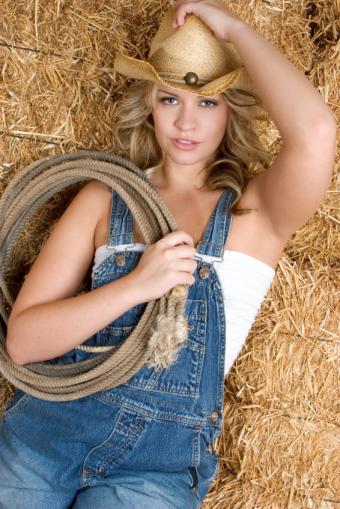 Women in overalls aren't just a trend from the '90s, nor are they just the work-ready staples many have come to love for yardwork, farming, and manual labor. Designers continue to manipulate this clothing item, creating looks that are innovative takes on the overall.
Whether it's a classic pair of denim overalls, or a glitzy couture overall dress, these pictures of women in overalls show that overalls can be not only casual and comfortable -- but chic and sexy, too.
Slim and Skinny Overalls
One of the innovations designers have taken when it comes to ladies overalls is slimming this typically bulky style down.
Slim-cut overall fronts and skinny, legging like trousers have taken the place of oversize, shapeless overalls.
Glam Women's Overalls
Another hot new take on ladies' overalls is the glammed-up couture version. This bright turquoise overall by Jean-Paul Gaultier may not be practical for working outdoors, but is sure to catch a few eyes.
Sexy Shiny Overalls
These women's overalls were overhauled with shiny silver fabric, making them a sexy and unique alternative to a cocktail dress.
Edgy Rocker-Chic Overalls
Overalls go from country to city-chic in this edgy, strapless rocker-chic version. The acid washed denim gives a nod to '90s style while still achieving a modern edge.
Dressy Women's Overalls
Overalls are known for comfort, and this loose-fitting, breezy overall exudes elegance in a comfortable, feminine, design.
Funky Overall Dress
The ease of shrugging on a pair of overalls extends to this unique asymmetrical overall-inspired dress by Vivienne Westwood.
The professional-looking dress fabric is contrasted by the original design and creates a fun, funky look.
Modernizing Classic Overalls
If you love the look and comfort of classic denim overalls, you're not alone.
The strappy wedge heels, bright red blouse, and classic denim overall shorts in this photo are a great example of how to update your overalls. To update your own overall look, pair overalls with a trendy, bright colored shirt or blouse, and a pair of cute wedge or chunky heeled shoes.
Overalls: Casual, Comfy, Sexy
No matter how you wear your overalls, from classic to couture, they offer a unique combination of ruggedness and sex appeal - they can even be a comfy, sexy outfit all alone.