Bomber Jacket Styles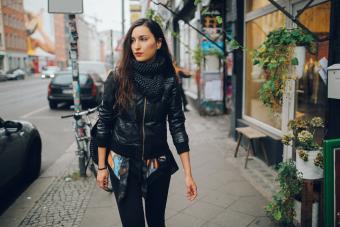 Bomber jackets come in a shockingly wide variety of styles. The first type that comes to mind may be a simple brown leather jacket but you can find them in almost any color. Grab one in knit, an off-the-shoulder style, floral print, camo, or even one with ruffles. These make a great standby choice for any casual outfit. When you see something you like in the following slides, simply click on the 'More Details' or 'Buy Now' link at the top of the image to find shopping information.
Red Boyfriend Bomber
Buy Now
How about a splash of red to brighten up your casual outfit? This one has a vintage feel and just enough embroidery to keep things interesting without disturbing the jacket's overall laid-back vibe. Wear it with jeans and a tee or pop it on top of a black and white outfit to spice things up. It's available in sizes Small through XX-Large for about $20.00.
Mixed Media Bomber
More Details
This bomber uses different fabrics inspired by color-blocking to create visual interest and it's available in four colors. Wear it with your favorite jeans and t-shirt or throw it on top of a summer dress on the cooler days that remind you fall is just around the corner. It can even be dressed down with workout leggings and a tank. Get it for about $30.00 in XS through XXL.
The Sexy Bomber Jacket
More Details
There's nothing shy or boring about this off-the-shoulder bomber jacket style with embroidery. You get the unusual style, color-blocking in flattering pink and black, retro stripes, material with sheen, plus the parrots that make it a striking choice. Who says casual or athletic-inspired apparel can't be sexy? It's only a little over $20.00 and available in sizes XS to Large.
Gray Bomber
More Details
This isn't your average bomber jacket. The soft rayon jacket has, at first glance, a similar appearance to a cardigan or tweed jacket. The gray and white color scheme will ensure that this option works with a lot of the cool-toned outfits in your closet, but it's also available in solid black and a more dramatic black and white print. It can easily be dressed up with a skirt and some jewelry, though you can always wear it with jeans and your top of choice, too. Expect to pay less than $50.00. Get it in sizes two through 16.
Flowers and Athletic Style
More Details
Here's a feminine print paired with an athletic design that's sure to please women who like to mix different styles. Pair this one up with a skirt or an old pair of blue jeans for a contrast. Sneakers or heels will complement this one, even with the jeans. It's also available in solid black. Expect to pay around $40.00. Sizes range from two to 16.
Faux Shearling Bomber
More Details
Love neutrals with a twist? This faux shearling bomber jacket from Levi's won't disappoint you. Get it in black or camel in sizes X-Small to X-Large for around $150.00. This cozy piece will make the perfect travel companion, but you can also wear it anytime. Pair it up with a skirt and boots of any height, or rock jeans and sneakers with it.
Cool and Classy
More Details
For a style that is a great combination of classy yet cool and casual, you may want to consider the MICHAEL by Michael Kors bomber. This one is available in a versatile navy shade with slightly darker navy ribbed hem and cuffs. It has a streamlined yet slightly slouchy style that would work well with dark skinny jeans and a simple white tee. A standout feature of this design is the ruched back, which lends a feminine touch to the structure of the jacket. It retails for about $150 in sizes XS through XL.
Camo Bomber
More Details
Love the look of camo? This satin bomber adds sheen to the traditional olive green camo to make the jacket stand out without veering into brights territory. Get it in X-Small to Large for less than $50.00 and then pair it up with a neutral-toned pencil skirt and wedge heels or a well-worn pair of blue jeans (with boots, of course).
Satin Bomber
More Details
At first glance, this looks like your typical bomber jacket. The quilted sleeves give it a bit of extra visual interest, though, and the color options (Vintage Palm and Vintage Navy) get this jacket one step closer to must-have territory. It can easily be dressed up or down, worn with leggings and a tunic or paired with a dress or romper. Expect to pay just under $100.00 for this one. It's available in sizes XS to XXL.
Shrunken Leather Jacket
More Details
When it comes to jackets, do you prefer classic styles in colors that work with almost anything in your wardrobe? The Shrunken Leather Bomber Jacket from HINGE (around $300.00) is just that. It manages to be athletic, classy, and versatile all at one time. Wear it with anything from jeans and a t-shirt to a casual skirt and top. Get it in Beige Morn or Brown Coffee.
See-Through Style
More Details
Jackets don't always have to provide a lot of warmth; sometimes they're all for aesthetics, like this sheer chiffon bomber jacket (under $20.00). It won't do much to stop the wind or rain, but it adds a cool layer when it's still hot outside. Pair it up with a crop top, as shown here, for a little extra coverage when you want it, or wear it with a full-length tank or cami, jeans, and heels. The sheer fabric and cold weather jacket style is an unexpected combination that can be romantic or edgy.
Simple Black Bomber Jacket
More Details
Sometimes classics are the best - or at least the type you want to start a collection with. This one sits right at the hip the way traditional bomber jackets do, and it's available in black, black moss (a sage shade), and plum pie for around $90.00. Any of these colors would be versatile thanks to the understated style. Dress one up or down with anything from jeans that look straight from the 90s grunge era to a cute A-line dress. Sizes available range from XS to XXL.
Whatever type of bomber jacket you choose, it will probably become one of your go-to items in the fall, maybe winter, and then again in the spring. With all the different choices available, it's easy to spice up your outerwear collection with a stylish new bomber jacket.