Women's Fur Coat Trends
When it comes to braving the freezing temps and blizzards of the winter months, fiercely enduring the elements in a fur is the quintessential luxury statement. Whether you want to make a statement that is full of timeless glamour or a more modern look, many of the latest fur trends are surely head-turners.
Click on the More Details link at the top of each slide to purchase.
Full-Figure Fur Coats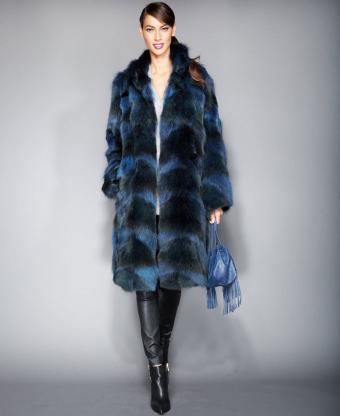 More Details
Plus size women looking for their ideal fur coat should avoid design silhouettes that will make them look bulky. This coyote fur coat from The Fur Vault at Macy's (about $1200) is a slimming shape that can balance one's curves. The teal hue within the coat adds a hint of personality. A vibrant coat as such would be great with a sweater and black leather pants with ankle boots or a black sheath dress and pumps.
Classic Fur Coat
More Details
Although many of the latest fur trends are in show-stopping hues and have updated design elements, this classic Fox Trimmed Mink Maxi coat, available at Macy's Fur Vault (approximately $6500) is ideal for the posh fashionista. The outfit options that can be worn with this coat are limitless, ranging from a winter white pantsuit to a bold dress, such as one with black and white print or in a bright hue.
Fur for the Fashion-Forward Woman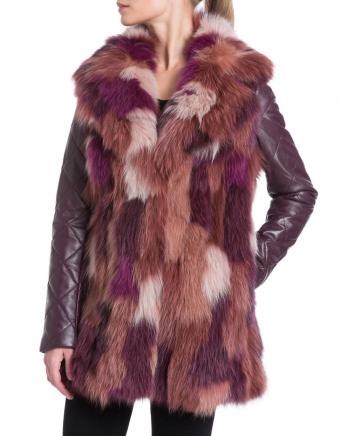 More Details
The fashion-forward woman who's got her finger on the pulse of style and has a love for vintage-inspired finds will love the Badgley Mischka Marmalade Patchwork Fox Fur and Leather Coat (approximately $900). The subtle patchwork hues offer nostalgic glam at its best. A pair of sleek black pants or solid black bodycon midi dress with high heels adds just the right balance for a bold coat such as this.
Edgy Glam Fur
More Details
Those who march to their own style drum require a fur coat that is slightly offbeat. The funky, edgy fashionista with rocking style will love a wildcard in her wardrobe that resonates with her. The Linda Richards Leopard Print Goat Fur Coat (about $2000, available in sizes S through L) is subtly wild with character that can be worn with a variety of looks, from a rugged pair of jeans and a shirt to a black minidress and over-the-knee boots.
Classic Fur Coat for Dressing Up or Down
More Details
A classic fashionable woman who wants options doesn't have to compromise when it comes to the latest fur coat trends. The Rabbit Fur Peacoat by Trilogy (approximately $1400 and comes in sizes M through XL) gives a woman style goals galore because it can be worn with any look and for just about any occasion. Whether a woman wants a coat that can take her dressed down with a pair of skinny jeans or dressed up with a pencil skirt, a blouse and pumps, this coat offers endless style mileage.
Fur for the Petite Woman
More Details
If you are a petite woman who has long desired owning a fur, but thought that your body frame would be overwhelmed, there is a style for you. The Natural Fox Fur Jacket available at Lord & Taylor (about $3600) hits above the hips and is designed with a round neck, making this design one that is flattering for petites. Whether you want to wear with black skinny jeans, shoe boots and a sweater, a fun patterned print dress, or your favorite little black dress, this coat will add character to your look.
Versatile Belted White Fur
More Details
A coat that will work seamlessly with a wedding gown is the Maximilian Furs Grooved Sheared Mink & Long Hair Mink fur coat (approximately $5600, available in sizes XS through L). Whether your dream gown is made of lace or satin, off-the-shoulders or long sleeves, this long hair mink fur would be beautiful with your bejeweled accessories and will work well with many wedding gown silhouettes.
A classy belted fur coat like this can also be worn with a wide range of other items, including dressy looks and jeans, making a look that is extremely versatile.
Girl's Night Out Fur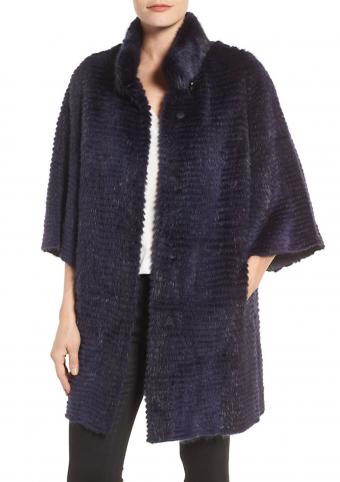 More Details
Wearing a fur coat should not imply posh stuffiness. In fact, women who love to let their hair down and have fun on the town should be advised that there is a fur coat for them. The Linda Richards Mink Fur (approximately $2500, available in indigo and black, sizes S to L) is a sleek coat bursting with style that would pair perfectly with fitted pants and a top as well as a slinky satin slip dress and strappy heels.
The Perfect Winter White Fur
More Details
For women who love nothing more but wearing a winter white coat, the Lamarque Hisa Mongolian Shearling (about $1100) is a classic fur find. The collarless winter white fur stops above the hip and is perfect whether you are petite or tall. Whether a woman wants a coat that can dress up her jeans or make a pencil skirt and ankle boots sizzle, this coat offers endless style mileage.
Fur for a Taller Woman
More Details
Women who are tall and lean can wear a fur coat that has body without it appearing bulky on their figure. One such style is the Rabbit Fur Coat from CO, which is designed with flap front pockets, made of 100% natural rabbit fur, and stops mid-thigh. The fur coat style can be worn with a simple casual pant and sweater outfit or funky printed dress and knee boots. It is about $2800 and comes in sizes M and L.
Although fur coats are among the most glamorous statements that can be made in outerwear, owning one that can be a practical addition to any wardrobe is a wise investment. While shopping for a fur, take into account your body shape, and personal style preference. Whether it's an avante garde style or a classic look, a fur has a place in your closet.