Shopping for Women's Rain Jackets
When the fall season hits, it brings with it a mix of weather, including rain. A trustworthy, hard-wearing rain jacket is a staple in any woman's wardrobe, but with so many choices, it's easy to feel a little overwhelmed when shopping for the right one for you. The key is to choose a rain jacket that not only suits your body shape, but also fits your lifestyle and complements your skin tone. Check out this gallery to explore the different types of rain jackets currently available on the shopping scene.
For details about purchasing any of the items, click on the 'More Details' or 'Buy Now' link at the top of each page.
Tunic-Length Rain Jackets
More Details
If you're a tall gal with long legs, tunic-length rain jackets are a good way to go as they balance out your top and bottom half. They're also very flattering on pear or hourglass shapes as they slim down the hips.
This Joules Coast Waterproof Jacket is available in sizes 2-16 for about $140. It comes in five different colors: Antique Gold, Berry, French Navy, Red, and Silver. The Antique Gold hue is enough to brighten any miserable, rainy day, and has storm flaps on the shoulders and a protective hood. Team it with a dress, boots, and a smile for a smart casual occasion and you're guaranteed to make a serious style statement.
Pullover Rain Jackets
Buy Now
Pullover-style rain jackets tend to be a little oversized, as well as sit on the hip, so are better suited to petite body shapes. To flatter wider hips, opt for a more fitted pullover style.
This Charles River Front Pocket Pullover from Amazon comes in a range of colors, from classic to seasonal. The price ranges from approximately $30-$40 depending on your size (S-XXL). This rain jacket is designed to be a "boyfriend" fit, so the retailer suggests buying a size smaller than your usual size. The exterior is crafted from RiverTec Nylon, which is wind and water resistant, and makes it practical for stormy weather. The maroon hue adds a touch of fashion to the jacket, and makes any casual outfit look fabulous when thrown on with jeans and sneakers.
Lightweight Rain Jackets
More Details
Lightweight rain jackets are a great style choice no matter what your size. The fact that there's less material makes them slimming on any body shape, but they look particularly flattering on more curvy gals.
Currently around $40, this Columbia Switchback II Jacket is available in XS-XL in five colors: Dynasty, Hot Coral, Stone Blue, White, and Black. There are also plus sizes available. This rain jacket is the ideal transitional piece in between seasons, as it's designed to fair all weathers. As well as being waterproof, the fabric is stain repellent and has a stow-away hood just in case of quick showers. It's perfect for travel and outdoor activities, as you can pack it into the hand pocket, and also looks stylish when combined with other sportswear.
Transparent Rain Jackets
Buy Now
Not for the faint-hearted, transparent rain jackets are currently a major trend for more fashion-conscious ladies. If you're a tall gal, this one's for you, as these types of rain jackets are often oversized and reach the knee in length.
At around $15, this QZUnique Hooded EVA Frosted Transparent Raincoat is distinctive in design. Proving you can still look fabulous and feminine on rainy days, it has pink piped edges and is also made from an environmentally friendly, waterproof, matte material called EVA. In addition to the pink piped edges, you can buy this raincoat with black, blue, or green piped edges in sizes L-XXL. The fact that it's waterproof, lightweight, and easily packable for travel and outdoor activities makes this raincoat a functional, as well as fashionable, option.
Fitted Rain Jackets
Buy Now
Fitted rain jackets are flattering on practically every body type, especially curvy gals, as they eliminate any excess material that might make you look bigger than what you actually are.
This North Face Resolve 2 Waterproof Packable Rain Jacket is around $65 - $80 (depending on size and color). It comes in approximately 30 gorgeous colors - including great shades like Amparo Blue, Golden Haze, Lavender Blue, and TNF White - as well as the rich Sequoia Red shown here. This rain jacket is available in sizes XS-XXL; however, 100% of the reviews on the website say that it runs small, so make sure you buy a size larger than your usual size. Pretty and stylish, this packable jacket is also windproof and waterproof, making it ideal for days spent hiking or camping.
Printed Rain Jackets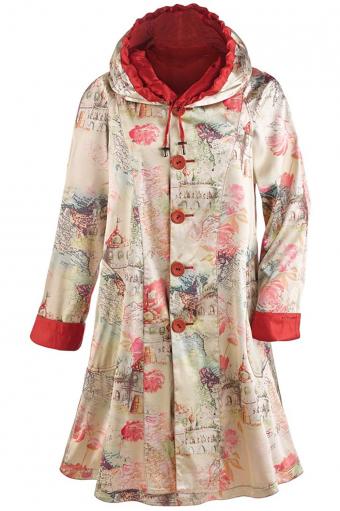 Buy Now
Printed rain jackets look great on body shapes with wider hips, such as pear, apple, and hourglass figures, as the print distracts away from any unflattering lumps and bumps.
This printed rain jacket, by Catalog Classics and available on Amazon, is a bright, colorful alternative to other drab raincoat options on the market at the moment. Available in a sizes medium through 2X for about $165 - $175, it is a classy style that comes with a hood, buttons down the front, and has beautiful finished seams. Its water-resistant poly-spandex construction will keep you dry during rain showers. Its floral and scenic print pops against a dreary, gray sky and will make you stand out in a crowd for all the right reasons. An added bonus is that it reverses to a solid red when you're in the mood for a single color.
Drawstring Waist Rain Jackets
More Details
Rain jackets that have a drawstring around the middle are extremely slimming if you have wider hips as they specifically define and draw attention to the waist.
At around $155, this Hunter Original Vinyl Smock jacket is made from translucent, matte vinyl and has a drawstring hem and hood, as well as waist. It's available in sizes XS and L in a range of colors which consist of: Navy, Military Red, Pale Blue, White, and Yellow. Lightweight with underarm ventilation that's breathable, this rain jacket is a perfect transitional piece to take you through the fall season and help you stay dry during those rainy days.
A-Line Rain Jackets
More Details
A-line rain jackets are better suited to pear shapes, as they define the waist and follow the natural lines of the figure. A-lines can also be used to add shape to straight or athletic body types due to its wider hem at the bottom.
This Cole Haan Signature Tonal Stitched Rain Jacket comes in sizes XS-XL at a price of around $180. Its dark indigo hue is flattering on any body type, and it also has front buttoned pocket flaps that distract away from the hips. It also comes in Black, Champagne, and Eggplant hues. With a detachable hood and self-tie at the back, this rain jacket has a unique aesthetic and would make a perfect addition to any woman's fall/winter wardrobe.
Trench Coat Rain Jackets
Buy Now
Trench coats tend to be knee-length, which means they are very practical in bad weather as they provide the most coverage. Not only are they functional, but trench coats are considered to be extremely fashionable. As these types of rain jackets are tailored and elongate the body, they are best suited to tall gals.
This Pardon My Trench Raincoat Jacket from Amazon is an absolute steal at around $25. It comes in a variety of colors and patterns; however, this pretty pink color is the most eye-catching with white polka dots and black seam binding on its edges. It also has a black belt which pulls you in at the waist and provides you with an ideal hourglass silhouette, regardless of your body shape. This little beauty comes in a chest size of 39 inches, is a great smart-casual rain jacket option, and will score you some serious style points when caught in a rain shower.
Waist-Defining Rain Jackets
More Details
Rain jackets that have ruching at the waist are extremely flattering, no matter what your body type. If you're a curvier gal, it will pull you in at the waist, hence slimming down the hips. If you have a straighter figure, it will define your waist, adding shape to your silhouette.
This army green Meaneor rain jacket is available in sizes S-XXL for around $35. Its dip hem means that it's longer at the back, which covers and slims down your bottom if you're a curvier lady. The zip fastening and detachable hood make it a great option to quickly throw on over jeans and a jumper during an unexpected downpour, and successfully protect you from the elements while looking incredibly stylish.
No matter what rain jacket you ultimately decide to purchase, there are plenty of options available for every body type. Take your time to consider the different options that will not only suit your body shape, but match your personal style. If you're open-minded and indulge in a little experimentation, you're sure to find the perfect rain jacket for you that you can continue to wear season upon season.