Dad: the one who showed you how to spiral your football, pick out the right baseball bat, lace up your skates, and make sure your tie looks just right. These father son captions are the perfect ode to dad, not just on Father's Day but any day you want to give your dad a shout-out.
Just be prepared for the dad joke or sentimental response that will inevitably follow. We wouldn't want it any other way.
General Father and Son Captions
You've been your dad's shadow, partner in crime, and buddy since day one. Let these captions do the talking for you.
Bonding moments that last a lifetime. #FatherAndSon
Teaching him the ropes, one step at a time. #Fatherhood
Building memories and shaping futures. #LikeFatherLikeSon
A legacy of love, strength, and guidance. #FamilyFirst
Exploring the world together, one adventure at a time. #FatherSonBond
Passing down wisdom and creating a lasting connection. #Generations
No bond is stronger than that between a father and his son. #Unbreakable
Celebrating the joy of fatherhood every single day. #ProudDad
Creating unforgettable moments filled with laughter and love. #CherishedTimes
Forever grateful for the role model and best friend I have in my dad. #FatherAndSonTime
Funny Father and Son Captions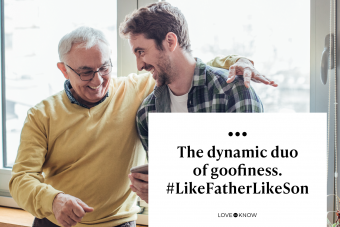 Your dad taught you a thing or two about how to pull off the ultimate prank, and his dad jokes have definitely rubbed off on you.
When dad tries to be cool but ends up embarrassing us both. #DadJokes
The dynamic duo of goofiness. #LikeFatherLikeSon
Proof that dad jokes are hereditary. #FunnyFamily
No one can pull off dad fashion quite like us. #DadStyle
When dad's dance moves are on point, but we're not so sure about ours. #FatherSonGroove
Raising mischief-makers, one prank at a time. #TroubleMakers
Two peas in a hilarious pod. #FunnyFam
Dad's silly faces are our favorite source of entertainment. #LaughterUnleashed
Teaching dad the latest slang like a boss. #CoolKidsTeach
Together, we conquer the world with laughter. #ComedyCrew
One-Word Father and Son Captions
Some dads aren't men of many words; their actions, thoughtfulness, and gestures do the talking. Kind of like these captions.
Legacy
Bond
Connection
Guidance
Strength
Love
Adventurers
Heroes
Unbreakable
Pride
Silly Father and Son Captions
Surely, your dad doesn't take much seriously. And don't call him Shirley. No one can quote a funny movie, tell a joke, or make a moment light like him.
When you and dad try to strike a serious pose but end up cracking up. #SillyDuo
Who needs a clown when you have dad around? #FamilyFunnyBusiness
Our family's official goofballs. #SillinessOverload
Dad's silly antics keep us laughing all day long. #JesterDad
When dad becomes the master of funny faces. #SillyExpressions
No seriousness allowed when we're together. #SillinessUnleashed
Dad's tickle attacks always catch us off guard. #TickleTime
We may not have all the answers, but we have an endless supply of silliness. #ClownDuo
Life's too short to be serious all the time. Embrace the silliness! #SillyVibes
Laughter is the secret ingredient in our father-son adventures. #SillyMemories
Touching Father and Son Captions
Your dad has always been and will always be there for you. These captions are the perfect, touching sentiment about your bond.
In your embrace, I find safety, love, and home. #FatherSonConnection
The greatest gift a father can give his son is his presence. #CherishedMoments
Through thick and thin, we walk hand in hand, united in love. #UnbreakableBond
In your footsteps, I learn the path of kindness, strength, and compassion. #RoleModel
A father's love is a guiding light that illuminates the way. #EndlessSupport
In your arms, I feel the warmth of unconditional love. #HeartToHeart
A father's touch carries the power to heal, comfort, and inspire. #HealingLove
Every step we take together is a precious journey of love and understanding. #FatherSonConnection
The bond between a father and son is forged in moments of shared joy, tears, and triumphs. #ForeverConnected
In your eyes, I see the reflection of a love that knows no bounds. #EternalConnection
Father Son Bonds Last a Lifetime
There's an unspoken bond that you'll always share. From fishing trips to playing wiffle ball in the front yard to that first time he took you out driving to teach you the ropes. Birth dad to bonus dad to all the dads, these captions are the perfect touch to any post.