Ahhh, New Year's… a holiday that brings on an exciting wave of change in people around the world. A clear signifier of the end of one chapter and the start of a new one. A reason to drink Champagne with your favorite people. Need we say more? Whether you're celebrating the New Year at a party at midnight or observing it quietly at home, we hope you'll love these 60+ captions to pair with your photos from the night.
Cute New Year's Captions
Short but sweet, these New Year's captions get to the essence of the holiday that transitions you into a new season of life.
Raise your glasses to another year. #cheers
A bittersweet goodbye to 2022, and a big hellooo to 2023.
2023 looks so good on me.
More grateful every year for this life.
Feelin' bubbly. #clinkclink
2023 will be the year for me.
Manifesting good energy this year.
'Out with the old & in with the new' never sounded so good.
Ready to take on 2023.
Get ready to say 'hello' to a better me in 2023.
RIP, Old Me. #nye2023
New Year's Captions for Partying With Friends
While you're having a blast at a New Year's party, don't forget to take some pictures to capture the memories accompanied by one of these fun party captions.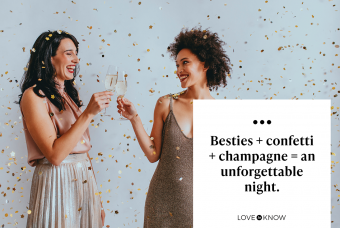 Dancing into the New Year with my BFFs.
Nothing I love more than the sound of popping bottles.
Ringing in the New Year sounds like music to my ears.
No better way to close out a year than surrounded by my BFFs.
Pouring some shots in honor of the ball drop. #happynewyear
Counting down to good times ahead.
Celebrating the new year with my favorite people in the world.
Besties + confetti + champagne = an unforgettable night.
Dressed to impress with the best. #superblessed
If tonight is any indication, this year is about to be awesome.
Funny New Year's Captions That Are a Little too Relatable
Maybe you like to poke a little fun at New Year's culture, or maybe 2022 wasn't as great as you'd hoped. Post a funny caption to express whatever you're feeling using your great sense of humor.
2022 was kind of a no-bones year, tbh.
The only resolution I can think of is to eat more pasta this year.
Another year gone, another year I haven't changed a bit. #truth
Giving 2022 some major side-eye… and 2023 major heart-eyes.
She's a 10, but she doesn't have any New Year's resolutions.
My resolution? To keep being my bad*ss self.
Here's to 2023 - may it bring good luck and lower gas prices.
I know I say this every year - but this is REALLY going to be my year… #letshope
2022 was a wild ride & 2023 doesn't look like it's going to slow down.
From Champagne glasses to reading glasses, we're celebrating the New Year by staying home in our pajamas. #noregrets
One of the best things about 2022 was that we officially exchanged heels for sneakers.
This year's end is hittin' me right in the feels: it 'feels' good to be leaving it behind.
Feeling motivated to change my life - might delete later.
Turns out the past year wasn't actually the best yet. Maybe this next one?
The good news is, my life can probably only get better this year.
Don't mind me, I'll just be sprinting into the New Year. #bye2022
The best part about New Year's Eve is all of the glitter… EVERYWHERE.
I love New Year's; it's like hitting the refresh button on life.
Worrying about what people think is so last year.
Speaking of dropping the ball, I accomplished approximately 0 of my resolutions last year. #oops #ohwell
Inspirational New Year's Captions
There's no doubt that the beginning of a new year is the perfect time to start fresh and reset your mind. Whether your goals are small daily habits or big lifestyle changes, share an inspiring New Year's caption about how excited you are!
Last year was my character development - this year is my heroic moment.
Happy New Year. Time to keep smashing goals and taking names.
This year, my story finally begins. #happynye
Don't know what's in store this year, but I'll do my best with what I'm given.
A new year is exactly what you make it - better make it amazing.
When the clock strikes midnight, it's full speed ahead.
I only have one person I'm trying to impress this year: me.
Absolutely nothing will stop me this year. #tryme
Learned a lot this year - now let's put it all to good use. #timetoshine
Lucky to be here to celebrate another year.
Hit me with your best shot, 2023.
If you don't hear from me for a while, I'm working on some big changes.
This year, let's embrace the unknown and let go of what we can't control.
Can't predict the future, but can take responsibility for my actions. #readytostartover
This year is going to be all about putting in the work. #riseandgrind
I've had my fun - now it's time to get serious and get stuff done.
I'm not big on resolutions, but this year, I might have to try one on for size.
This year, I'm resolving to be more in the moment.
Secret to having a good year: decide to.
Another year, another chance to be great. #letsdothis
This year's key takeaway: I am capable of more than I think.
We Love a Good New Year's Post
Will you throw a NYE cocktail party with friends, spend the evening out with your partner, or snuggle up at-home with your family? No matter how you choose to observe the New Year, join in on the social media celebrations with a cool picture and some motivational, witty, or just plain truthful words. You'll be glad to look back on your post next year to reflect on your thoughts and feelings in this moment.