Christmas trees are a quintessential part of the holiday season. Nothing tops their sparkle, their shine, and the aroma of pine they infuse through your home. Capture your love of Christmas trees in a few cherished quotes.
Share these with your friends on social media to get them in the holiday spirit, or use them to caption your seasonal posts. Quotes about Christmas trees also work great for cards and crafts. Inspire everyone around you to reach great heights of holiday joy!
Fun Christmas Tree Sayings
Christmas just doesn't feel like Christmas without the decorations. And is it ever really too early to get started? Get your friends and family on the same level of Christmas tree affinity by sharing these fun Christmas tree quotes.
Spruce up your home with a Christmas tree.
Are you pining for Christmas? Start decorating your tree.
You needle a Christmas tree in your life.
A Christmas tree is sure to light up your life.
Let there be light … on your Christmas tree.
Christmas tree. Taking nature to the next level.
If you like it, then you can put a star on it.
It's all fun and games until the tree stand malfunctions.
It's not a Christmas tree; it's a beacon for Santa.
The holiday season starts the minute your tree hits the stand.
It's never too early to start decorating your Christmas tree.
Quotes About Decorating Christmas Trees
With every ornament you add to your tree, the decorating sessions of each year flash before your eyes. It's one of the most memorable parts of getting ready for the holidays. Share your love of decorating your tree by trying out these quotes. They can work perfectly on a holiday post or a Christmas decorating Snap.
Brighten up your life with a Christmas tree. It's sparkles and lights, and everything nice.
Decorating your Christmas tree is like watching your children grow up once again.
The sparkle in a child's eyes as they decorate the tree outshines any decorations.
Everyone knows how old your kids are by where the ornaments on your Christmas tree are congregated.
It's not about the look or the theme of your tree. It's about making memories together.
Nothing is more festive than watching your tree light up for the season.
It's so satisfying to watch your Christmas tree light up. You can't help but smile.
Christmas trees bring joy to citizens around the world.
Light up your life by decorating a Christmas tree.
Christmas ornaments are as meaningful as the tree. Each one holds a representation of love and laughter.
The Christmas tree is the centerpiece that ignites the holiday spirit.
Short Christmas Tree Quotes
Want something short and catchy to add to your Instagram Christmas post? Look no further than these quotes designed to spark the joy of the season. They will have all your friends pining for the holiday to come.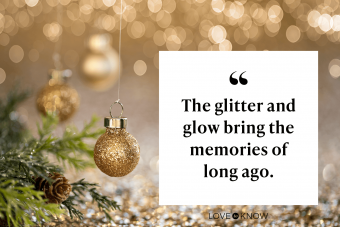 Memories are lined in the smell of pine.
Beautify your home. Get a Christmas tree.
The glitter and glow bring the memories of long ago.
While the Christmas tree is nice, it's the family that adds spice.
Christmas trees are like rainbows lighting up the holiday sky.
Pine. The scent of the holidays.
Christmas trees. The star of your living room.
Light up your night with a Christmas tree.
Is it ever too early to put up a Christmas tree?
Quick Tip
Get creative with your Christmas tree quotes by using them as the greeting on your holiday card, on a letter board in front of the tree, or in craft projects. 
Sparkly Christmas Tree Captions
Who doesn't love to share pictures of their Christmas tree for the world and friends to see? However, finding the perfect caption to possibly have your post trending can be tricky. Use these quotes to start a Christmas tree revolution or as a starting point for creating a caption of your own. They will also work great on holiday memes.
The lights. The ornaments. The aroma. Is there anything better than a Christmas tree?
Lighting up my life one needle at a time.
Have a tree-mendous Christmas.
My house is all spruced up for the holidays.
My tree is going to sleigh this year.
A unique Christmas tree is a perfect tree.
"That's too many lights," said no one ever.
At night, the tree is merry and bright.
I'm dreaming of a Christmas tree.
Santa who? The Christmas tree is the star of Christmas.
It's not the size of your tree, but the love surrounding it.
Christmas Tree Quotes for Instagram
Pictures or it didn't happen, right? Post your Christmas tree trimming photos to Instagram with a short, catchy caption that won't distract from your beautiful decorations.
Rockin' around the Christmas tree today and every day until December 25th.
Baby, it's cold outside, but it sure is spruced up in here.
Unwrapping memories one ornament at a time.
We're trimming the tree and spreading cheer everywhere.
Feelin' pine this holiday season.
Wrapped up in the warmth of my family and glow of this magical tree.
Ornaments, tinsel, and a whole lot of jingle.
My favorite color is evergreen.
Got decorations?
Shining bright like the star on my Christmas tree.
My tree's throwing shade.
Twinkle lights and merry nights.
Get Festive With Christmas Tree Quotes
You know the holiday season has officially begun when your Christmas tree is lighting up your home with joy. Bask in the spirit of the season by trying out a few Christmas quotes to get everyone to your level of celebration. These quotes also make perfect additions to holiday crafts and scrapbook pages.