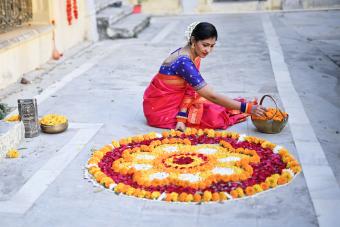 Diwali is the beautiful and colorful "festival of lights" celebrated not only in India but also by those of the Hindu faith all across the world. Get ideas here for some Diwali wishes and greetings that you can share with those in your life who celebrate the holiday.
How to Say Happy Diwali
You might want to wish someone a happy Diwali in person, in which case it's helpful to learn how to say the term. Diwali is pronounced "duh-VAH-lee." The entire phrase in Hindi, one of the national languages of India, is shubh deepavali, which is pronounced "shope duh-VAH-lee."
Simple Diwali Wishes
You don't have to say a lot to wish someone a happy holiday. Lighten their holiday with messages such as:
Happy Diwali!
Shubh Deepavali! (Happy Diwali in Hindi, an Indian national language)
Have a happy new year!
May you have a happy Festival of Lights!
Wishing you and yours a Happy Diwali!
May this Diwali bring light to your life!
Secular Diwali Greetings
You certainly do not have to be Hindu, Indian, or religious to celebrate Diwali. If you know someone who celebrates the holiday but is not religious, or if you are uncertain about how religious they are, you can give greetings such as:
Hope you have a very Happy Diwali!
May your Diwali be filled with light and laughter.
Wishing you a bright and happy Diwali!
Wishing you much brightness, fun, and laughter during the Festival of Lights! Happy Diwali.
This Diwali, light a lamp and celebrate the beauty and wonder in the world.
On this Diwali, may the light spread your wisdom to the rest of us. Happy Festival of Lights!
Enjoy some sweets and bask in the light — Happy Diwali!
Wishing you health and prosperity this Diwali.
Religious Diwali Wishes to Share
If you know someone who is religious, messages such as these make delightful Diwali greetings:
May the goddess Lakshmi bring you a happy and prosperous new year!
Just like Lord Krishna moved a mountain, may he also remove obstacles for you in this new year.
Just like rows of lights guided Rama and Sita home, I hope they also guide you into the New Year. Happy Diwali!
Romantic Diwali Greetings for the One You Love 
You can express your love to your partner by also wishing them a happy Diwali with messages like:
Happy Diwali, my love — I look forward to many more years of sharing the light with you.
Just like lights brighten a room, your smile always brightens my day. Happy Diwali, my love.
I thank Vishnu and Lakshmi every day that I get to spend my life with you. Happy Diwali, my sweetheart.
Happy Festival of Lights to the love of my life. You look beautiful this Diwali and every other day of the year.
You are the light of my life. Happy Diwali, love.
Diwali Wishes for Parents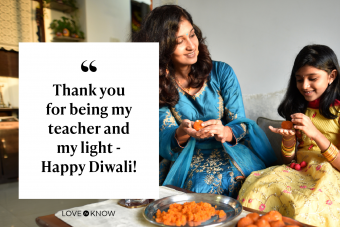 Diwali is a great time to send wishes to your parents, such as:
Thank you for giving me life and lighting my way. Happy Diwali!
May we all be blessed with the kind of deep love you both share. Happy Diwali!
May Diwali bring me some of your immeasurable wisdom — Happy Festival of Lights!
Thank you for being my teacher and my light — Happy Diwali!
Sweet Diwali Wishes for Children
Whether you have younger children or adult children, messages such as these can brighten their Diwali:
You have lit up my life from the moment you were born. Happy Diwali to my precious child.
I will always light whatever path you choose. Happy Diwali!
You bring us much light, joy, and laughter — Happy Diwali!
Dear daughter/son, wishing you a very Happy Diwali. I hope your life is lit up this holiday and every day in the new year.
Wishing you much health, happiness, and prosperity in the new year. Happy Diwali, son/daughter!
Caring Diwali Wishes for Siblings
You can send these messages to your brothers or sisters:
Thank you for always being there for me. Wishing you a Happy Diwali and a very prosperous New Year!
You are the best older brother/sister anyone can have. Thank you for teaching me so much - Happy Diwali!
Dear little brother/sister, you always bring much fun and laughter to our family. Hope that your new year is full of light and love. Happy Diwali.
Even though we can't be together this Diwali, you and your family are always safe in my heart. Happy Diwali!
The Origin of Diwali
Diwali is a festival that occurs somewhere between mid-October and mid-November; the dates vary each year based on the Indian calendar. The holiday typically lasts five days, and it marks the end of the fall harvest and preparation for the cold months with warmth and light.
The origin stories of Diwali vary depending on the region in India. Some believe that people lit oil lamps to welcome home Rama (incarnation of Hindu god Vishnu) and his wife Sita after he rescued her from the evil king Ravana. In some parts of India, Diwali is also the start of the New Year, so celebrants focus on honoring Lakshmi, the Hindu goddess of prosperity.
Yet in other parts of India, the holiday is linked to Krishna (another incarnation of the Hindu god Vishnu), who saved farmlands from flooding by lifting a mountain (Govardhan) with just his pinky finger.
Send Joyful Greetings
No matter the origin story, the common themes of Diwali across India and the diaspora are the victories of good over evil, light over darkness and knowledge over ignorance. Brighten someone's Diwali by sending a thoughtful and joyful greeting that can light up their holiday and their new year.