Celebrating Christmas Eve
Trying different Christmas Eve service ideas is a great way to share the spirituality of the holiday season with a congregation in unique, fresh ways that will make the holiday-and its meaning-more memorable and enjoyable every year. Christmas Eve is a solemn, spiritual time at many churches, but unfortunately, it can also be predictable with the same messages and programs used year after year. Adding seasonal decorations is a beautiful and easy way to make a change. Poinsettias add a beautiful burst of color to the altar, chancel, ends of pews, entrance, and other areas of the church.
Welcome Lights
Placing a lighted Star of Bethlehem above the church's main entrance will welcome congregants in the spirit of the season without going overboard with predictable lights. For interior lighting, add extra candles or other soft lighting that will provide a solemn but sophisticated atmosphere.
Holiday Music
Many churches use the same holiday carols year after year as part of the Christmas Eve service, but to give the event some variety consider opting for different carols or more unusual musical arrangements. Contact local music schools to see if live musicians will volunteer to play at a service, and investigate arrangements using unique instruments or other unusual touches.
Communion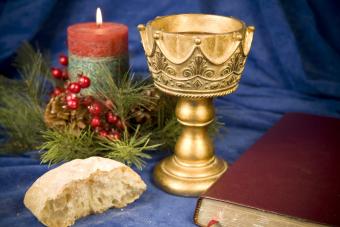 A Christmas Eve communion helps connect congregants to the grace and beauty of the season and their Savior. While the same equipment used for other communions throughout the year is suitable for a Christmas Eve service, you might consider choosing holiday motifs instead.
Live Nativity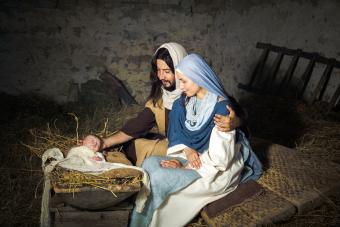 A live nativity is a great way to get congregants involved in the Christmas Eve service. Rather than hiring actors to portray the Holy Family and the other figures of a nativity scene, work with congregants to create the scene with church members to make it personal and meaningful to everyone.
Scents of the Season
Spice up your Christmas Eve service by adding the scents of the season through incense or scented candles. You can opt for familiar holiday favorites such as pine or cinnamon, or go for a more traditional route, such as burning real frankincense to give the church an exotic air.
Young Angels
Involving children in a Christmas Eve service is a great way to share the joy of the season with the entire family. While not all the children could participate in a nativity, they can be angels to form a choir that sings and rejoices to share the message of Christmas with the entire congregation.
Handbell Choirs
Music is an intimate part of any Christmas Eve service, but instead of the same choir or organ arrangements, consider a handbell choir instead. Many hand bell choirs will travel to different churches to perform, and seasonal music is one of the most popular engagements, so be sure to make arrangements well in advance.
Memorial Candles
Including a memorial candle dedication in a Christmas Eve service can be a touching way to remember and honor those who have passed on since the last holiday season. This can be a meaningful addition to the celebration that the congregation will appreciate, as it helps them include their lost loved ones in their holiday activities.
Service Projects
Using the Christmas Eve service as a way to help others is a great way to get the entire congregation involved in the spirit of sharing and giving that Christmas is all about. A Christmas Eve donation drive could be for food, toys, warm clothing, books, or other items that will then be donated to a local charity.
Candy Canes
A fun way to teach young children about the meaning of Christmas at a Christmas Eve service is to include the story of the candy cane with a youth lesson. There are many symbolic interpretations of the candy cane perfect for Christmas Eve, from the shape representing a J for Jesus to it being a shepherd's crook in the field where that shepherd was watching a very special star.
Mingling and Refreshments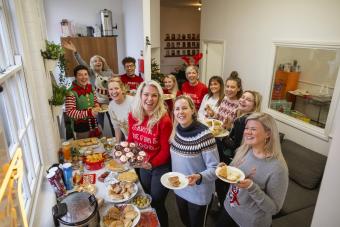 After the service, giving the congregation time to mingle will add to the sense of community. Provide some tasty finger foods, snacks, cookies, and other treats, and perhaps some coffee, tea, or other beverages to add to the holiday spirit.
Community, Faith, and Lasting Memories
Christmas Eve is such an important night for any congregation. A few special touches will make a Christmas Eve service even more memorable, and will draw your congregation even closer as they share in their faith and community.