Kids aren't the only ones who love Halloween. Teachers do too. However, it's hard to keep your classroom Halloween party fresh. Get a few fun and spooky classroom Halloween party ideas your kiddos are going to love. From games to crafts to snacks, you'll find a few ideas to make your classroom a screaming good time.
Spooktacular Halloween Class Party Game Ideas
Kids are amped up on Halloween getting ready for the night of trick or treating and candy. Join in the fun in your classroom with some exciting Halloween games. These games are simple enough for all different levels but still fun for elementary and middle schoolers.
Consider setting up games in different stations around the room that kids can go to in pairs to play the game to keep everything organized. Have each pair go to each station for a designated amount of time, then rotate. Don't forget to get enlist parents' help to run the stations and help the kiddos.
Pumpkin Tic-Tac-Toe
Create a large tic-tac-toe board on a piece of cardboard. Paint Xs and Os on small pumpkins. Let kids use the pumpkins to play tic-tac-toe.
Guess It
Fill a caldron with something from your room. It can be anything like dry erase markers, erasers, etc. Cover the caldron with a piece of paper and cut a small hole in it. Have kids stick their hands in to guess what it is. You can even get creepy by adding cold cooked pasta or gummy bears to get the EWW factor from your kids. Have them write their names and guess on a piece of paper. You can share the winners.
Find the Spider
Decorate a bunch of different cups (10-20) with fun Halloween-inspired monsters. Hide a felt spider under one of the cups. Label each cup with a number. Have kids take turns flipping one cup at a time, using their memory to find the spider. For older kids, you can make it more difficult by putting multiple-colored spiders under the cups. They need to match the spider colors.
Eyeball Races
Grab a couple of candy eyeballs and enough straws for your class. Draw a start and finish line on a piece of cardboard. Have kids line up their eyeballs at the start line. They need to blow air into the straws to push their eyeballs toward the finish line.
Memory Tray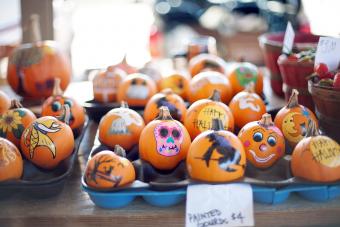 Fill a tray with a few spooky items, depending on the age of your classroom. Show the kids the tray for 10-15 seconds, or longer for a class of little kids. Have them try to remember what was on the tray. The one with the most right wins.
Fun Halloween Party Activity Ideas for Classroom
Are you looking to get the kids in your classroom moving? That pent-up energy can quickly get out of control. Rather than games, you might want to mix in a few fun activity stations for the pairs to try. This keeps them moving and uses up some of that endless energy.
Skeleton Toss
Put out several white bags decorated like skeletons. Have the pairs take turns tossing white balls into the bags, trying to get three balls in each bag.
Mummy Wrap
Mummy wrap is a laughing good time. Grab some toilet paper and let kids take turns wrapping each other in it to create a mummy. The giggling is infectious.
Balloon Knock
Balance five to six balloons on toilet paper rolls. Have kids use balls to knock them all down. Then, they need to work to get them to balance again so the next kid can try.
Fill the Pumpkin
Grab a plastic pumpkin and some beanbags. Place the pumpkin a good distance away, and the kids will throw the beanbags into the pumpkin.
Halloween School Party Craft Ideas
Some kids aren't about games or activities, but they love crafting. Crafting stations are a great way to keep them calm and have fun. They also give kids a nice Halloween decoration to take home. Just make sure to keep the crafts and craft supplies age appropriate. For younger children, you'll want to ensure you avoid specific supplies that can be choking hazards.
Create a Skeleton
Grab some construction paper and get to work. Have kids use white construction paper and markers to create skeleton art. If you don't want all the paper waste, you can substitute straws or cotton swabs glued onto the paper to create a skeleton.
Pumpkin and Monster Masks
Construction paper masks are fun to create and super simple. Give the kids a few mask templates, string, scissors, and markers. They can then create their own fun monster or pumpkin masks to wear. If you are feeling really adventurous, you might even let them have a bit of glitter.
Tissue Ghosts
Line your walls with tissue ghosts created by your favorite kiddos. Grab some tissue paper, string, and markers. Have the kids make a ghost head and tie the string around it. They need to repeat this to make a line of four to five ghosts. They can then use the markers to give them silly faces.
Halloween Signs
Halloween signs are a fun way to decorate your classroom and for the kids to take home. Grab some popsicle sticks, construction paper, and markers. Have the kids cut out their favorite Halloween shape, like a pumpkin, ghost, ghoul, haunted house, etc. They will glue it to the stick and decorate it with markers. These are great little signs for their yard on Halloween.
Paper Bats
Who doesn't love a good bat? And paper bats are super easy. Give kids some black construction paper, the printable bat template below, and string. You can hang their batty creations around the classroom.
Make Slime
Kids love slime, and it's pretty easy to make. Find your favorite slime recipe and get creating.
Make a Goodie Bag
Candy is a big part of Halloween, so kids are going to need a goodie bag to hold all their stuff. Give the kids a paper bag and some markers. Let them create their own fabulous goodie bag to take out on Halloween night. They can even use construction paper to give it legs and arms.
Mouthwatering Halloween Class Party Snack Ideas
Halloween and candy are inseparable. But you don't want to load up your classroom on a bunch of sugar before sending them home. Therefore, you might want to consider a few nutritious ghostly treats that your kids are going to enjoy that keep the sugar high at a minimum.
You also need to be conscious of any allergies within your classroom, like nuts or wheat. Just a few different ghoulish snacks kids might enjoy, include:
Mandarin oranges decorated like pumpkins
Monster cups filled with grapes and fruit
Cheese sticks decorated to look like ghosts
Fish crackers in monster bags
Yogurt decorated like a mummy
Pudding cups with bat wings
Monster rice crispy treats
Monster mouth apple slices with Nutella and marshmallows
Pretzel sticks with green chocolate to look like witch fingers
Unique Halloween Party Classroom Goodie Bag Ideas
Goodie bags are a must for your Halloween classroom party extravaganza. But don't fill their bags with a bunch of candy; they will get enough of that on the big night. Instead, you can add some spooky and creative ideas.
Dry erase markers with googly eyes
Halloween pencils
Halloween bookmark
Frankenstein coloring pages
Glow sticks
Stickers
School Guidelines for Celebrating Halloween
If you are a classroom teacher or a parent volunteer, it's important to be aware of the school's policy on Halloween parties. In some school districts, Halloween parties are no longer held due to conflicts with religious beliefs. In others, schools have chosen to change the name of the event to a "fall celebration" and eliminate the word "Halloween" altogether. Therefore, it's important to be aware of your district's policies.
Kid-Friendly Classroom Halloween Party Ideas
Whether you are a teacher looking for creative ways to celebrate Halloween with your students or are a room attendant who has been placed in charge of planning a party for this special day, there are plenty of fun ways to mark the occasion. Use fresh ideas that will help you turn your next Halloween party into a fun and exciting event that the lucky children who get to attend will love!