Whether it's homemade or from your favorite barbecue joint, pulled pork can be even better on the second day. All you need are a few leftover pulled pork recipes you can rely on when you make (or order) more than you need. For every meal, and even a snack or two, you can revive pulled pork for a new flavor experience.
Make Barbecue Pork Pizza
If your leftover pulled pork is pretty limited — as in there is less than two servings — you might try tossing them into a recipe with other elements to make it filling. A barbecue pulled pork pizza is a fun way to use up the excess pork. Pair it with pineapple, onion, and cilantro for a tangy and sweet twist on cult-favorite pizza.
Try Pulled Pork Enchiladas
The next time you make homemade enchiladas or buy a kit from the grocery store, swap traditional chicken or ground beef for mouthwatering pulled pork. If you plan everything right, you'll have two winning meals in one week without doubling your efforts.
Toss Pulled Pork Into Your Ramen Bowl
Whether packaged or homemade, pulled pork in your ramen bowl is a serious upgrade to the dish. Paired with other favorites like steamed vegetables and a hard-boiled egg, pulled pork ramen makes for a filling dinner any night of the week.
Quick Tip
If you're ordering in for ramen and don't want to pay extra for adding meats, that leftover pulled pork is the perfect free addition to your takeout.
Pulled Pork Jalapeno Poppers
If you really want to spice up your favorite appetizer, pulled pork will certainly pack a flavorful punch. Show up to your next party with these pulled pork jalapeno poppers and you'll be fielding recipe requests all night.
Ingredients
Jalapenos - sliced in half and seeds removed
Leftover pulled pork
Barbeque sauce
Sharp cheddar cheese, sliced
Directions
Halve your jalapenos and remove the seeds, then add a tablespoon of pulled pork to each one.
Drizzle barbeque sauce over the top.
Add cheese to the tops.
Bake on a greased baking sheet at 350 degrees Fahrenheit (177 degrees Celsius) for 20 minutes or until the cheese is melted and the jalapenos are slightly tender.
Pulled Pork Nachos Are the Ultimate Snack
The beauty of making nachos is that as long as you have chips, you can use just about anything else to complete the plate. Toss your leftover pulled pork on top of traditional cheesy nachos or make a southern-style nacho platter with pickles, coleslaw, and a drizzle of vinegar-based barbecue sauce atop your pork and chips.
Cuban Style Wraps Put a Twist on a Classic
Here's a double twist on a classic Cuban sandwich: swap roast pork for pulled pork and roll everything into a wrap. It's a nod to the traditional Cuban and a genius way to use your leftover pulled pork.
Ingredients
Tortilla wraps
Leftover pulled pork
Sliced ham
Swiss cheese
Pickles
Yellow mustard
Directions
Lay your wrap flat and start your stack with the pulled pork and ham.
Add the cheese and give the wrap a quick toast in your oven if you prefer a warm and melty wrap.
Add the rest of your ingredients and gently roll your wrap.
Try Barbecue Pulled Pork Rolls
Cinnamon rolls might dominate the world of sweet, roll-shaped desserts. But barbeque pulled pork rolls might be the best savory version of the rolled-up meal. Use up your leftover pulled pork in a creative way with this pulled pork roll recipe from Spoon Fork Bacon.
Pulled Pork Mac & Cheese Is a Hit
Your go-to boxed mac and cheese and even your grandmother's famous homemade macaroni is made even better with a pile of pulled pork on top. Toss your pulled pork in your favorite sauce and use it top off your bowl of the ultimate comfort food.
Make Creamy Pulled Pork Spaghetti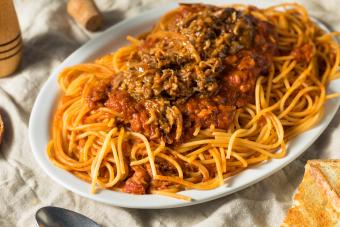 Who knew you could combine spaghetti and leftover pulled pork for a meal mashup the whole family will love? Swap your garlic bread for cornbread muffins and whip up this creamy BBQ pulled pork pasta from Cooking With Carlee for a tangy twist on a classic dish.
Stack Pulled Pork on Avocado Toast
It might sound a bit odd but think of the savory, tangy flavors of pulled pork meeting the creamy consistency of fresh avocado. Whether it's a quick snack or a dinner party appetizer, pulled pork avocado toast is just one big satisfying bite after another.
Ingredients
Sourdough bread, sliced
Avocado, mashed
Leftover pulled pork
Parmesan cheese, grated
Sriracha
Fresh cilantro
Directions
Toast your bread to perfection.
Spread on a generous layer of mashed avocado, sprinkled with salt and pepper to taste.
Pile on your pulled pork.
Grate fresh parmesan over the top.
Finish with a drizzle of sriracha and a sprinkle of fresh cilantro
Stuff Cornbread Muffins With Pulled Pork
The next time you're making cornbread and you have some spare pulled pork, transform your ordinary muffins into mouthwatering bites of heaven. Before you pop those sweet bread bites into the oven, layer in a tablespoon of pulled pork and a drizzle of barbeque sauce. Bake them to perfection and enjoy a surprising and savory bite when it's time to dig in.
Helpful Hack
You can also stuff your cornbread muffins with other surprises that complement the pork, like cheese or jalapenos.
Make Pulled Pork Breakfast Hash
For breakfast or dinner, this upgraded hash is the epitome of a hearty meal. Grab your leftover pulled pork, a frying pan, and a major appetite for this dish.
Ingredients
Golden or sweet potatoes
Olive oil
Eggs
Green onion
Salt and pepper to taste
Directions
Roughly chop your potatoes into bite-sized pieces while the pan is heating.
Drizzle in the oil and add your potatoes to the pan.
Let them cook until slightly tender.
Add your pulled pork to the pan so it can warm up. Toss it in barbeque sauce before adding it to the pan if you like.
Plate your potatoes and pork and add a little more oil to the pan.
Fry your eggs to your preference.
Add fresh green onion and the eggs to your bowl. Top with salt and pepper to taste.
Helpful Hack
To get perfectly crispy and tender hash, partially boil your potatoes before tossing them in the frying pan.
Top Your Baked Potato With Pulled Pork
With a little pulled pork and a few other fixings, you can make baked potatoes your entire meal. Use our guide for making baked potatoes in the oven, then top them with your leftover pork, tons of butter and cheese, and a dollop of sour cream.
Fast Fact
You can also use pulled pork on your twice-baked potatoes to spice up the traditional appetizer.
Tray a Pulled Pork Omelette
Pulled pork isn't just for lunch and dinner, it's perfectly acceptable to squeeze it into your breakfast for a protein-rich and flavorful start to your day. Toss pulled pork into your next omelette for a hearty breakfast that's totally customizable.
Bring Pulled Pork Dip to Your Next Gathering
Warm, savory, and perfectly cheesy, a crowd-pleasing dip is a genius way to use up that leftover pulled pork. Cream cheese, sour cream, and cheese make this pulled pork dip from Salty Side Dish your next dinner-hosting win. When you set this out as your appetizer, guests will never know it's made from your Monday night leftovers.
Pulled Pork Gives Chili an Update
Ground beef and turkey are favorites for chili night, but they can't beat the juiciness of tender pulled pork. The next time you're cooking a big pot of chili for the family, skip browning meat and toss in your leftover pulled pork instead.
Leftover Pulled Pork Is Your Secret to an Unforgettable Dinner
It turns out that the key to getting dinner on the table faster is to swap one of your main ingredients for those leftovers taking up space in the refrigerator. Though pulled pork is often so good you don't have leftovers, it's comforting to know that you have a long list of recipes for the times you do have some to spare.