Veggie Burgers From Scratch
Learning how to make veggie burgers from scratch provides an easy vegetarian or vegan meal for less money than you'd spend if you buy the commercial brands. They're great for cookouts, lunches, or a quick dinner. Make up a large batch and keep them on hand in the freezer for a last-minute meal option.
Broccoli Veggie Burgers
Homemade veggie burgers take very little effort to make.
Broccoli Veggie Burgers (courtesy of Heather Thomas) Yields: 12-16 patties)
Here's a list of the ingredients you'll need:
4 c. chopped broccoli
8 oz. sautéed mushrooms
1 large red onion, chopped fine
2 c. dry breadcrumbs
1 c. water
1 tsp salt
1/2 tsp pepper
8 eggs (or substitute egg-type product)
How to Make Veggie Burgers Easy
Use this recipe as a template. You can experiment with a variety of vegetarian ingredients, but be aware that if you substitute something like lentils for the broccoli, you run the risk of creating a dry burger.
Measure and prepare ingredients before you add them to the mixing bowl.
Broccoli and Sautéed Mushrooms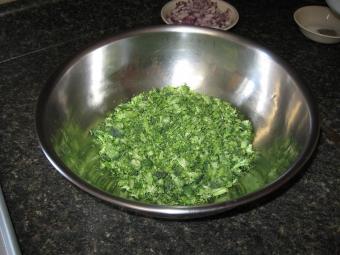 Add finely chopped broccoli to the mixing bowl. Fresh broccoli is recommended for proper moisture content. Using frozen broccoli can work, but it may make your patties wetter. If you plan to go with frozen broccoli reduce the amount of water you add to the recipe accordingly.
Sauté mushrooms and add them to the mixture. For more flavor, add four cloves of minced garlic during the sauteing process.
Bread Crumbs, Salt and Pepper
Dry bread crumbs work with the egg and water to bind the ingredients together for baking.
Commercial veggie burgers or those offered on restaurant menus can be filled with fat and sodium to make them flavorful. With this recipe, you get more vegetables and flavor without the extra sodium or fat.
Red Onion
The coarsely chopped red onion used in this recipe not only adds taste but also color to your veggie patties. According to Vegetarianism & Vegetarian Nutrition, "Northern Red onions have the richest concentration of flavonoids and phenolics, providing them with the greatest antioxidant and anti-proliferative activity of 10 onions tested."
Egg Substitute and Water
Vegetarians who use eggs can choose an egg substitute such as EggBeaters. Vegans who want to make these burgers should choose an egg substitute that works as a binder.
Baking the Burgers
Combine all of the ingredients well, but don't over mix because it can change the burger's texture. Form into patties and place on an oiled baking sheet. To help the burgers brown, lightly spray with vegetable oil. Bake at 375 for 25 minutes, turning halfway through cooking.
Ready to Serve
Serve your Broccoli Veggie Burger on a bun with all the trimmings. For those who love the thought of a cheeseburger, just add a slice of cheese or a vegan nut-cheese. Learn more about good egg substitutes to use if you want to make your burgers vegan fare. Leftovers freeze very well and can be thawed and reheated in the oven or eaten at room temperature. Enjoy!