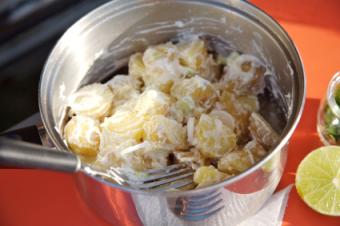 If you are planning a picnic and are looking for a flavorful treat of a side dish, then you need a recipe for macaroni potato salad from Hawaii.
It's Everywhere You Want to Be
Hawaii is an island paradise. Comfortable 72 degrees every day, perfect waves, beaches, sunshine, and lush green mountains make it the perfect place to be. When people think of eating in Hawaii, they think of luaus but not every meal is a luau. A plate lunch is more common and on every plate lunch is the macaroni potato salad. The popularity of this high carbohydrate salad is incredibly obvious. But where did it come from?
It's a Culture Mix
The Hawaiian Islands are a cultural melting pot. At first they were a mixture of island cultures but later, as European explorers started to arrive, more cultures were added to the mix. From a culinary perspective, the arrival of the Europeans brought an explosion of flavor. Before the arrival of the Europeans, the staple starch of the islanders was taro and the sweet potato. Wheat was unknown in the islands and so macaroni wasn't either and neither were russet potatoes.
So, where does the recipe for macaroni potato salad from Hawaii come from? The macaroni comes from Italy. In the standard recipe for macaroni potato salad from Hawaii, they like to cook the elbow macaroni at least al dente. Often you will find it over cooked. I suggest cooking the pasta al dente...always.
The next part of the recipe is mayonnaise. This is obviously European as well. The potatoes that are mixed in to make the basic three ingredients to this salad come originally from South America, making this a true multicultural dish.
The Plate Lunch
Sometimes known as Hawaiian barbecue, the plate lunch is the typical lunch of the Hawaiian Islands. Plate lunch consists of two scoops of rice, one scoop of macaroni potato salad, and a serving of a meat entrée. Since Hawaii is a cultural crossroads, that meat entrée can be just about anything. I happen to like chicken adobo, but you will find lau lau, kailua pork, teriyaki, Korean short ribs, curry, or even hamburger. I have even seen a vegetarian version of the lunch plate made with tofu that had been marinated in a soy/hoisin mixture. The tofu had been braised and was served with sautéed vegetables. It was very nice, if not traditional.
Recipe for Macaroni Potato Salad from Hawaii
This is one of those recipes that after making it once or twice, you can start to add whatever you have on hand to suit your tastes, making it your own recipe for macaroni potato salad from Hawaii. For the basics, you will need:
1 pound elbow macaroni
1 cup mayonnaise
1 large sweet onion, either a Maui onion or, if you cannot find one, a Texas sweet onion or a red onion will do
2 carrots chopped fine
3 russet potatoes boiled and diced. You can leave the skin on if you like
4 large hard-boiled eggs
2 stalks celery, chopped fine
1 teaspoon mustard
Salt, pepper, and dill weed to taste.
Cook the pasta to al dente. Rinse in cold water.
Cook the potatoes and dice them into 1/2 inch cubes.
Rough chop the eggs.
Mix everything in one big bowl.
Chill at least one hour in the refrigerator.
For variations on this recipe, you can add sweet pickle relish or Italian dressing, chopped green onions frozen or fresh peas, corn or whatever else you happen to have on hand or think would taste good. Celery salt and celery powder are popular additions and I like to add just a touch of garlic powder and some fresh chopped oregano. As long as you have the basic mayonnaise, macaroni, and potato, you have the classic recipe for macaroni potato salad from Hawaii.
Related Salad Recipes
Potato And Egg Salad Recipe
Potato, Shrimp And Sardine Salad Recipe
Mr. Holmden's Macaroni Pasta Salad Recipe
Macaroni Recipe
Macaroni, Tomato And Onion Salad Recipe
.