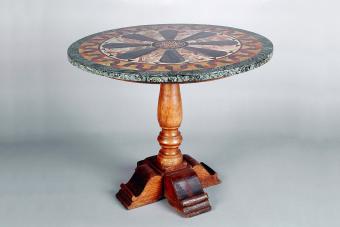 When you want to anchor a living room or sitting area in a large bedroom with something historic and stylish, consider adding an antique Italian marble top coffee table. It can provide the substantial look of luxury and timelessness you are seeking. As with all true antiques that, you need to know something about what you're purchasing, as rarity and condition determines the market price, and they often require special upkeep to maintain their beauty for years.
Italian Marble Top Coffee Tables Emerge
Italy is the home of generations of master artisans, artists, and designers. At the peak of the Roman Empire, quarried marble was used at a frenetic pace to keep up with the demand for statues, pillars, columns, walls, and other architectural pieces that came with the aesthetics of the period. Unfortunately, all that remains of those quarries now are indentations in the earth, as their marble supply has been long since used up.
In addition to the white, red, and green marble from Italy, Rome also imported marble from Egypt in red, grey, and black, as well as purple from Tunisia and Turkey. When looking for an antique marble table with authentic Italian marble, it is important to remember that while the piece may have been crafted in Italy, the color could imply an import--an antique import, but an import nevertheless.
The Oldest Italian Marble Table
A visit to the Metropolitan Museum of Art in New York City is in order if you want to see one of the oldest and most famous antique Italian marble-topped tables - the Farnese Table. Although not a coffee table, it was designed by the Italian architect Giacoma Barozzi da Vignola (1507-1573) for the state apartment of the Palazzo Farnese in Rome. It is absolutely breathtaking with its inlay of different marbles and use of semi-precious stones. Italian marble tables are created by putting layers of marble together. The process allows for inlays and use of embellishment in the form of different materials, from tile to gemstones. This piece conveys the delicacy of its natural materials and the expert carving techniques that can be found in an existing Italian coffee table. The look is a hallmark to this type of furniture, despite its weight and massive appearance.
Take a Coffee Break
Antique Italian marble coffee tables enjoyed a surge throughout Europe and America in the mid-late 19th century. The Victorian period had a fascination with antiquities, and Italian marble tables were much in vogue. Per Franco er Marmista, one of Italy's foremost sellers and makers of marble tables, the marble that was used in antique tables was often pilfered from unprotected ancient sites, regions, and building columns. Because antique marble of this type no longer exists on the marketplace, a true coffee table from this era is very expensive--think in terms of $5,000 and up.
Even modern tables made today from the Franco er Marmista company and many others are pricey and should be regarded as an investment in what some would consider a future antique. While new marble techniques allow for the same creativity in historic design without the weight (although they can weigh up to 300 lbs still), you should keep in mind that true antiques will have some serious heft to them.
The Costs Of Italian Craftsmanship
The fiscal costs associated with marble alone would spike these delicate pieces of antique furniture's values up without factoring in the fine Italian craftsmanship. Seemingly, pieces with the highest grade marble and those that're the largest sell for the most amount of money. Additionally, genuine antiques from the 19th century sell for a couple hundred dollars more than the prolific mid-century modern renditions of a similar make and style. In terms of actual costs, as with all antique furniture, antique Italian coffee tables with marble tabletops can cost upwards of $1,000-$2,000 at their highest, with the odd well-preserved high-level manufacturer's pieces reaching values in the upper thousands. However, smaller tables can comfortably go for $400-$500 online.
If you're thinking about buying one of these exquisite pieces of historic interior design, here are a few examples of some that have recently sold:
Ways to Display These Tables
Of course, thanks to the changes in interior design, the original antique Italian marble coffee tables from the mid to late 19th century weren't necessarily made to sit directly in front of a couch or sofa as you've come used to them being today. Their length made it probable that these tables may have sat against a wall or even behind a sofa, where servants could have access to pouring and serving beverages without interrupting the flow of conversation. As things became a little less stylized and the hostess began to enjoy pouring coffee and tea herself for her guests, the tables would have moved to stand in front of the sofa.
Again, an antique Italian marble top coffee table is generally a statement piece unto itself. While it anchors a room's design, it generally needs one or two extremes in furniture to allow it to work its charm in a room if used as a true coffee table. The furniture either must be delicate, or play off the color of the marble, or it must be heavier with square corners and a solid appearance.
From Rome With Love
In just the same way that Italians know their coffee, they also know their antique coffee tables. Carved out of a rainbow of marble with Renaissance-like care, these antique marble coffee tables will elevate even the most ramshackle of rooms. Add an oversized coffee-table book onto it, and you're ready to turn your 1-star living room into a 5-star paradise.