Staying up late during Comic-Con week to see which characters Marvel execs are going to bring to the MCU in the coming years has made loving comic books exciting again. And, Marvel is one of the comic book companies that's benefitted the most from this uptick in interest. Marvel comic book values have been on the rise in the past decade, with many editions in their catalog selling for millions of dollars. See just which comic books top the list and what are the major things you need to look for in your own collection.
Valuable Marvel Comic Books and What to Look for in Your Own Copies
Title
Sold for (Year Sold)
Amazing Fantasy #15
$3.6 million (2021)
Marvel Super Heroes Secret War #8,
Page 25
$3.36 million (2022)
Captain America Comics, No. 1
$3.1 million (2022)
Marvel Comics No. 1
$2.4 million (2022)
Fantastic Four No. 1
$1.5 million (2022)
X-Men No. 1
$807 thousand (2022)
Marvel comics have been captivating kids and teens for almost 100 years. Legendary superheroes like Spiderman, Wolverine, and Captain America top off their star-studded line-up. With thousands of comics in their historic catalog, it's all too likely that you've got a few hidden gems in your or your parent's childhood stash. Although yours might not sell for millions of dollars like these rare copies did, some are probably worth enough to be put into a page protector and housed somewhere safe.
Amazing Fantasy #15 (1962)
Holding the record for the most expensive comic book ever sold is Marvel's Amazing Fantasy #15. Printed in 1962, this comic book stands among the greats because it introduces everyone's favorite friendly neighborhood Spiderman. In almost perfect condition, this incredibly colorful comic book wowed collectors when it sold for $3.6 million in 2021.
Key Takeaways: You might have a first edition copy of Spiderman's first comic book, but it probably won't surpass this one at auction. The important thing to take away from this sale is that comic books that introduce a new character are really valuable to collectors. Spiderman tops this list because his teenage attitude and dilemmas are relatable to people across ages and identities, making him one of the most appealing Marvel heroes, and therefore, the most collectible.
Marvel Super-Heroes Secret Wars #8 Page 25 (1984)
The second most valuable Marvel comic ever sold isn't actually an entire comic, but just one page from 1984. This black-and-white page comes from Marvel Super-Heroes Secret Wars #8, a comic that mashes-up a ton of popular heroes to fight another world-ending villain. What makes this page so valuable is that it's the first panel where we see Spiderman's new black-and-white suit. What we later find out is that it's not just a new suit, but an autonomous Symbiote named Venom who causes all sorts of trouble. Recently, this page sold in a 2022 auction for $3.36 million.
Key Takeaways: Spiderman comics always draw a big audience at auctions, but you're probably confused about how an unremarkable page could be worth millions of dollars. What makes this page so valuable is not only being another piece from a comic book that introduces a new character, but also because of when it was put to auction. With Sony's two Venom movies led by famous actor Tom Hardy recently coming out, there's been a huge renewed interest in the character, and this translates into how much buyers want to pay for the original stuff. So, if any new films or series are released and make a big splash, original comic books introducing their main characters or showing significant moments in their lives are worth keeping safe and maybe putting on the auction block.
Captain America Comics No. 1 (1941)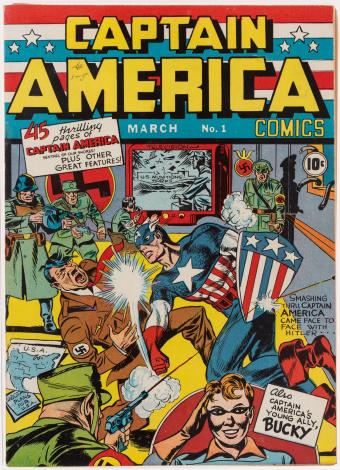 Ever since Chris Evans brought Captain America to the big screen, the character's comics and merchandise sales have blown through the roof. This translated big-time into the collectors' world when a Captain America Comics No. 1 sold at auction for $3.1 million. It's not only the first time we get to meet Captain America, but it's also a huge historical moment since it shows the hero actively fighting Adolf Hitler…a year before the United States actually entered the war.
Key Takeaways: The important thing to learn about this monumental sale is that not every comic is valuable because of the characters that're introduced or the storylines that're told. Instead, some comics tie into famous real-world events that make people interested in them. Comics with culturally significant storylines or printed during a historically important time can be worth more than their face value.
Marvel Comics No. 1 (1939)
Marvel Comics No. 1, released in November 1939, was the comic that started it all. Where would we be without this comic laying the foundation for the media titan that regularly pervades our pop culture? Interestingly, the character that takes center stage on the cover is none other than 'The Human Torch' who has been made and remade in several live action films. Of course, this important piece of Marvel history would sell for a lot - $2.4 million, to be exact.
Key Takeaways: When browsing through your own collection, you also want to look for comics that were the first releases for any other comic book company or imprint. For example, Vertigo's (a DC imprint) first comic was Death: The High Cost of Living and Dark Horse's first comic was Dark Horse Presents, both of which are worth about $20-$40 in great condition.
Additionally, it's important to look for old comics from the 1930s that are still in good condition. You don't want any missing pages, tears, or stains, and you do want artwork that's still really crisp and clear.
Fantastic Four No. 1 (1961)
One of Marvel's first big forays into movie-making was the cosmic-created superhero team, Fantastic Four. A copy of Fantastic Four No. 1 made waves in 2022 for selling for $1.5 million. What's so important about this book besides introducing the team is that it marked a period where Marvel had a huge comeback and jumped ahead of its major competitor, DC, in popularity and sales.
Key Takeaways: Per the usual, you always need to keep an eye peeled for comics that introduce a new character or team. But, you can also look for comics that have significance to the companies that created them. Look for books that might have pulled a comic book company out of bankruptcy, made them a household name, or put them on the cultural map.
X-Men No. 1 (1963)
Last on our list is everyone's favorite team of mutants, the X-Men. Marvel released X-Men No. 1 in 1963, with characters like Cyclops, Angel, Beast, Iceman, Marvel Girl, Professor X, and the villain everyone loves, and loves to hate, Magneto. A series that focuses on two sides of the fight for mutant rights (assimilation and segregation/domination) amid human discrimination, the comics are full of real-world applications and metaphors, making it a popular comic to this day. The most valuable (almost perfect) first print sold for $807,300 in 2021.
Key Takeaways: It's also a good idea to look for comic books in great condition, as well as ones that introduce a character or team. But, the real driving force for comics like X-Men is audience interest. Thanks to actors like Hugh Jackman bringing Wolverine to life in such a visceral way, even casual collectors are willing to put down some serious money for the comics that inspired the movies they love so much. So, look for superhero comics of famous team-ups, storylines, and introductions/deaths in your own collection.
We Marvel at These Comic Book Prices Every Year
Each year, a different comic book sets a new sales record worth millions of dollars more than the one before it. Thanks to Hollywood's superhero craze, comic books are totally in right now, and Marvel comics make up just one of the dozens of publishers whose work is bringing in money. If you want a piece of the pie, check through your own collection and see what special comics you uncover with your new, trained eyes.