For some of us, there is nothing quite as satisfying as a deep clean inside the house and out - especially with the changing season. If you find the crisp fall air invigorating, use that energy to your advantage. From the kitchen to the car, below you'll find everything you need to prepare your home for autumn and beyond.
Fall Deep Cleaning: Indoor Checklist by Room
When the weather turns chilly, we all spend more time indoors. Get all of your spaces clean, cozy, and ready for guests.
Kitchen
The kitchen is the heart of your home! Whether you're concocting a tasty snack for yourself or hosting a dinner party, this room sees a lot of traffic. Here's how to get it sparkling.
Clean the garbage disposal
Clean out cabinets, remove any broken or unused dishes
Check expiration dates and clean the fridge and freezer (throw out old food)
Deep clean major appliances (oven, dishwasher, etc.)
Dust the tops of cabinets
Clean oven hood
Clean under refrigerator and stove
Deodorize and clean garbage disposal
Clean off the top of the fridge
Give the floor a good clean
Bathroom
Give your bathroom a good cleaning and disinfecting, including your bathroom fan and drains.
Bedrooms & Closets
An organized bedroom is a peaceful place. And if you're having guests, this is the perfect time to get your guest bedroom in tip-top shape before the holiday frenzy.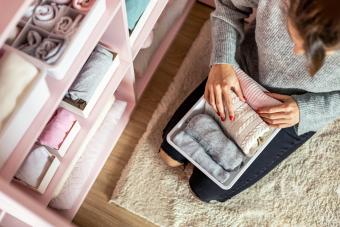 Sort through your clothing and donate outgrown or unworn clothes
Rotate clothes to pull out fall and winter clothing and store summer garments
Pull out fall jackets and accessories
Wipe and dust shelves in closets and bedroom
Flip and clean the mattress
Make beds with winter bedding
Dust and polish furniture
Deodorize closets
Clean floors
Living Areas
Whether you're planning a solo afternoon of Netflix and popcorn, or having the extended family over for a holiday gathering, freshen up the living and/or family room first with these simple steps.
Sweep and mop floors (pay special attention to corners and crevices)
Take down and wash curtains
Deep clean floors (shampoo rugs or mop floors)
Dust, polish, and clean furniture
Dust lamps and lampshades
Clean electronics
Sanitize remotes and other accessories
File paperwork
Laundry Room
The laundry room is where a lot of stuff ends up after a long summer, so you don't want to skimp on this room. Plus, you need to get your washer ready for sweater weather.
Clean dryer vent
Organize laundry supplies
Clean washer and dryer
Remove any stuff on top of the washer or dryer
General Fall Cleaning and Maintenance
Fall cleaning is all about winterizing and getting ready for the colder months. Beyond just cleaning your home, maintenance is important. Don't forget these general fall cleanup areas.
Clean and dust ceiling fans
Clean window tracks and sills
Clean window glass inside and out
Remove screens and install storm windows (if needed)
Sweep and inspect chimney and fireplace
Change smoke detector and carbon monoxide detector batteries
Replace or clean HVAC filters
Check heating systems
Outside Fall Cleaning Checklist
Your kitchen is ready for fall lattes and pumpkin donuts, and as you look out your gleaming living room windows, you notice the yard. Get your outdoor space as fall and winter ready as your home, with this all-inclusive list.
Check siding and windows for cracks
Turn off faucets and winterize sprinkler systems
Store patio furniture
Check bulbs and fixtures of outdoor lights
Clean gutters
Check driveways and walkways
Rake leaves
Garage
The garage is an important part of your outdoor space, so spend some time cleaning and organizing in there too. Lots of things need to be put away and rotated to get ready for raking and snow removal.
Organize and declutter
Pull out fall décor
Put summer items away
Clean and examine garage floor
Replace batteries as needed
Check seals
Lubricate and replace parts as necessary for doors and opener
Bring rakes and snow shovels out so they're within easy reach
Fall Car Cleaning Checklist
This is a great time to give your vehicle some attention, too!
Check tires (pressure and tread)
Put on winter tires
Clean the inside
Check oil
Replace wipers
Check fluids (brake and coolant)
Wash and wax
Tips for Fall Cleaning
Keep these tips in mind as you go about checking everything off of your cleaning lists.
Don't neglect your gutters and siding. Checking now can save you money later.
Reverse ceiling fans, so the heat is coming back down to warm the house.
Always check your chimney and fireplace before starting it for the season.
Check the seals on your windows and doors as you are cleaning. You want to keep the heat in.
Use labels to organize your summer clothing and toys.
Add an emergency kit to your car for winter.
Get Your Home Ready for Fall
Leaves, pumpkins, and sweaters, oh my! It's the moment that fall lovers have been waiting for. Have your home ready for the cool weather and seasonal visitors by following a simple fall checklist. Every room in your home is sure to thank you!