Steal away to an aquatic respite each time you enter your bathroom. Beach and ocean side themed bathrooms provide you with a sensation of sun, breeze, and sea.
1. Octopus Bathroom Theme
The octopus theme offers you a unique fun look for your aquatic bathroom design. This cute sea creature of the ocean gives you lots of possible uses in your bathroom décor.
Color Scheme
Stick with an ocean color palette of grays, blues, and white. The bathroom walls will look great in either a light gray or blue. Your shower and window curtains can either have the same pattern, such as a gray, blue and white stripe, floral, or a solid color with a decorative valance for both the window and shower. Change out the flooring in your bathroom for a darker gray or blue tile.
Use Octopus Motif Accent Pieces
If you're going for a fun, whimsical design, you may use the shower curtain as an octopus centerpiece with a themed graphic shower curtain. Don't forget wall art to further your theme.
Add a few octopus motifs or as many as you prefer:
Octopus toilet paper holder
Octopus decorative shower curtain hooks
Wall hook octopus motif with multiple tentacle hooks
Vintage prints of octopus taking a bath
Octopus decorated round mirror
Glass art of swimming octopus for wall shelf
Octopus nautilus shell tray or soap dish
A few octopus accent tiles carefully placed in floor tile
Twisted octopus arm for bathroom door handle
2. Sea Glass Bathroom
Sea glass has been weathered and changed by the saltwater and sand. This ocean process creates a natural type of frosted glass. Sea glass is aged between 20 to 200 years and is often called drift glass. You can use sea glass as part of your bathroom decorations and for your color scheme.
Colors From Sea Glass
The colors of sea glass can vary, but the most common ones are aqua, teal, green, dark/medium blue, and frosted clear. Other sea glass colors include peach, amber red, pink, and pale purple. You want to choose a main color, such as teal and then choose a secondary, frosted clear and an accent colors, such as dark/medium blue or green.
Choose a light wall color and a darker floor color.
Select accent pieces to repeat the accent color throughout your bathroom design.
You can use your main color in a glass mosaic tile in the shape of fish scales for wall tiles, shower/tub tiles, and a framed mirror.
Sparkling Sea Glass Bathroom Design
There are several ways to use sea glass in your bathroom décor.
A wreath made of sea glass can be placed over the toilet or on the bathroom door.
A tall glass vase filled with colored sea glass can grace your bathroom counter or a set of three different heights placed on a shelf.
A framed heart made of sea glass is a nice wall art choice.
A pair of sea glass mini chandeliers over your sink cabinet are just the right touch.
A sea glass pattern mat for your tub or shower carries out your theme or you may prefer a slip resistant mat for inside your tub or shower.
3. Seahorse Theme
The seahorse captivates and takes your imagination to the mystique and magic of the ocean world. This stranger than life sea animal is a cute choice for any bathroom.
Color Choices
Choose the seahorse color you wish to use. This can be your accent color, or your main color. Seahorses are tan, pink, yellow, gray, or orange since they are like a chameleon. Seahorses change colors to camouflage themselves from predators or to become a predator. These amazing creatures can be more than one color by imitating patterns of shells and plant life.
If you want a colorful palette, you may decide to use depictions of multi-color seahorses.
Pale teal walls and a darker teal floor can set the underwater feel for your bathroom makeover.
White, off-white, pale yellow, or light plankton green are other colors you may consider for wall or floor colors.
A sand color for your floor might imitate the ocean floor just fine for your bathroom ambience.
Carry Out the Seahorse Theme
Some of the ways to use a seahorse theme are with wall art. This can be framed artwork of seahorses or sculpted wall art. You can use one big seahorse wall sculpture or three staggered at different wall heights to give the impression of floating in the ocean.
A seahorse motif shower curtain and towel set carry your theme deeper into the bathroom.
Fill a shell bowl with seahorse shaped soaps.
Seahorse shelf brackets and wall shelf can be painted to match the trim color.
Wall hooks in the shape of a seahorse offer a cute way to hang your towels.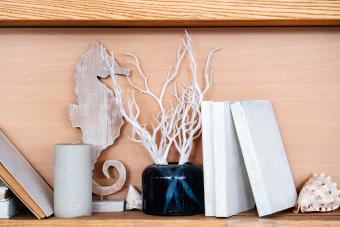 4. Ocean Coral
The sea is rich and vibrant with coral. You can use these images in your bathroom décor to add depth and color.
Vibrant Coral Colors
A coral color can be used as an accent color or a main color for your bathroom design. Your color choices include purple, yellow, red, brown, orange, green, blue, and pink. The coral takes many forms, such as fan-shaped, feathery, and branching. Choose your main color, secondary color, and accent color.
Choose a stripe or plaid window curtain to repeat these three colors.
A shower curtain in the accent color can be repeated with a pendant lampshade.
If using wall tiles, select a few accent tiles with colorful corals.
Coral Bathroom Décor
Coral images, art, and textiles with coral patterns will brighten your bathroom décor. Vary the sizes and shapes of the corals you select for greater design interest.
Hang a framed photo of an underwater collection of colorful coral.
Choose an artistic ceramic or resin realistically looking coral for the bathroom counter or wall shelf.
A wall relief of a sea fan coral will give your bathroom a light and airy ambiance.
5. Myth of Mermaids
The mysterious ancient tales of mermaids capture many people's imaginations. If you're one of them, then turn your enchantment into a magical underwater tribute to this elusive mythological creature.
Color Palette for a Mermaid Bathroom
The blue colors of the sea offer you a wide range of color choices, from dark blue to pale aqua. Ocean white caps and sandy beaches with scattered seashells all beckon the mermaid to splash in playful fun.
Choose the main, secondary, and accent colors that best represent your ideal mermaid world.
Patina colored mermaid sculptures give your bathroom décor a touch of style.
Weathered whitewashed signs and frames give a seaside ambience to mermaid pictures.
Ideas for Mermaid Decorations
There are many types of mermaid themed decorations you can use in your bathroom. These can be as textiles, such as window curtains, shower curtain, towels, wallpaper, stencils, bathmat, and even a wall mural.
Glass fan shaped mosaics that create a waste basket, lotion, or soap dispenser add sparkle.
Hang a wall plaque of driftwood with a mermaid lounging in the sun.
A DIY wall vignette includes a crisscrossing of fishing net with a sculpted mermaid swimming free from the folds with a few seashells, starfish, and sand dollars snagged in the net.
Add a 3-light vanity fixture featuring teal-colored glass shades.
Bathroom Ideas for Aquatic Themes
There are many choices when it comes to choosing an aquatic bathroom design theme. The soothing colors of sky, sand, and sea and the natural aquatic elements and animals will make your bathroom a wonderful room to use.