For good kitchen feng shui you should organize your kitchen cabinets. A few tips for arranging foods and kitchen tools in the cabinets will improve the chi energy while improving the family's health and finances.
Kitchen Size and Cabinet Storage Space
Depending on the size of your kitchen, you may find that you don't have enough cabinet storage space. Don't overload or turn the countertop into a storage shelf. This creates clutter and poison arrows. You can either add more storage space with a piece of kitchen furniture or expand your kitchen. If neither of these options are possible, you may need to reduce your inventory of kitchen tools, pots/pans and small appliances. Large kitchens may have more space, but it is vital you take advantage of the storage areas and use cabinet organizers.
Overhead Cabinets
The ideal overhead feng shui cabinets should always be built to the ceiling. You don't want to leave space between the overhead cabinets and the ceiling. This space becomes a trap for chi energy, creating stagnant chi that is considered clutter. You can prevent this accumulation of backed up chi energy by placing live plants and various decorative objects in this space. Keep these free of dust to prevent stagnant chi energy.
Open Cabinets and Shelves
Open cabinets and shelves create poison arrows. If you currently have open cabinets, consider adding doors. Open shelves can be replaced by installing a cabinet with doors.
Lower Cabinets and Countertops
Lower cabinets often become cluttered due to the inconvenience of bending down to search for stored kitchen items. Invest in a few hanging/sliding baskets for easier access and use of lower cabinets. You should keep the countertops clear to allow chi energy to flow freely and provide preparation space for the cook in the family.
Cabinet Lighting
Kitchen lighting should include cabinet lighting. You can enhance glass door cabinets by adding small recessed lights or DIY battery styled lights. Under cabinet lighting offer needed countertop task lighting. If your upper cabinets that don't reach the ceiling, you can attract the flow of chi energy by using up lighting from the top of the cabinets to illuminate the ceiling above.
Store Knives in Drawers
The sharp points of knifes create poison arrows. Many people keep a knife block on the kitchen counter. This is a better solution than displaying the knifes, but the ideal feng shui storage solution is to conceal the knifes in a drawer.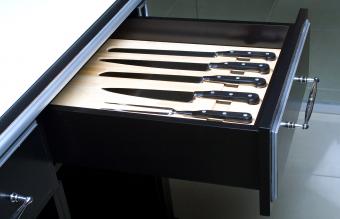 Feng Shui for Pantries
Most pantries store more than food. Depending on the size of your pantry, you may store various cooking utensils, tools, pots and pans as well as small appliances. Organizing your pantry using feng shui rules means getting rid of clutter, providing proper storage containers and keeping your pantry clean.
Organizing Food in Cabinets and Pantries
Foods in cans and boxes can be organized by types, using the same principle of grouping and storing like items together. You may prefer to organize the food in your cabinets and pantries according to how often you use them for easier access.
Dented, Outdated and Never Will Eat
If any cans are dented or boxes torn/damaged, you should replace them. Outdated foods past their shelf life should be tossed out and replaced. Any foods in your cabinets that you don't like and know you'll never eat should be removed and donated.
Store Like Items Together
A quick checklist of what items should be stored together can help you organize better. Some of these items are often displayed on countertops or suspended over the cooking range. However, feng shui rules contradict this practice. These items include:
Silverware should be stored together and organized in drawers using drawer dividers/organizes.
Cooking utensils should be stored in drawers accessible near the stove/range.
Small appliances should be stored in a cabinet or pantry while ones used daily can be kept on the countertop.
Avoid displaying cooking utensils on the wall.
Pots and pans should be stored inside cabinets and not suspended overhead.
Baking pans and forms should be stored near the oven and/or range and kept inside cabinets.
Lids should be matched up with bowls and other containers. Odd lids or containers should be replaced.
Spices can be stored together in a drawer, cabinet or spice rack. Locate these near the stove/range for easy use while cooking/baking.
Tableware, China and Serving Pieces
Having sufficient storage for tableware, china and serving pieces is important for reducing cluttered countertop. There are many available storage items to help you keep these organized inside your cabinets and drawers.
Remove Damaged Items
You should go through bowls, plates, cups and serving platters and cull any pieces that are chipped or cracked. These signs of wear can collect harmful bacteria and negative chi energy. It's best to get rid of these and replace with new ones.
Things Not to Store Together
Most people understand the significant health risk storing household cleansers and food stuff in the same cabinet. Even if the food is in a sealed package or can, it's better to err on the side of caution. The most convenient place to store cleanser and harsh chemicals is in the cabinet underneath the sink. Use containers to organize and group these together.
Learn How to Organize Your Kitchen Cabinets for Good Feng Shui
When you learn how to use feng shui principles for organizing your kitchen cabinets, you'll understand the importance of reducing clutter. You'll feel and see an immediate difference once your kitchen cabinets are organized.