Almost every room can benefit from applying a few interior design lighting tips. By planning a suitable lighting arrangement for your space, it will be more functional while also creating just the right ambiance.
Basic Lighting Tips for Your Home
The two main categories of lighting are natural and artificial. Almost all interior designs will involve the use of artificial illumination. These electrically powered fixtures produce light via incandescent bulbs, fluorescents, or LEDs (light emitting diodes).
Tip #1 - Natural Light
Natural light comes from the sun or from combustion sources, such as fireplaces and candles. Daylight should be considered when designing your room since there may be a need for window treatments such as blinds or drapes to control the light. Also, the soft light generated by candles and hearths will add a welcoming glow to living and dining rooms.
Tip #2 - Energy Consumption
Compact fluorescent bulbs have gained immense popularity as an easy way to save on energy consumption and costs since they install just like traditional bulbs.
Tip #3 - Consider Using All Types of Lighting
Common types include:
Ceiling-mounted fixtures - such as chandeliers, recessed can lights, track lights, and pendant lights
Portable - like table lamps, torchieres, and floor lamps
Wall-mounted fixtures - such as sconces and cove lights
Tip #4 - Impact the Mood
Lighting plays a big part in the usefulness and mood of a room. An interior design tip for a space that really shines is to ensure that all three lighting levels are covered. Illumination is classified as one of the following:
Accent lighting - These lights are mostly for a dramatic touch, such as up lights or spot lights that highlight art pieces and leafy plants.
General ambient lighting - A room's main light comes from recessed lights, chandeliers, floor lamps, or other ceiling fixtures.
Task lighting - Targeted for reading or working includes table lamps and under cabinet lights for the kitchen.
Easy Interior Design Lighting Tips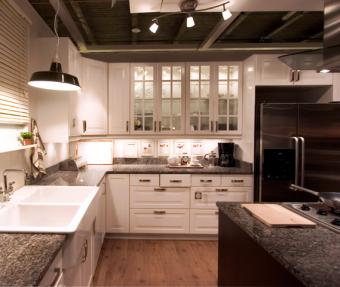 Every room in a home has a mixture of lighting needs.
Tip #5 - Consider the Uses of the Room
Kitchens and utility areas call for bright general lighting along with task lighting for countertops and prep areas. Living rooms, dens, and family rooms require lamps for reading as well as low level lighting for glare-free television viewing. Bathrooms are best lit with fixtures mounted above or on each side of the mirror, so that shadows are minimized.
Tip #6 - Triangle Patterns
A general rule of thumb is to use a triangle pattern when lighting a space. In a living room, lamps can be placed on a console table behind a sofa and on an end table near a loveseat, while a floor lamp is placed by a reading chair.
Tip #7 - Dimmer Switches
Since dimmer switches add versatility to any light fixture, they are one of the top inexpensive interior design lighting tips. Dimmers allow you to fine-tune the level of brightness while also helping to conserve energy and extend bulb life.
Tips #8 - Maximize Task Lighting With Tracks
Another versatile element is track lighting with multiple lamps that can be directed for accent, task, or general use.
Tip #9 - Create a Clean Look
Recessed can lights are a great solution for almost every room. One reason is because these fixtures are low-profile and become integrated into the ceiling for a clean look. Also, if your attic space permits, recessed lights can be added anywhere for full room coverage. Another benefit is their flexibility to be used with dimmer switches and as general or accent lighting.
Tip #10 - Utilize Natural Light
If your room is in need of more natural light, think about installing an economical tubular skylight such as the Solatube. Another way to boost daylight is to hang a mirror opposite a window, so that the natural glow is automatically amplified all day long.