Family camping trips are all about spending quality time together in the great outdoors. Make the experience extra-special by including the kiddos in meal preparation. They'll have fun and feel important, while also learning important life skills and bonding with the rest of the family in a unique way. As with all campfire cooking, the grill or camp stove should always be preheated. For campfire cooking, the flames should have subsided before you begin. Adult supervision is a must when kids are cooking.
Kid-Friendly Camping Pizza
Kids are sure to have a blast prepping personal pizzas by slathering tasty toppings on top of a flour tortilla or flatbread. Prepare one or two for each person in the group, depending on appetite level.
Pizza Ingredients
Flour tortillas or store-bought flatbread
Pizza sauce
Shredded cheese (mozzarella or pizza blend)
Pepperoni
Pizza Prep and Cooking
Have an adult heat the grill or a camping griddle while the kids put together the individual pizzas.
Place each tortilla or flatbread on a piece of aluminum foil that has been sprayed with nonstick cooking spray.
Spoon pizza sauce on top of each pizza base.
Sprinkle shredded cheese over the tortilla.
Add the desired quantity of pepperoni.
Have an adult transfer the pizzas to the grill or griddle. If using a grill, keep the pizzas on the foil. If using a griddle, place the pizzas directly on the griddle.
Cook 3 to 5 minutes, just until the cheese is melted and the sauce is warm.
Loaded Campfire Chicken Nachos
Making chicken nachos is a great way to use up leftover grilled chicken from the night before (if you have any!) or to incorporate canned, pre-cooked chicken chunks into your campfire meals.
Ingredients to Gather
Assembly Instructions
Kids will have a blast putting together a big pan of chicken nachos for the family to share.
Spread tortilla chips across the bottom of a cast-iron skillet or disposable aluminum roasting pan.
Sprinkle chicken on top of chips, followed by pinto beans, then cheese.
Carefully place on the grate of a hot grill (an adult should do this).
Keep a watchful eye on the concoction, removing it from the grill after the cheese is melted.
Place in the center of the picnic table, then lightly cover with veggies and toppings.
Serve on plates, or just let everyone dig in!
Teriyaki Chicken and Pineapple Kabobs
While younger kiddos shouldn't deal with hot kabobs on the grill, they'll probably enjoy making a teriyaki marinade and helping adults thread chunks of marinated chicken and pineapple onto bamboo or metal skewers. With adult supervision, they can load up the skewers on a tray and carry them over to the grill, where an adult can deal with situating them on the fire.
If you have a long brush and a grown-up with a watchful eye, the kids can even help brush a bit more marinade on the shish kabobs while they are cooking. The grilling time for chicken varies based on meat thickness and grill temperature.
Tortilla Spirals
This no-cook finger food is a terrific camping lunch the kiddos can make on their own. It's a great quick meal to enjoy at the campsite, or it can also be put in a baggie or airtight container and stored in a cooler for a picnic lunch elsewhere.
Ingredients
You'll need just a few basic ingredients to make these tasty tortilla roll-ups.
Ranch dressing
Tortillas
Shredded cheese
Slices of lunch meat (any combination of ham, turkey, roast beef, etc.)
Chopped veggies (such as lettuce, spinach, cucumbers, tomatoes, etc.)
Assembly Instructions
This recipe is super easy for kiddos to put together at the campsite's picnic table.
Count out one or two tortillas for each person in the group.
Place each tortilla on a paper plate or a strip of plastic wrap.
Squeeze or spoon a bit of ranch dressing on the tortilla, then spread to a thin layer.
Sprinkle shredded cheese across the top of the dressing-slathered tortilla.
Follow suit with a selection of chopped veggies.
Place a slice or two of meat on the tortilla, covering most of the surface area (or omit for a meatless sandwich).
Start at one end, tightly rolling the tortilla the way you would a jelly roll.
When you have a long, thin strip, dot a bit of dressing under the flap to seal.
If desired, cut in half or slice into chunks about half an inch thick.
Ham Pickles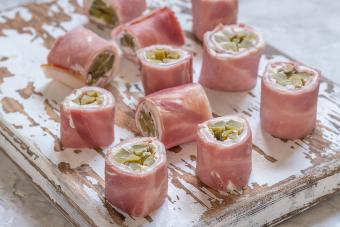 The tortilla spirals described above are a great option to take with you when you go sightseeing or hiking. The same is true for delicious ham pickles, which don't include any kind of bread. You might want to pack both in your picnic basket.
Recipe Ingredients
Gather the following ingredients:
Slices of deli ham
Pickle spears (one for each ham slice)
Softened cream cheese
Assembly Instructions
Ham pickles are super-easy to assemble. Kids will need to have enough manual dexterity to use a dull knife to prep this recipe.
Lay each slice of ham flat on a plate or cutting board.
Spread a thin layer of cream cheese across each slice of ham.
Place a pickle spear across the narrow side of each ham slice.
Starting with the pickle, roll the slice of ham over and over, like a jelly roll.
Dot a bit of cream cheese beneath the flap at the end and press down to seal.
Leave whole or cut into chunks.
Stack the ham pickle rolls in a sealable container or baggie and store them in the cooler until ready to eat.
Grilled Hamburgers
Hamburgers are a great food for kiddos to put together at the campsite. They'll probably love sticking their (clean!) hands into the ground beef mixture to combine everything and form patties. Since you're on vacation, get a little fancier than just shaping plain beef into patties. Use one of these tasty hamburger recipes, or at least dump a packet of onion soup mix and a bit of barbecue sauce in the meat.
Make sure everything is well-combined before they form the mixture into patties. When the patties are ready, have an adult supervise older kids as they transfer the patties to the grill or camp stove, or delegate that task (along with cooking the burgers) to a grown-up. Let the kids set up the buns and condiments.
Cheeseburger Macaroni
The day after the kids help make grilled hamburgers, teach them a lesson on how to use leftover hamburgers by making cheeseburger macaroni. For maximum simplicity, you may want to use your favorite boxed mac and cheese mix. Or, prepare a bag of elbow noodles and melt chunks of Velveeta (or similar) over the noodles when they're hot.
While an adult is dealing with boiling water and noodles, have the kids break or cut leftover hamburger patties into small chunks. A grown-up should transfer the cooked pasta to a cast-iron skillet. The kids can be in charge of mixing the cooked pasta and cheese together, then stirring in the hamburger chunks. Ask them to suggest other items to add (such as fresh or canned diced tomatoes, small pieces of spinach, bacon bits, etc.) for a gourmet touch. Place on a warm grill and heat through.
DIY Grilled Pita Paninis
This is a fun meal idea that the whole family can participate in. Set up a buffet of sandwich ingredients and give each person a piece of pita bread to fill and grill. Just place a meat and cheese tray on the picnic table along with some sliced or diced sandwich veggies or a selection of other panini sandwich fillings and with a selection of condiments (mayonnaise, mustard, ranch dressing, etc.).
Let the kids fill their sandwiches first, then drop them off with the adult or teenager who's working the grill or griddle to sear on both sides. Alternatively, wrap the stuffed pitas in foil and let the kids use long tongs to place them on the grill. Then, let the kids put together the grownups' sandwiches or assign them to supervise the adults' sandwich-making efforts.
Taco Potatoes
Get your kiddos involved in prepping your favorite recipe for herb-roasted potatoes, then cook the tubers in a foil packet. A grown-up should cut the 'taters. The kids can tear foil sheets, situate the potatoes, add seasoning and wrap the packets.
While the potatoes are cooking on the grill (about 45 minutes for thick slices), the can kids create a chicken-and-cheese topping by putting chunks of Velveeta (or similar) in a stockpot, then dumping in a can of diced tomatoes (with or without green chiles). Simmer on the grill until the cheese melts, then stir in thawed taco meat that you brought from your freezer at home or chunks of pre-cooked chicken from a can or pouch. Ladle the meat over cooked potatoes. Let each person top their serving as desired, using things like bacon bits and diced or sliced veggies.
Foil Packet Fish and Vegetables
If your camping trip will include family bonding while fishing, let the kiddos get involved in preparing whatever they catch for dinner. The grownups can start teaching the kiddos how to clean and fillet whole fish, then put the kids in charge of assembling foil packets with fish and fresh veggies to cook on the grill.
Use this baked cod fish recipe, substituting whatever kind of fish you caught for the cod. When the packets are assembled, place on a hot grill or campfire grate and cook for 15 to 20 minutes, depending on how thick the fish fillets are. Check to make sure the fish is opaque before eating.
Club Sandwiches
Kids can participate in making any kind of cold-cut sandwiches, but they're likely to get a big kick out of putting together multi-layered club sandwiches for themselves and the rest of the family. No cooking is required as long as you pack some pre-cooked, shelf-stable bacon for the trip.
Otherwise, have one of the adults cook some bacon, then turn the kiddos loose with this club sandwich recipe. An adult should handle toasting the bread on the grill, or you can just skip that part and use bread directly from the package without toasting it first.
Chicken Salad
Chicken salad is a fun dish for kiddos to make at the campground if you have access to leftover chicken (cut up by an adult) or pre-cooked chicken chunks in a can or pouch. Kids will enjoy making a standard chicken salad recipe, but you can make it even more fun and creative by challenging them to a chicken salad competition.
Portion the chick out into a bowl for each child and have them mix mayonnaise or ranch dressing. Then, let them raid the condiments and cooler to come up with their own unique combinations of mix-ins to add. Have the adults try a bit of each one, then award prizes in different categories. Afterward, everyone can enjoy scoops of chicken salad or make their own sandwiches.
Banana Hot Dog With PB&J
If you have extra or leftover hot dog buns for your camping trip, the kiddos can make themselves a sweet fruit sandwich by spreading peanut butter on one side of the bun and jelly on the other, then placing a peeled banana between the spreads. For even more sweetness, they can sprinkle other types of cut-up fruit on the top. The kids will have fun making and eating this, though chances are the grownups won't find it too appealing. Be sure to prepare something else for the adults to eat, unless this is just being served as a between-meals snack for the kids.
Tuna Dogs
While the hot dog buns are handy, have the kids whip together a basic tuna salad using canned tuna, mayonnaise, and dill pickle relish. If desired, take things up a notch with gourmet picnic food tweaks such as substituting Italian dressing for mayo or stirring in diced onions or celery. Then, have them create tuna dogs by scooping the tuna into hot dog buns that have been lined with lettuce. Add a sandwich-sliced pickle to the top for a tart twist.
Open-Face Tuna Melt
Encourage the kiddos to make extra tuna salad for the recipe above so they can make open-face tuna melt sandwiches the next day. Just have a closely supervised child (or an adult) toast both sides of standard bread slices on a warm grill. While the second side is toasting, scoop tuna salad onto each slice and spread to cover, then place a slice of cheese on top. Leave on the grill until the cheese is melty, then remove and enjoy! Or, skip the open-face part and put a second slice of bread on top. For a richer option, use buttery store-bought croissants rather than sandwich loaf slices.
Cold Pasta Salad
If a grown-up in the group will handle cooking a batch of noodles on the camp stoves, the kiddos can have a blast putting together a delicious cold pasta salad. They can follow a set pasta salad recipe, or use cooked noodles and mayo or ranch dressing to form the base, then stir in other items to create a unique combination all their own.
This is a great way to use up leftovers from other meals, including chunks of cooked ham or other meat, cut-up onions, celery, and other veggies. Canned ingredients like beans, corn, chicken, or tuna are also tasty stirred into a pasta salad. This could be a fun after-dinner activity, which conveniently allows time for the pasta salad to chill in the cooler for lunch the next day.
Hot Bacon and Cheese English Muffin
Start the day off right with a tasty bacon-and-cheese English muffin toasted on the grill or campfire.
Ingredient List
The kiddoes can assemble this flavorful breakfast with just a few basic ingredients.
English muffins
Sliced cheese
Pre-cooked bacon
Preparation Instructions
Prepping this basic breakfast (or breakfast-for-dinner) item is as easy as assembling a sandwich, with the added step of heating over the campfire.
Tear off aluminum foil sheets large enough to wrap the filled English muffins.
Spray with nonstick cooking spray.
Place the bottom of the English muffin in the center of the foil.
Top with a slice of cheese, followed by bacon, then (if desired) another slice of cheese.
Place the top of the English muffin in place.
Loosely wrap with foil.
Place on the grill or a grate over the campfire.
Heat for about 5 minutes, until the cheese is nice and gooey.
Grilled Pigs in Blankets
Kids will get a kick out of using tortillas and hotdogs to create this super-simple version of pigs in a blanket.
Ingredients Needed
This recipe requires only a few basic ingredients.
Hot dogs
Small flour tortillas (street taco size)
Sliced cheese
How to Prepare
Kids can assemble this one all by themselves. Depending on their age and skill level, you can let them put the wrapped weiners on the grill with tongs or have a grown-up handle that part.
Place a tortilla flat on a paper plate or tray.
Put one or two slices of cheese on the tortilla.
Put a hot dog on the tortilla.
Wrap the tortilla tightly around the hot dog.
Using tongs, place the wrapped hot dogs on the grill.
Cook for 7 to 10 minutes, until weiners are warm and the cheese is melted.
Kid's Easy Trail-Mix Balls
It's best to make this recipe at home with your children before the camping trip because things can get very messy! However, you can do it at the campsite if you prefer. These trail mix balls are a quick breakfast option to enjoy while camping. They also make terrific snacks.
Ingredients to Combine
The key to a successful trail-mix ball is choosing the right ingredients. Assemble the items below, making substitutions based on your family's preferences. You can pick healthy filler food, but the best-tasting ones always come from loading it with lots of chocolate and nuts.
Chex cereal (or similar)
1/4 cup raisins or dried cranberries
1/4 cup coconut
1 cup peanuts
1/4 cup walnuts
1/4 cup M&M's
1/2 cup chocolate chips
1/4 cup honey
1/3 cup peanut butter (or other nut butter)
Preparation Instructions
Assembling this tasty camping snack is very messy and very hands-on. Prepare to get super-sticky as you follow the instructions below.
Mix all of the dry items together in a bowl.
Pour the peanut butter (or other nut butter) and honey on top.
Using your hands (freshly washed!), squash together all of the ingredients.
Shape the mixture into balls and place it into zipper locking bags for your camping trip.
Grilled Banana Canoe
Looking for an easy dessert that the kiddos can make? This recipe is a great way to cap off any of the meal ideas above. It's not only fun and easy to make, but it's also a blast to eat. Kids get a kick out of eating a banana with a spoon.
Ingredients
Gather the following ingredients, with a portion for each person who will be partaking in this decadent camping dessert recipe.
1 fresh banana with a firm peel
1 tablespoon M&M's
2 teaspoons chopped nuts or granola
2 teaspoons mini marshmallows
Instructions
Follow the instructions below. Depending on how young the kids are, a grown-up may need to handle slicing the banana and transferring it to the campfire or grill with tongs.
Place each banana on a piece of thick aluminum foil (or two layers).
Without peeling the banana, cut out a slice along the length of the banana.
Stuff the opening of your "canoe" (the sliced area) with chocolate chips, nuts or granola, and marshmallows.
Wrap the aluminum foil up to cover the top of the banana.
Carefully place the banana over the hot coals with tongs, and leave it there for about 10 minutes.
Use tongs to place the banana on a picnic table to cool, then eat with a spoon.
Create Campfire Cooking Memories With Your Kids
When you're camping, cooking doesn't just have to be a chore. It can be a fun activity that creates cherished memories for children and their parents and other family members alike. Use the recipes above, along with other easy camping meals to plan out food-preparation activities you can enjoy with your kids during your next camping trip.
As your kids begin to develop stronger outdoor cooking skills, encourage them to brainstorm with you for ways your family's favorite at-home recipes can be adapted to prepare at a campsite. Not only will you be making some very tasty food, but you'll also be creating family memories that will last a lifetime.