Super-Simple Camping Meals
Eating simple meals prepared at your campsite is one of the best parts of going camping! Try some of these easy meal ideas the next time you go camping. From easy breakfasts and lunches to one-pot camping meals that will feed a crowd, you'll find options that everyone in your group will enjoy (even the kids!). Whether you're traveling with your family or a group of friends, you'll be able to make the most of your time in nature when your camping menu includes these simple meals.
Make Ahead Campground Carnitas
For a delicious heat-and-eat camping meal for a small or large group, prepare slow cooker carnitas at home a few days before your trip. Freeze the shredded pork in its own juice, then put it in your cooler when you go camping. When it has thawed, just dump the meat into a Dutch oven or cast-iron skillet and let it heat through on the grill or over your campfire. Set up a carnitas bar with corn and flour tortillas, shredded lettuce, diced tomatoes, sour cream, guacamole, and salsa.
Campfire Personal Pizzas
Let everyone get in on the fun by assembling their own quick and easy campfire pizza. Just purchase some shelf-stable prepared personal pizza crusts or bakery flatbreads before your trip, along with a collection of toppings like pizza sauce, Alfredo sauce, cheese, pepperoni, olives, diced veggies, and more. At the campsite, place a crust or flatbread on a piece of aluminum foil for each person. Let each individual add any toppings they want, then hand off their pizza to the grill master.
DIY Roasted Hot Dogs or Smoked Sausage
For the easiest camping meal of all, let everyone roast their own hot dog over an open fire. Or, for an interesting variation, use smoked sausages instead of hot dogs. All you'll need is hot dogs and/or smoked sausages, some long sticks or roasting forks, buns, and condiments like mustard, pickled relish, or sauerkraut. Serve with a few varieties of chips and, if desired, heat a can of baked beans for an additional side dish.
Shish Kabob Skewers
Shish kabobs are also an easy traditional camping meal to cook at your campsite. Just marinate chunks of chicken or beef in the cooler while you're out hiking. When it's time to prepare dinner, thread the meat onto skewers with your favorite fresh vegetables and/or fruit. Cherry tomatoes are great to include on shish kabobs, as are chunks of onion, bell pepper, squash, zucchini, or pineapple. Cook on a grill or place on a grate over an open fire.
Foil Packet Fish on the Grill
If you plan to go fishing during your camping trip, be sure to leave room in your meal plan to enjoy what the anglers in the group bring home. It's super easy to enjoy a complete fish dinner cooked on a campground grill when you prepare it in a foil packet. Just cut up your favorite veggies, place a fresh fish filet on the top, squeeze lemon juice over the fish, and add a few pats of butter. Season to taste, then close the packet, poke a few holes in the top with a fork, and grill until cooked through.
Pancakes and Bacon Breakfast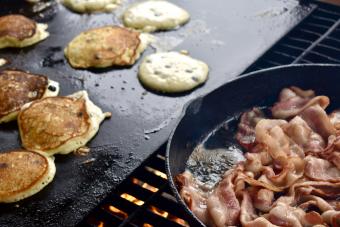 For a super-simple and hearty hot campground breakfast, use a package of "just add water" pancake mix and prepare a batch on a griddle pan or skillet. If desired, stir chopped pecans or blueberries into the pancake batter. Pair with bacon cooked in a skillet. Or, for the fasted and easiest option, purchase shelf-stable pre-cooked bacon before your trip and just heat it in a skillet. Serve with butter and syrup, as well as your favorite fresh fruit.
Hearty Fried Egg Breakfast
Fried eggs paired with sausage and potatoes make for a hearty campground breakfast or evening meal. Just fry the eggs in one cast-iron skillet and sizzle diced potatoes and sausage links in another. You can purchase pre-cooked sausage links and frozen diced potatoes from the supermarket before your trip if you want to minimize your on-site prep and cooking time. If you don't want to pack whole eggs, use a carton of liquid eggs and scramble instead of frying.
Tortilla Wraps and Burritos
Tortilla wraps and burritos are a great option for super-quick camping breakfasts and lunches. Because flour tortillas can be stuffed with just about anything, they are extremely adaptable to vegetarians and meat-eaters alike. Just include a selection of tortilla fillings on your camping shopping list and your group can enjoy everything from vegan breakfast burritos or ones stuffed with eggs and sausage to wrap sandwiches filled with beans and rice or meat, cheese, and veggies.
Assemble Your Own Grilled Quesadillas
You can also use some of the tortillas you pack to allow everyone to assemble their own quesadillas to be cooked on the grill. Just lay a flour tortilla on a paper plate for each person and have them select their fillings from an assembly line of ingredients. Get creative with vegetarian quesadilla recipes or use things like canned chicken, canned black beans, canned corn, diced veggies, and cheese, then turn over the filled tortilla to the chef. Provide toppings like salsa, guacamole, and sour cream.
Easy Make Ahead Sandwich Lunch
If you'd prefer not to light a fire in the middle of the day, prep some easily portable sandwiches the evening before or first thing in the morning. That way, your crew can just snag a quick sandwich at lunchtime or whenever the midday munchies strike. As long as you have a cooler handy, pimento cheese and chicken salad are great options to consider, as are deli meat sandwiches with a tasty spread or meatless sandwiches. Serve with chips, nuts, or cut-up fruit or veggies.
Nut Butter Sandwiches
There's not much that's easier to prepare than sandwiches made with nut butter. Peanut butter, almond butter, and sunflower butter all make for a fast and easy lunch on a busy day or when rain interferes with your campfire cooking plans. All you really need is nut butter and bread, but you can dress things up with jelly, jam, banana slices, or raisins. Serve with fresh fruit or chips. This super-easy camping meal will appeal not only to the kids in the group but also to the grownups who are still kiddos at heart.
Campground Charcuterie Lunch
If the grownups want something a bit more sophisticated for lunch than nut butter sandwiches, a charcuterie board is a great no-cook option to consider. Just pack a selection of cured meats, cheeses, fresh fruits, nuts, olives, crackers, and spreads so you'll be able to quickly and easily assemble your own version of an antipasto tray to enjoy a nearly effortless lunch at your campsite or on the go. If you have leftovers, use them when making pizza, quesadillas, or sandwiches during your trip.
Hearty Bean Soup or Stew
Bean stew or bean soup is a very simple single-pot camping meal. Just drain and dump canned beans (whatever kind you like) into a Dutch oven with a can of diced tomatoes and water, varying the amount based on whether you want soup or a thick stew. Add diced ham or leftover bacon or sausage from breakfast if desired, or leave it out for a vegetarian option. Season with salt, pepper, and any other spices you prefer, then heat and eat. The amount can easily be adjusted for a small or large group.
Vegetable Soup for a Crowd
Vegetable soup is another simple one-pot meal that works well for a large camping group. For the easiest campground option, prepare your favorite simple vegetable soup recipe before the trip and freeze it. Or, simply bring the ingredients and prepare it over an open fire or the grill at your campsite. Either way, you'll need camping cookware, such as a Dutch oven or large stockpot, in which to heat or cook the soup. Serve with crackers or crusty bread from the store.
Frito Pie for a Large Group
If you're camping with a large group, Frito pie is another tasty treat to consider. Make a big batch of your favorite chili recipe, whether it includes meat or is a vegetarian version. You can make it ahead of time and freeze it so that all you have to do is heat it in a Dutch oven or large stockpot at the campsite, or you can cook it over a campfire or on a grill. Dish it up Frito pie style by putting corn chips into each bowl, then ladling chili over the top. Provide toppings like shredded cheese and diced onions.
Get Inspired to Create Simple Camping Meals
Include ingredients for some of these tasty items on your camping shopping list, but don't stop there. Get inspired with some creative ideas of your own. Reflect on your favorite recipes and consider if they can be prepped in advance, made ahead and frozen, or adapted to cook at your campsite. From backpacking-friendly food to delicious and simple camping dessert recipes, you'll be amazed by the many options for simple camping meals.