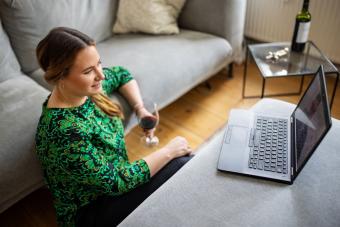 A county, state, country, or ocean away, your long-distance relationship takes work no matter the distance between the two of you. Thanks to technology, there are endless ways to stay in near constant communication. But sometimes texts and phone calls don't scratch that social itch. Consider this the last LDR idea guide you'll ever need - even for you, passionate extroverts and tranquil-seeking introverts.
Simple Long-Distance Relationship Activities You'll Both Love
No relationship is the same; every couple has different interests and things they love. Plus keeping things fresh also means having new ways to connect on hand. Use these long-distance relationship ideas as a starting point to try different things with your partner when you can't be together face-to-face. They might just help the days pass by a little faster.
Stream Favorites Together
Revisit one of your favorites or one of their favorites, it's a great chance to be entertained together when you're apart. (Also, you can scroll on your phone without them even knowing. Win.)
Or Stream Something New
When's the last time you went out without being asked, "Hey have you watched [insanely popular thing]?" Never. Settle on the couch for a night in with your tv, phone, and SO.
Quick Tip
Even if you can't stream at the same time, sometimes there's something about rewatching a movie or show with someone. Even if you're not in the same room.
Game On!
Whether you're co-farming in Star Dew Valley, loading up some Jack in the Box games, or playing virtual Euchre, Monopoly, or poker, grab a beer and get playing. Set yourself up with a Zoom, Skype, or Facetime you're playing so you can throw in some witty banter about who the superior player is. And, tbh, Clue is much better when they can't cheat off your notes.
If you don't have time for a full game, try texting couples games throughout the day.
Book Club for Two
Read the same book, but don't give anything away if you're the speed reader. Take turns choosing books or try one of the latest page-turners on your digital library app. You can even re-read your favorite YA books together.
Pin It together
Pin away the distant with a shared Pinterest board or two. Future in-person date nights, food to cook, or make a board of things you found hilarious and want to share. Nothing says I love you like a meme.
Jam Out Virtually
Rekindle the art of mixed tapes and burned CDS by making playlists for you to jam out to together. Whether you're working out, going for a walk, or just listening to something before bed, it might make you think of each other more often.
Photos Make the Heart Grow Fonder
When you're together, you're taking dozens and dozens of pictures. Create a shared photo album so you can scroll those shots together.
Share a Bear
Remember when you had a classroom teddy bear who was sent home with a different student each week? Pick a buddy and trade off who they're with. Take plenty of pictures so you can share what antics your buddy has gotten into. You can even give it a cute or funny name that means something only the two of you know.
Set Up Simple Surprises for Each Other
When you are together, plant a few surprises. Whether you hide a few dozen mini toy cars, plastic sea creatures, or love notes, there's something about finding a random shark in a drawer to remind you of someone.
Learn Something New Together, Even at a Distance
Whether it's a recipe, how to build something, or even a documentary, there are lots of ideas. Try taking a virtual class together, cook together over FaceTime, or do a couples project that you are each working on while you're apart.
Share a Verbal Gratitude Journal
End, or start, each day with something you're grateful for. Sometimes those little details like seeing several puppies on your walk makes them feel like they were part of your day.
Things to Do in a Long Distance Relationship to Stay Connected
Aside from actual activities you can do virtually or for one another, there are simple things that couples in long-distance relationships can do. We love these ideas that make it stress-free to stay close to your someone.
Talk or Video Chat Over Everyday Moments
If you're the video chat or phone call type, don't wait until special moments. Get ready for bed together, enjoy a coffee over the phone, or just hangout and watch tv together over the phone.
Schedule Time Together
If phone or video calls are important, set aside a specific day or time each week or every couple of days to connect. Putting something on the calendar can keep you from losing track of time and how long it's been since you last talked.
Get Matching Stuff
Make a match. Have a coordinating keyring, necklace, pillow, blanket - whatever makes you feel closer, get a pair and know they'll always be thinking of you when they get cozy in bed or grab their keys to head to the grocery store.
Write an Actual Letter
Send classic snail mail. There's nothing quite like checking the mail after a long day to find a letter or even a postcard waiting for you from your someone special. If you're at a loss for words, try some sweet love letter prompts to get you started.
Make Real Life More Romantic
Take the things you already need to do and make them a little more romantic or use them as an opportunity to connect. For example, you can get a little saucy (or not!) and relax together with a bubble bath.
Try a Fun Couples App
Check out a couples app that'll do the thinking and questions for you. From fun things to talk about to helping you take the stress out of life, these might help you stay closer and make your relationship better than ever.
Dream About Your Future Home Together
Scroll Zillow or other house-hunting websites together. Nothing like roasting some homes together even when you're long distance.
Have a Virtual Happy Hour With Your Sweetheart
Have a drink together! Kick up your feet, have a cocktail or some wine, and unwind together after a long day.
Workout at the Same Time
Get fit together by coordinating your workouts at the same time. You can do the same workout, talk and go for a walk, or even decide to hit the gym at the same time. If you're the competitive type, throw in a few challenges for your partner too.
Staying Close in a Long-Distance Relationship
Date night isn't canceled, long-distance relationship friends. You can fall asleep on the phone together, and have the whole bed to yourself. You can unwind at home with some wine and your boyfriend or girlfriend - digitally, that is. Just because you're apart doesn't mean you can't be connected.