The aunt life deserves to be celebrated. From the TikTok dances to the sword fights in the backyard, you don't want to miss an Instagram-worthy moment. Whether you're looking for something funny or heartfelt, find the perfect aunt caption to make your post resonate with your followers. Who wants to be an ordinary aunt when you can be a little extra-extraordinary?
Cute Captions About Being an Aunt
You love being an aunt. You can take your niece and nephews to all the places where it would be weird for adults to go alone, spoil them rotten, and take them home. Let your sibling deal with the sugar high! Show your followers how awesome it is to be an aunt with a few fun captions.
I'm not a BFF. I'm a BAF - best aunt forever.
Amazing. Unique. Never-failing. Teacher. - AUNT
Nieces and nephews are made for spoiling. It's an aunt's preferred way to irritate their sibling.
Knocking on my sister's door only to hear little feet run, excited to answer. #auntliferocks
Ice cream, cute clothes, and candy. Just a few things aunts are made of.
Aunt time is a moment to leave stress and adulting behind.
Aunts are more than a mentor; they're passing down family passions.
Aunts - making unforgettable memories one visit at a time.
Post Funny and Witty Aunt Captions for Instagram
Life as an aunt is fun. Your niece and nephew teach you nearly as much as you teach them, especially with the latest trends. Give your followers a giggle with a few funny aunt captions.
They created loud toys for aunts to buy. #insertevillaugh
Nieces are the best baby dolls an aunt could ever ask for. Just wait for your brother to lose it!
It's truly the best gift my brother ever gave me. But he refuses to let me keep them.
My nephew is so talented. And to think, my brother has yet to thank me. They definitely got it from me.
Little man snuggles are seriously one of the best parts of being an aunt. Not so much the drool.
I wouldn't say I deserve a trophy. But if I did, it would definitely say "best aunt ever."
Adulting is just overrated. I choose to be aunting instead.
Add Heartfelt Captions to Pictures With Nephews
You might have a few boys that have stolen your heart, but not like your nephew. They win you over with those big, sweet eyes every time, even when they are tiring you out with their nonstop energy. How can you say no to another round of go-karts? Post a sweet picture of your nephew and you that's sure to melt your followers' hearts.
Wacky pj pictures are a must when the nephew comes to play.
No matter how big you get, you'll always roll as auntie's little buddy.
Waking up to sleepover smiles from the cutest boy I know. #auntielifeisthebest
Weapons aren't just for uncles. Aunts are masters of the ancient art of stick swords, too.
Watching my nephew run wild and free tells me aunt life is for me.
It takes a village to raise a sweet young man. Aunts are a pivotal part of that village.
Getting a little one-on-one time with your nephew is less about the adventure and more about the memories.
Why dance to the beat of their own drum? Aunts create a whole new symphony for their nephews.
Captions Sharing the Aunt and Niece Bond
A niece is a daughter, friend, and fashion consultant, all wrapped in a unique package. You love her zany wit and budding personality. Shower your page with pictures of the two of you together.
Making the sweetest memories with my nieces. Auntie loves them to pieces.
Tea party, you say. Auntie must grab the fancy hats.
Nieces are by far the best shopping partners for your soul, not so much your bank account. #lovingauntielife
I'm a mentor. Auntie is showing her all the things not to do.
Double the giggles! Double the sweets. Aunts and nieces know how to have fun.
My niece faces the world head on with kindness and grace. She's teaching her aunt to be brave.
Aunts show their nieces how important it is to put yourself first.
Being an aunt to my niece is like being a big sister, only more epic!
New Aunt Captions That Are Bursting With Excitement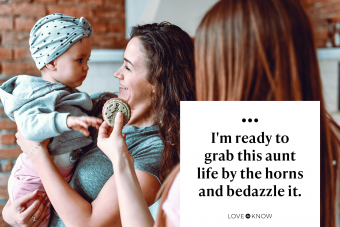 The moment has finally come. You got to meet your new niece or nephew. You're super excited for this new journey!
Favorite aunt level engaged! #mynephewishere
Learning all these new aunt perks - cuddles and snuggles.
The word aunt was just too ordinary for me. So, I've decided to be a tia!
I knew I'd love you as I watched you grow within my sister. But I never knew I'd love you this much.
I'm ready to grab this aunt life by the horns and bedazzle it.
I could quite literally hold my sleeping nephew forever.
It's a strong feeling to look down at your little niece and know you're going to help raise her.
My sister isn't the only one ready to burst. My excitement at being an aunt is literally pouring out of me.
Captions to Make Your Aunt Smile
Your aunt is a pivotal person in your life. You post about the two of you together with a smile. She's always there and ready to party. Celebrate her sweetness on Instagram.
My aunt is a second mother to me. She always has my back.
When I can't call my parents, I know I can call my auntie.
Who said your aunt can't be your best friend?
My aunt has always been there, and I know she always will be.
Moms can't always be "fun," but your aunt sure can.
Aunties are kind of like grandma, but younger, cooler, and better at keeping secrets.
Document Every Aunt Moment
Who wants to be a typical aunt? From the moment you hold that little niece or nephew in your arms, you want to stand out. Because let's face it. They can almost make you feel you're walking down the red carpet when you're coming through the door. Don't miss a cute moment by documenting your time together on social media.