When it comes to captions, sometimes less can be more. It can be fun to say just enough to make people wonder what you really meant. Whether you're looking to take a minimalist approach to captions because you want to say a lot with a little, or you'd prefer to keep your Instagram followers guessing, get inspired by this list of more than 400 captions.
One-Word Selfie Captions
How do you elevate the perfect selfie to the next level? With a one-word caption that serves as an exclamation point to the image.
Adorkable
Babe
Beguiling
Boss
Cuteness
Dashing
Dazzling
Dreamer
Effortless
Handsome
Hotness
Hottie
Jealous?
Knockout
Loveliness
Natural
Panache
Pulchritudinous
Radiant
Ravishing
Savage
Sexy
Spicy
Spiffy
Splendiferous
Superstar
Swagger
Sweetness
Vision
Winsome
One-Word Captions for Groups of People
Not every captionable selfie features just one person. When you snap a pic of you and your friends, family, or coworkers, add a super-short caption and share via social.
Allies
Besties
Bevy
Brothers
Buddies
Bunch
Cabal
Circle
Clique
Coalition
Community
Compadres
Compatriots
Comrades
Crew
Family
Gaggle
Gang
Homies
Insiders
Kinfolk
Pack
Peeps
Posse
Siblings
Sisters
Squad
Teammates
Troupe
One-Word Captions for Facial Expressions
When a photo captures an amazingly emotive expression on a person's face, no explanation is necessary. The perfect caption might be a single word that echoes the feeling on display in the image.
Awestruck
Bliss
Brooding
Captivated
Confident
Concentration
Doleful
Dreamy
Enthralled
Exhilaration
Haunted
Intense
Mischievous
Pleading
Soulful
Pensive
Playful
Puzzled
Reflective
Sheepish
Sly
Speechless
Thoughtful
Unblinking
Uncertain
Unreadable
Wistful
Withering
Wonderment
One-Word Captions for Fashion
Some outfits speak for themselves, so there's no reason to craft lengthy captions when they're photographed. Sum up the look with just a single word.
Boho
Classy
Dapper
Comfortable
Cutting-edge
Eclectic
Edgy
Elegant
Effortless
Flamboyant
Girly
Glam
Groovy
Hip
Hipster
Luxurious
Manly
Minimalist
On-trend
Ostentatious
Retro
Sparkly
Stylin'
Swagalicious
Swanky
Throwback
Trendsetting
Vintage
Voguish
Zazz
One-Word Captions for Happy Couples
Even though it takes two to make a couples photo, the image can still be punctuated effectively with just one word.
Attached
Baes
Beloved
Besotted
Bonded
Cherished
Connected
Covalent
Duo
Duplet
Faithful
Harmonious
Involved
Linked
Love
Matched
Paired
Partners
Passionate
Reciprocal
Solid
Soulmates
Sparks
Steady
Taken
Team
Together
Twosome
We
Us
One-Word Captions Announcing Marriage or Engagement
When a couple gets engaged or married, that's the perfect time to post a photo with a bold one-word caption.
Affianced
Bespoken
Betrothed
Bilateral
Bonded
Bound
Committed
Commitment
Eloped
Engaged
Espoused
Eternal
Exclusive
Fused
Forever
Handfast
Hitched
Honeymooners
Hooked
Intended
Newlywed
Official
Permanent
Perpetual
Plighted
Promised
Stable
Pledged
Promised
Wedded
One Word Post-Breakup Captions
Not every relationship lasts forever. Figuring out how to caption a post-breakup photo can be challenging. Consider starting with just one word.
Adjourned
Available
Brokenhearted
Decided
Decommitted
Decoupled
Disbanded
Disengaged
Disentangled
Dropper
Forward
Free
Healing
Independent
Looking
Matchless
Recovering
Released
Single
Solo
Split
Stronger
Unattached
Unbound
Uncoupled
Unencumbered
Uninvolved
Unmatched
Uno
One-Word Captions for an Accomplishment
When you reach a major milestone or are celebrating a significant achievement, enhance a photo of the fruits of your labors with a single-word caption.
Aced
Acquired
Actualized
Attained
Bagged
Completed
Conquered
Done
Effectuated
Executed
Finis
Finished
Fulfilled
Fruition
Gained
Landed
Mastered
Obtained
Periodt
Realized
Resolved
Scored
Seized
Success
Summitted
One-Word Captions for Goals
When you commit to accomplishing a goal, shout it out loud! Take a picture that represents what you want it to achieve, and share it with a single-term caption.
Achievable
Aiming
Aspiration
Aspiring
Attainable
Becoming
Bourne
Destination
Driver
Exemplar
Impetus
Intent
Intention
Objective
Mission
Motivator
Motive
Next
Outcome
Quest
Reachable
Seeking
Soon
Target
Vision
One-Word Captions for Mornings
Morning photos are a great way to start the day. Adding a one-word caption makes it extra fun to share snaps of your unique take on the beginning of the day.
Already?
Arisen
Awakening
Bleary
Caffeine
Dawning
Daybreak
Daylight
Dayspring
Forenoon
Groggy
Heavy-eyed
Interrupted
Jammies
Lethargic
Morningtide
Recharged
Risen
Rising
Sleepy
Slow-moving
Sluggish
Snooze
Somnolent
Sunrise
Sunup
Waking
Why?
Yawny
One-Word Food Captions
Looking to inspire some extreme dinner envy with a snap of your mouthwatering meal? Let the photo do most of the talking. Just add a single descriptive word for food to leave your followers wanting more.
Ambrosial
Buttery
Culinary
Decadent
Delectable
Divine
Drool-worthy
Exotic
Finger-licking
Flavoricious
Gourmand
Gourmet
Hearty
Heavenly
Lip-smacking
Luscious
Melty
Mouthwatering
Nom-nom
Nummy
Piquant
Scrumptious
Succulent
Sumptuous
Tantalizing
Tasty
Toothsome
Umami
Yummilicous
Zesty
Single Word Cocktail Captions
Food isn't the only consumable that deserves to be photographed. Every interesting cocktail (and cocktail-fueled adventure!) deserves at least a few snaps, each accompanied by a solo word caption.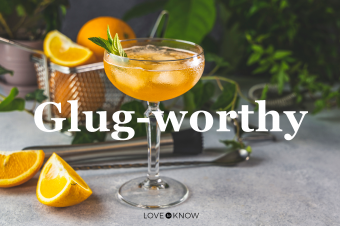 Apéritif
Blended
Boozy
Bracer
Brewski
Chaser
Chug
Effervescent
Finest
Firewater
Frothy
Fruity
Glug-worthy
Guzzle
Hooch
Hops
Inebriant
Intoxicant
Intoxicating
Lethal
Libation
Mixology
Nightcap
Premium
Shaken
Shots
Spirits
Stirred
Strong
Thirsty
Single-Word Travel Captions
If you don't post a bunch of travel photos with one-word captions, did the trip even happen?
Adventuring
Carefree
Chillaxed
Cruisin'
Downtime
Embarkation
Escape
Expatriation
Furlough
Freedom
Getaway
Holidaze
Intermission
Leisure
Jetset
Jetting
Off-grid
Recreation
Rejuvenation
Relaxation
Retreat
Renewal
Resort
Respite
Sailing
Sightseeing
Touristing
Vacay
Visiting
Weekending
One-Word Captions for the Beauty of Nature
Every once in a while, you'll snap a nature photograph that is beautiful beyond words. Rather than detracting from its beauty with a lengthy caption, opt for a single word.
Awe-inspiring
Breathtaking
Captivating
Ethereal
Idyllic
Incomparable
Incredible
Lush
Magnificent
Majestic
Mesmerizing
Panoramic
Peaceful
Pristine
Scenic
Serene
Spectacular
Striking
Stunning
Surreal
Tranquil
Tropical
Unsurpassed
Untouched
Verdant
Say a Lot With Just One Word
You don't need long captions to go deep. These single-term captions are proof that you can convey a lot of meaning with just one word. Choose your favorites from this list, or use the options provided here as inspiration to come up with even more ideas of your own.