We've all done it — succumbed to our late-night cravings for fantastically fried fast food. While we don't always want to advertise these adventures, sometimes they turn out to be pretty unforgettable nights with friends and family. If you are looking for some funny fast food quotes and captions, we have just what you ordered!
Unless otherwise noted, all quotes and captions are original and written by LoveToKnow Staff. 
Funny Fast Food Quotes for Those Who Crave Mexican After Midnight
If you are like me, a heaping plate of loaded nachos can solve a queso the munchies! For those who favor Mexican food, these spec-taco-lar fast food captions are about to taco-ver your Instagram feed.
[Name of favorite Mexican restaurant] has done it again. This meal is simply burrito-ful!
What a fantastaco end to the night!
That snack just guac-ed my world!
Sweet dreams are made of cheese. Who am I to disagree? I would travel the world and the seven seas. Everybody's looking for good queso!
Let's not burrito round the bush. The bell tolled and I eagerly opened my billfold! #latenightTacoBellrun
I got a bad queso loving [name of favorite Mexican restaurant]!
We taco walk on the wild side. 
Nacho average Thursday night!
In queso you didn't know, [favorite Mexican restaurant]'s roasted poblano queso is absolute fire!
Taco 'bout a late-night letdown! [Favorite Mexican restaurant] is closed on [day of the week]. 
Short & Silly Fast Food Captions for Your Late-Night Burger Cravings
Another fan favorite after a night on the town is burgers! Since time fries when you are having fun, don't waste your short window of time looking for the perfect fast food quote. We have the best combos in town.
You burger believe we went to see the king!
This burger ... I'm Lovin' It!
I figured out the secret to success! Late-night patties with cheese! It worked for Mark Zuckerburger, didn't it?
Late-night exercise? I thought you said to pick up some extra fries!
Just like I like it!
Meat your heart out!
Last night, I found the bun that I want!
I would sacri-fries my life for this late-night snack. 
I like big buns and I cannot lie! 
Just playing ketchup! I missed dinner today!
Two-for-one burgers? It was a dill I couldn't refuse.
Awesome Fast Food Restaurant Quotes for Your Asian Food Adventures 
Let's be frank — Asian food is simply unbelieva-bao! If your order includes some Asian cuisine, these funny fast food quotes are about to beef and broc'd your world.
Can you say stirfries-ingly delicious?
Fortune-ately, [name of your favorite late-night Asian restaurant] was open late tonight!
No pain, no grain.
You dim sum, you lose some. 
No Kung Pao-laints about this meal!
What an eggs-cellent late-night snack! I ate every drop!
Tonight certainly riced to the occasion!
[Restaurant name] just woked my world!
This meal was (General) TSO good.
What a nood-iful night! The lo mein wasn't bad either!
It's a nood dawn, it's a nood day, it's a nood life, and I'm feeling good! 
They didn't include any fortune cookies with our Chinese takeout. It was quite unfortunate.
Fast Food Quotes for Those Who Cross a Few Roads to Get Some Chicken
All chicken jokes aside, for those whose late-night fried chicken adventures are PG — filled with Pretty Good chicken — we have a bucket of fast food captions that will make everyone cluck-le!
You batter believe I got my fried chicken fix tonight!
Honey-thing is possible after eating a honey butter chicken biscuit!
A good late-night meal means that I am ready for beak performance in the morning!
We had to go to [favorite chicken restaurant]! It's fry-day!
Fried chicken gives you all the hen-durance you need to make it through an all nighter!
[Name of favorite chicken restaurant] is the wind beneath my wings.
There was fowl play at the restaurant tonight! They forgot to give me my nuggets!
We felt a bit peckish after working around the cluck!
The police suspect fowl play, but this was a legal tender! I paid in cash at the window!
Phenomenal Fast Food Puns for Those Who Prefer the Deep Dish
When you knead the dough, then pizza is the star of the show! Don't worry, we're dishing out some saucy fast food captions for those folks who want to show off their slice on social media.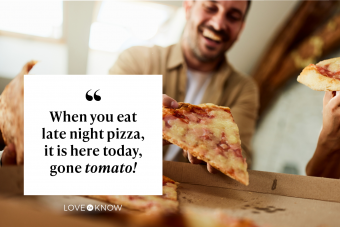 Slice, slice, baby!
It was almost midnight, so I had to cheese the day!
Another one bites the crust!
This supreme has stolen a pizza my hut!
My love for pizza goes on, onion, onion, onion!
This dish can't be topped!
I never sausage a beautiful slice!
Cut our life into pizzas; this was our last resort!
When you eat late-night pizza, it is here today, gone tomato!
Last night, I got caught in a love triangle. This slice stole a pizza my soul!
Fast Food Captions for Instagram to Show Off Late-Night Breakfast Bites
Last, but certainly not least, late-night adventures wouldn't be complete without enjoying the most important meal of the day! Why else would breakfast houses stay open 24 hours? These breakfast-themed fast food restaurant quotes are sure to bring the loaves. Crust us!
Talk about an eggs-ceptional way to end the evening!
Don't flip out, but no pancakes can stack up to the ones at [name of favorite pancake house]!
Every night I'm sizzlin'!
You're just too good to be true! Pancake my eyes off of you.
I love [name favorite breakfast house] a waffle lot!
Smoked bacon cures any late-night problems.
How is it already midnight?! The time creped up on me. Butter eat quickly so I can get to bed!
We hatched a plan last night to stay out late and now my brain is scrambled. 
Bacon my way downtown, eating fast, minutes pass, and then I'm homebound.
Fast Fact
We said it — breakfast is the most important meal of the day. If your favorite late-night breakfast spot picked a few bad apples, make sure to sneak in something healthy by snagging a banana to go with your meal. It is a step in the ripe direction! Oh, and don't forget to include an a-peeling banana pun or joke in your social post!
Fast Food Captions Can Be Perfect for Any Occasion
We hope that we served up some fulfilling fast food quotes for your Instagram posts! For those late-night adventures to sneak into the early morning, also consider some mug-nificent coffee puns to pair with your food posts.