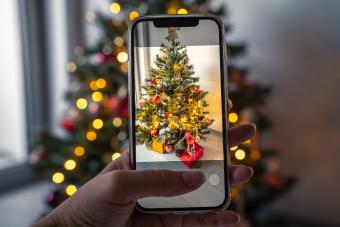 Sometimes finding the perfect words to share your Christmas tree photos can feel harder than actually choosing and decorating the tree, but there's no need to stress. Let these awesome Christmas tree caption ideas inspire you so you can focus on what really matters: sharing the joy of this special season with your friends, family, and followers.
Captions to Use for Photos of Getting Your Tree
Getting your Christmas tree makes a pretty great holiday photo op, especially if you have little ones. Whether you cut your own or pick the prettiest pine on the lot, these captions will tell everyone how much fun you're having:
We thought all the trees were perfect, so it was super hard to choose the one.
Cutting our own and harvesting some holiday cheer!
We're festive and freezing! No one told us it would take so long to choose the perfect Christmas tree.
Getting in the Christmas spirit by picking the perfect tree.
Having a moment over here just watching the kids fight over which tree to get.
Bringing home some holiday cheer tied to the top of our car!
The pressure is real when it comes to finding the perfect tree.
Christmas Tree Captions for Decorating
Decorating your tree is an important part of the holiday season, and it's a great time to snap some photos to share on Instagram or anywhere else. These captions can help your friends, family, and followers share your joy as you decorate:
All we need is a few lights and ornaments to get this Christmas party started.
Adding a little Christmas magic in the form of sparkling lights.
Christmas isn't Christmas until the lights are on the tree.
So many memories and so much magic inside a box of ornaments.
Let's get ready to rock around this Christmas tree!
Time to tinsel up!
Taking it from meh to magical.
Funny Captions for Your Tree-rific Photos
Sure, the holidays are serious business, but that doesn't mean you can't get a little silly too. Make everyone smile with a funny Christmas tree caption:
We're all spruced up over here!
Pretty much the most tree-mendous holiday ever.
I pine for him/her/them.
Tree's up. Time to get lit!
It's Christmas time fir sure!
We're all feeling pine and hope you are too.
Get ready, get set, and...glow!
Fun Questions to Ask With Your Christmas Tree Pictures
Question captions can help boost engagement on your posts - or in normal, non-influencer language, they can help get people to slow their scroll and take a minute to connect. Here are a few question captions to go with your best tree photos:
To tinsel or not to tinsel?
It's tree time over here. What's your favorite Christmas tree ornament?
What carol should we be playing while we enjoy this beautiful tree?
Real or fake? Any guesses?
What's the best Christmas cocktail to go with this tree?
How long should we wait to start putting gifts under it?
What are you hoping to find under the tree this year?
Magical Christmas Tree Captions for Instagram
The thing about Christmas trees is they are pretty much the ultimate symbol of Christmas magic. Capture that wonder with your captions for Instagram or anywhere else you share your pics:
Nothing is as magical as kids at Christmas. Their eyes are sparkling even more than the tree.
These people make my heart glow brighter than this Christmas tree.
O Tannenbaum! O Tannenbaum! How lovely are thy branches!
Nothing like turning out all the lights and gazing at this beautiful tree together.
Loving these people is more magical than a million Christmas trees (but this one is pretty great).
Give us a glittering tree and suddenly anything is possible.
All it takes is a tree with lights to make Christmas full of sparkle and surprise.
Christmas Tree Captions for All Your Pet Posts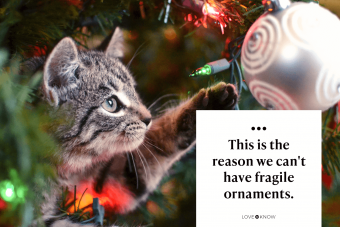 If you're sharing your Christmas tree with furry friends, you can capture them in some purr-fect pictures. Use these captions to share your holiday fur babies with the world:
When I look at the Christmas tree, I think, "How beautiful." When Snowball looks at it, she thinks, "I could climb that."
We decided to replace the angel at the top of our tree with a mischievous cat.
This one has been chewing all the ornaments in his reach since 2012.
Look at Fluffy under the Christmas tree like a bad-tempered present.
This is the reason we can't have fragile ornaments.
Santa couldn't put anything under the tree that would be cuter than this girl.
Had to take a quick elfie in front of the tree with this furry dude.
Tips to Take the Perfect Tree Photo
Showing off your tree may seem simple, but it can actually be a little difficult to photograph well. These tips will help you take a picture of your decorated tree and set you up for sparkling success:
Expose for the bright lights. If you're taking a tree photo in the dark with your phone, tap the lights to tell your camera to expose for them. Everything else will be a bit darker, but you'll be able to see the glowing magic.
For portraits, use another light too. Most really pretty pictures of people in front of trees have a window or other light source out of the shot that lights the person's face more evenly than the tree lights.
Use a mix of LED and incandescent lights to get the lights to show up in photos. LEDs flicker on and off faster than you can see but not faster than your camera shoots, so not all of them will be lit in your pictures. Add a string of old-fashioned incandescent bulbs for the best pictures.
Take lots of photos from different angles. If you move around and take close and far-away shots, you might be surprised which ones you'll love the most. Plus, with kids or pets, more photos make it likely you'll get a great one.
Spruce Up Your Christmas Tree Posts
Spruce up your holiday tree photos with the perfect captions so you can share the love and magic with all the people who are special to you. There's no wrong way to caption a Christmas tree photo, so just have some fun and choose your favorite.