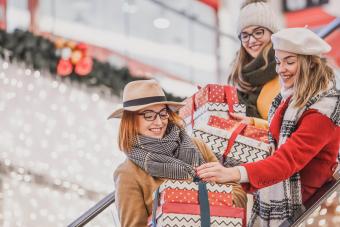 Shopping during the Christmas season is fun and frenzied. Knowing when Christmas sales start, where the best deals can be found, and places to shop, helps streamline your gift purchasing process to save you time and money. With so many special shopping days between Thanksgiving and Christmas Eve, it can be difficult to keep track of them all. So follow these tips to help you get a jump on your list.
Decoration Sales Start in Early Fall
Before you begin shopping for gifts, you are most likely going to be shopping for holiday decorations. To the chagrin of some people and the joy of others, Christmas decorations are available in stores as early as late August and early September. The earlier you purchase these decorations, the better deals you will get.
If you don't find yourself in need of new decorations this year, make sure you give your current decorations a good inspection. If anything needs replacing, decorations can be found at rock-bottom bargains starting the day after Christmas, when stores are trying to clear out inventory.
Holiday Layaway Programs
Layaway programs are a great alternative to the traditional Christmas shopping rush. These programs allow customers to place a small down payment on an item, usually 10% of the total value, and pay it off over time. This is a great option if you are shopping for big-ticket items like jewelry or electronics. Walmart offers layaway in most stores and on their website; check with your local store to see if it offers layaway. These holiday layaway programs start at the end of August and run through December 24th.
Thanksgiving Day Sales
As stores have begun opening earlier and earlier for Black Friday sales, some open their doors on Thanksgiving day. Most stores open in the late afternoon or early evening, but others are open at 8 a.m. on Thanksgiving morning. Major department stores like Macy's and JC Penney are open Thursday afternoon, hoping to attract customers with great discounts on home goods like bedding and countertop appliances. These sales usually fall under the "doorbuster" category, so the earlier you get there, the better the discounts will be.
Black Friday
Black Friday is traditionally the day most people associate with the beginning of the Christmas shopping season. However, unless you're looking for more expensive items, the Black Friday discounts may not be worth braving the storm of shoppers. Over the years, items like electronics, DVDs, appliances, and TVs have emerged as the best items to grab on Black Friday. Even Apple offers gift cards and special bonuses for purchasing new items on Black Friday. If you do go out on Black Friday, remember:
The earlier you can get to the store, the better.
The best discounts are going to be on large electronics like televisions, video game systems, and computers.
Don't forget to check stores like Best Buy for discounts on large home appliances like refrigerators. Many people forget they sell these items, so retailers are motivated to discount them.
Most of the big-ticket items sell out by late-morning. Make sure you prioritize your shopping list.
Small Business Saturday
Small Business Saturday occurs the day after Black Friday. Even though Small Business Saturday was born out of an American Express advertising campaign, it still offers customers who want to support local small businesses discounts and incentives to shop for items like clothes, home goods, and decorations. This day of shopping small and local does not drive near the same amount of traffic as Black Friday, but it is still a busy day for shopping.
It's always a good idea to check with local business the week before Thanksgiving and see if they are going to be participating in Small Business Saturday. Don't forget to ask about any deals they'll be having, and what special hours they might be open.
Cyber Monday
Cyber Monday occurs the Monday after Thanksgiving and is the online shopping response to Black Friday. While most retailers have Cyber Monday sales, Amazon is the big player. After Thanksgiving, Amazon publishes what deals will be available on their Cyber Monday page and customers can peruse the products looking for the perfect gift. Tips for making the most of Cyber Monday include:
Think about investing in an Amazon Prime account. It provides free two-day shipping, and may pay for itself on Cyber Monday alone.
Many brick-and-mortar stores are trying to increase their online presence. Check for huge discounts online from Walmart, Target, and Best Buy.
Have your shopping list ready to go early in the morning. Cyber Monday is growing larger every year, and there are no guarantees that your items won't sell out.
Check out online retailers' websites before Monday, and bookmark any items that are going on sale.
Last-Minute Shopping Deals
Many stores have great deals for last-minute Christmas shoppers still looking for the perfect gift in the week or two before Christmas. These deals are often an effort to boost sales before the end of the shopping season and clear out older inventory before replacing it with new items at the beginning of the year.
Keep an eye on department and electronics stores, the will often have bigger deals on older models of appliances, clothes, and gadgets the closer it gets to Christmas. These last-minute sales can be a gamble.
While the deals are great, it is very possible the items you are looking for have already been sold in the rush of Black Friday and Cyber Monday.
Keep a close eye and be ready to act fast when the prices drop.
Semi-Annual Sales
After everyone has taken a breath during Christmas and enjoyed time with family, people are chomping at the bit to get back out into the stores and exchange items they don't like or don't fit. Stores take advantage of all that foot traffic with semi-annual sales. Most notably, Victoria's Secret semi-annual sale and Nordstrom's men's half-yearly sale have great deals. Many large retailers offer huge discounts to move last year's inventory to make room for new models. These sales can start as early as the week before Christmas and end as late as the first weekend of the new year. As with the other big shopping events of the year, it's ideal to get into the stores as soon as possible after the sales start, to find the best selection.
'Tis the Season
Nothing is more gratifying than seeing a loved one open the perfect gift on Christmas morning. Making sure you get the best deals on your Christmas list can help spread the joy even further.