You may be planning a casual meet-up with your new love interest or a morning at home with your spouse. Either way, morning date ideas are great for every stage of your relationship; they offer an opportunity to fill your love tank before your day begins.
A romantic morning might help you lean into those new butterflies in your stomach or rekindle the passion a busy schedule can often extinguish too.
Easy Ways to Add a Morning Date to Your Routine
Morning dates are gaining popularity and some of them are pretty common. If you want an easygoing date that's simple to execute, try one of these ideas to sneak some quality time in at the start of your day.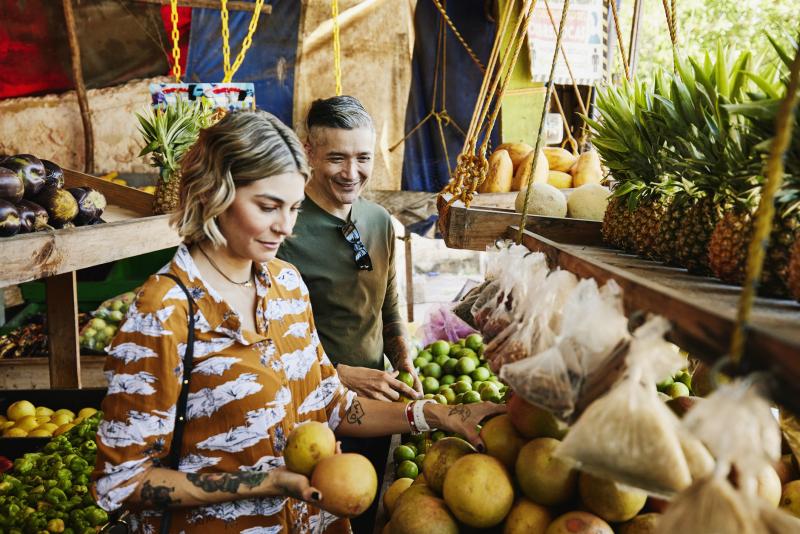 Have breakfast in bed.
Spend the morning at your favorite coffee shop.
Take a walk through your neighborhood or stroll through the park.
Grab breakfast or brunch at a local eatery.
Browse your local farmer's market together.
Creative Morning Date Ideas to Rev Up the Romance
If you're leaning on creativity to make your romantic life a bit more exciting, morning dates can help you infuse that creativity (and romance) into the earliest part of your day.  When the average coffee shop stop just won't do, take your darling on a morning date with one of these ideas.
Watch the Sunrise Together
If you both need to be up early for work (or you're just trying to get in a date before the kids wake), watching the sunrise can be so romantic. Look for a spot in your home where the view of the sunset is best. Keep the lights in your home dim, include hot coffee and something to eat, and watch the sun rise on a brand new day.
Have Designated Snuggle Time in the Quiet
You can have a date before you ever leave your bed in the morning. In fact, this is a short date you can do every morning if you like. Set your alarms ten minutes earlier than normal and designate some time for quiet snuggles as you slowly wake up together.
Quick Tip
You can set the mood for this date with some soft music or dim lighting. You can even keep a candle on your nightstand to light up the moment.
Stroll Through a Nursery or Local Garden
A bit of sunshine and a lot of plant life make for a sweet time together. Go to your local plant nursery or meet at a beautiful garden before you have to go to work. One of you can bring the coffee and make a morning of strolling through the beauty of nature, hand-in-hand.
Hang Out in a Hammock
If you want to blend the refreshing vibes of a morning spent in nature with your longing to cuddle, it might be time to invest in a hammock. You can sneak away each morning to spend some time in the great outdoors and stay close to your sweetheart before you wander back to the house to start your day.
Make Breakfast a Surprise
This morning date is just as exciting for seasoned couples as it is for new lovers. Pick a spot, whether your home or a local park and challenge one another to surprise the other with a breakfast they'll love. You might grab your sweetheart's favorite coffee and donut combo while they snag a to-go order of those chicken and waffles you love so much. It's a fun way to see how well you know each other and share a meal to start your day.
Fast Fact
You don't have to buy breakfast. You can also whip up your darling's favorite morning meal at home.
Spend Some Time in the Water
If your local climate and weather are just right, you can start your morning with a date in (or by) the water.
Rent a paddle boat for the morning.
Have a morning swim together.
Stroll along the beach, lake, or river.
Race on jet skis before breakfast.
Grab some sun by the pool as you sip your coffee.
Beat the Crowds to the Zoo
The zoo is a sweet date at any stage of your relationship, but the crowds that gather during peak times can discourage your romance. If you're planning a morning date anyway, you may as well get to the zoo when the doors open and enjoy having much of the place to yourselves.
Have a Spa Morning
Nothing says romance like a peaceful massage or glowing skin. Take your sweetheart to the spa for the morning and start your day in a relaxing atmosphere practicing some self-care. 
Walk Around Downtown on a Coffee Quest
Finding the perfect coffee can be a lifelong journey. Your downtown area might be a great place to start (and an excellent way to support small businesses). Meet up and stroll around the blocks until you both smell the aroma of the world's best cup of coffee. 
Make Dessert Together for Breakfast
Some rules are made to be broken (and any rule involving dessert should be broken). Start your day in the sweetest way — in more ways than one — and make dessert for breakfast. Bake alongside your sweetheart and add lots of "sugar" to your morning.
Watch a Nostalgic Movie in Your Pajamas
Looking for a morning date on a lazy weekend? A cozy movie in your comfy clothes is the way to go. Plan to spend the better part of the morning snuggled up in front of the TV and sipping coffee together.
Helpful Hack
You can amp up the nostalgic vibes by including your favorite breakfast foods from childhood, like Poptarts or cereal.
Browse a Bookstore
If you prefer a slow morning without a lot of chatter, you might want to plan a date at the library or a local bookstore. With coffees in hand, you and your date can browse in silence and flirt through the bookcases.
Quick Tip
Add a challenge to your bookstore trip by seeing who can find the cheesiest romance novel, best classic literature, or silliest young adult book plot. 
Have a Virtual Coffee Date
If there's one thing that's changed the dating game forever, it's technology. If you and your partner are trying to make a long-distance relationship work or you're attempting to get to know someone better before meeting in person, reach for your phone or laptop. Share your morning coffee through the screen and start your day with sweet conversation and virtual flirting. 
Steal Kisses on a Park Bench
Forget about walking at the park; spend some time sitting on a bench instead. It may sound simple, but people watching and observing nature together can be quite romantic.  Plus, a park bench is made for stealing kisses. Most of the people you'll encounter at the park on an early morning are jogging so fast they won't even notice.
Journal Together in the Quiet
Here's a morning date for a couple of introverts in love: trade conversation for quiet journaling. Sometimes it's just being near one another that makes a date special. Bring a book, a journal, or study material to a local spot (or even your own home) and enjoy the peace of a morning spent in silence with the one you love.
Seek Out the Perfect Waffle
The perfect waffle may not exist, but that shouldn't stop you from trying to find it. This can be a fun recurring date to try with your honey. Schedule a few meetups, take turns selecting the location, and do your best to determine the best waffle that money can buy in your town.
Date With Intention
Morning dates are all about setting the tone for your day and being intentional with your time. Whether you've been in love with the same person for half a lifetime or you're still deciding how you feel about a casual situation, these dates will help you experience and express those feelings intentionally. When you're ready to switch things up, try a few midday dates too.