You've got 31 days to put your spookiest self forward, and you can't call a hallowed look complete if you're not decked out from head to toe. Stay inspired by all things creepy, ghoulish, and enchanting by bringing these Halloween nail designs to life.
Whether you want a subtle pop of color to complement your outfit or you're trying to find the perfect nails to finish off your costume, these Halloween nail ideas will put a spell on you.
A Gourd-geous Yellow Ombre Nail to Wear Pumpkin Picking
Orange pumpkins aren't the only gourds you can pick up during the Halloween season. They come in a variety of colors, from a truly delightful puke green color to a pus white. To make the most of your pumpkin-picking outfit, try out this dark yellow ombre nail design.
Red & Black Nails That'll Scare the Vampires Away
Horror movie fans will love this edgy nail look. All you need are blood red and black polishes and some tape. Not everyone has the dexterity to pull out a sharp triangular point like this using only a brush (our shaking hands could never). Instead, apply red polish to the whole nail. Then use masking tape or the like to carve out the interior triangle and paint it black.
Try a Duochrome Purple Nail for Something New
There are dozens of nail polish finishes to choose from, and duochrome might be the most striking. This polish uses light and pigments to reflect two different colors on the nail depending on what angle you're looking at. Elevate your average purple polish with a blue and purple or green and purple duochrome.
Get Yourself Some Halloween French-Tips
If you were in high school in the early 2000s, then everyone around you had a pair of square white-tip French nails. Bring back the fashion with a Halloween twist using orange as the base and black as the tip.
Try Cracked Nails Inspired by Crumbling Crypts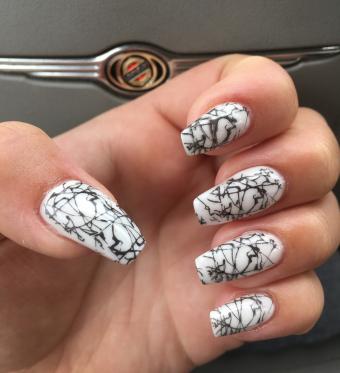 If you really love an abstract design that isn't all about symmetry and fine lines, this is a great Halloween nail look for you. Simply lay a white polish down and let it dry. Then, take a black polish (the tackier, the better) and swirl the tiny hanging drips around the nail. Embody your inner Pollock and you can create a stunning texture in about five minutes.
Great Graveyard Scene for an Advanced Nail Artist
So many Halloween tales start in a graveyard, so why not bring them to your manicure? If you're skilled with a nail brush, then you can master this creepy graveyard scene.
If you don't have the time to created a complicated scene like this one, try nail wraps or press-on nails that you can just peel and put in place to channel your Halloween look.
Nails the Woman in White Would be Jealous Of
These ghostly white nails may seem overly simple, but really, they'll stand out amongst the classic blush and nude colors that abound in fall.
Quick Tip
The key to getting good white coverage is using as few brush strokes as possible and thoroughly coating your nails.
Frightfully Fun Matte Black Nails With Bloody Accents
You don't have to go bold with massive acrylics to stay in the scary season theme. These bloody drip nails are perfect if you want to show off your macabre side while also keeping in good standings with the HR department.
Just whip out some matte black across the nails and then glob some red polish at the cuticle and hang your nail downwards. Let gravity do all the work!
Enchanting Purple Holographic Nails
Most people gravitate towards darker purples, like eggplant, in the fall season. And while they are beautiful, you might want something with a bit more pizazz. Stand out from the crowd with a purple holographic nail. Step outside of the box with a lavender, magenta, or mulberry tone.
Slimy Green & Black Nails That Ooze Spooky Season
If you're ready to fight off the Hash Slinger Slasher from SpongeBob, then swipe off some of the green slime oozing out of the Krusty Krab's walls and flick it on your nail. Lay down a base and a matte black polish, then use the gravity trick to spread globs of green polish down your nail from the cuticle.
Fabulous Vampire Nails to Sell Gothy Glamor
Marry spooky with simple in this easy nail look. After you paint on a black polish over a base coat, add some bloody drips from the cuticle and a spiderweb or two with a white polish pen. The idea's not to go overboard with design here. Keep things clean and your nails will have the biggest impact.
Delicious Vampy Nails Using Only Red & Black Polish
If you want a vampy look but you've only got 30 minutes to spare, then this red and black design is perfect for you. Simply pick out your favorite red and black polish, coat your nails in a base, and (once fully dry) cover each hand in one of the colors. Then add a top coat for a high, lasting shine.
Step Out With a Glittery Yellow Fantasmagoria Nail Look
Who said fall was for subtleties? Instead, layer the brightest yellow you've got over a base coat, and top your nails off with a chunky gold glitter. Take candy corn up a notch with this fantastical evening nail look.
Dusty Black & Gold Nails to Seduce the Spirits
If you're looking for a glam nail look you can actually achieve at home, we've got you've covered. Say bye-bye to the standard crème black nail polish affair and bring in the loose glitter.
Now, with this you will need a gel polish, a curing light, and a feather brush to apply the glitter. Apply the gel polish and, while it's tacky, brush in the glitter in the sections you want. Then, brush away the excess and finish curing.
Ombre Red Nails Tell a Sinister Story
For a few years, ombre nails were all the rage. Bring them back with a more sinister vibe by pulling out a deeper red into a pinkish color towards the nail bed. This might give a bitten-to-the-quick kind of effect that's perfect to break out during scary movie marathons. Just be sure not to actually bite down on your Halloween manicure.
Give Yourself an Acid Green Duochrome Manicure
Who needs a natural green polish when you've got colors like acid green at your fingertips? Step out on the town with a stunning duochrome manicure that shifts from putrid yellow to acid green.
Also, you can experiment with nail shapes as well! Try out a new shape like coffin or stiletto to embrace the dangerous Halloween vibes.
Halloween Nails That'll Reach Beyond the Grave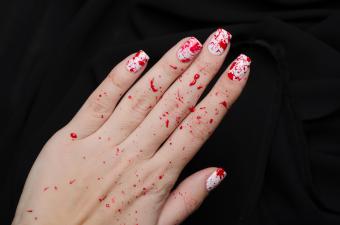 If you're putting together a horror costume and want to incorporate your manicure into it, try this rather simple but stomach-turning design. Paint your nails with either a clear coat or an opaque white. Once they're fully dry, dip a makeup sponge into red, black, or brown and smudge on the colors across your nails. This'll make them look dirty and damaged.
Dress up With a Nightmare Before Christmas Manicure
If you're not feeling like dressing up this year but have the energy to bang out a beautiful manicure, this is a perfect black nail idea for you. Just take motifs from an iconic Halloween movie like The Nightmare Before Christmas and paint them in white over a basic black manicure.
Outrageous Acrylics to Pair With a Shocking Costume
We've talked about big and bold nails already, but these massive acrylics put everything else to shame. An almost skin-tone matte polish makes these super-long acrylics have a dead quality that's perfect for an undead Halloween costume. Just be careful about where you put those things; we're all for the fake blood, but let's stay away from the real stuff.
It's Check Mate With These Checkerboard Nails
A creative and relatively easy nail look you can try is checkerboard nails. Lay down a white polish base and draw out the squares using a black polish and a thin brush. And if you're feeling up for it, do the inverse (black base with white squares) on the other hand.
This is a great idea if you're not really suave with a paintbrush but want to play around with a more involved polish design.
Try Matte Black & a Pop of Glitter for a Subtle Celebration
If you're not vibing with pulling up to your work on a dull Monday morning bearing razor-sharp stiletto nails, consider going for a subtler festive look. Cover three of the nails in a matte black polish, using tape or liquid latex to demarcate half the nail on the remaining two. Then, to highlight the asymmetry, add a glitter line using gold polish and a brush.
Shimmery Nails to Flounce Around the Graveyard
When you think about Halloween colors, your mind probably jumps to orange, purple, green, and black. But a stormy gray should weasel its way in there, too. After all, where would Halloween be without their gravestones for zombies and vampires to frequent? To honor the graveyards of the world, spread a lovely metallic gray polish over your nails.
Claw-Tastic Medieval Nails to Shake Up a Storm
Break out the soft-core cosplay this Halloween season with these alternating black and silver triangle designs. Now, you can apply this to a regular nail, but acrylics will give you more space to really show off your artistry. If you're new to nails, we suggest working your way up to this kind of mastery.
Go Big & Bold With Radioactive Green Nails
Maybe things would've gone differently for the Wicked Witch of the West if the land of Oz had had Halloween. Give yourself a bright glittery green nail polish to embody your inner Elphaba.
And if you want to go really big, give yourself massive acrylic claws. After all, what month's better for a really impractical manicure than the month dedicated to dressing up?
Spooky Sunset Scene to Challenge Your Nail Painting Skills
There's something especially creepy about balloons on Halloween, and this sunset silhouette scene gives us the heebie jeebies — but in a good way. To really excel at this nail look, you'll need to work a yellow and red gradient and then paint in birds, trees, and characters using black polish and a brush. But the finished product is so worth the work.
Star Wars Nails That'll Win Every Costume Contest
Most of this Star Wars manicure is easy to manage. Do a simple black French tip nail and line the underneath with white. The stormtrooper silhouettes will take a skilled hand to bring to life, but practice makes perfect!
Let Your Nails Show You're Batty for Halloween
Bats might be creepy, but they're nothing but cute on a nail design. Start with a glossy dark orange base and paint bat designs in a couple of nails in black polish. Add eye nail stickers for the bat's eyes to finish off the look.
Creepy Matte Vampire Nails
Let your nails take center stage this Halloween with a matte vampire nail design. Just paint a black base and freehand the teeth and mouth. It doesn't have to look perfect; crooked lines and jagged teeth with just add to the appeal.
Cute Green and Purple Frankenstein-Inspired Nails
This is a fun nail look for all ages that's not too creepy. Just use purple polish as your base and add patch accents in green. Add the details with black polish and you're set.
Jack-O'-Lantern Nails Go With Any Look
More Details
You can channel Halloween all month long with these adorable jack-o'-lantern nails. You can add the look of carved-pumpkin faces to a single accent nail or several nails for a fun look that goes with any costume or outfit.
Channel Your Inner Little Devil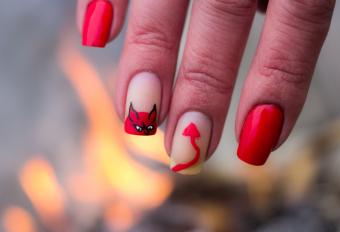 If you're feeling a little devilish but don't want to go gory, this red-devil nails look might be perfect for you. One nail gets a peek of the devil face, one its tail, and the rest solid red — so it's pretty easy for beginner or intermediate nail artists.
Pretty Pink Webs
If you're looking for an easy way to dress up your everyday manicure, or a way to spookify your nails to go with your Barbie costume, this nail art look has you covered. Just create a web design with black glitter polish over your pink nails or pink French tips.
Try Mini Ghosts for a Fun Spooky Look
Lots of little designs on your nails can be just as impactful as a really bold designs. Try doing ghosts, pumpkins, dots, stars, and anything else that fits your Halloween mood.
Quick Tip
If you don't feel your nail art skills are up to the challenge, look for Halloween-themed nail stickers to get the look.
Candy-Inspired Halloween Nail Design
Pay homage to all the treats with an easy candy-inspired nail design this Halloween. Just paint each nail a different candy-colored shade in a shimmery or glossy finish.
Your Nails Deserve a Stunning Costume, Too
October is all about being creative and dressing up as something other than ourselves. Embrace the dark, glamorous, bold, and cute sides of yourself with these spooktacular Halloween nail designs. The hardest part is narrowing down just 31.