There's an old wives tale that every family has an emo cousin, and if you can't think of the cousin, then it's you. Okay, so maybe that's more true for my family than others. But here's the thing - I am a wear black year-round type of person. Although I do lean towards charcoal gray during the hotter days. And as for my nails? Oh, black nail polish designs. All year round.
And, here's a secret from you to me, black nail polish is totally perfect all year long. Summertime? Add some glitter and a splash of color. Spring? Lean into those pastel hues with some black polish. I'm already inspired. Let me grab my black nail polish, and let's get these ideas started.
Timeless and Simple Black Nails
You see a plain nail, and you want to paint it black. It's classic, it's chic, it's timeless, and it's a gender-neutral look for nails. Whether you're headed to brunch, a wedding, or just don't want your nails to go naked for one more day. Black is the new black. And it goes with everything.
Matte Black Nails for a Softer Look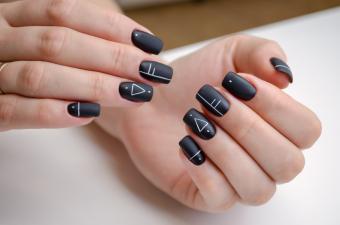 If you want a black nail that's a little more subtle than a flashy nail, just add a coat of matte nail polish to give your black nails a subdued look that's still timeless.
Eye-Catching Black and Pink Nails
Go with a coral pink, neon pink, pastel pink, Barbie pink, and everything pink in between with a splash of black nail polish. Or use the black nail polish as a base. Whatever approach you'd like, black and pink are a gorgeous combo.
Another great color combo? Yellow and black. Get your bumblebee on. Contrasting bright nail colors with black makes the look really unique.
Sparkling Silver and Black Nails
Add a little pizzazz to your black nails by painting just one finger with a glittery silver polish, or coat each black nail with a thin layer of chunky silver sparkle nail polish.
Color Block Black Nails for Look That Pops
Alternate the black nail polish with another color - be it a lighter black, a bright blue, or a rainbow of colors. It's an easy way to add color without having to wait for layers to dry.
Year-Round Black and Orange Nails
For the Halloween-fanatics - and those who just love the color orange - this color combo isn't just for October anymore, friends. Use each color on your nail, or start with a black base and draw designs using orange nail polish.
Simple Black and Neutral Nails
Use black and neutral-colored nail polish (like a biege tone) in turn on your nails or draw designs using the other color to make your nails pop. Easy! Draw intricate shapes, use just lines, or add a few dots to give it a fancy twist.
Edgy Black Nails
Sharpen your look and your nails with an edgier look to the usual black nail design. Always classy and in style, these are a stunning black nail design upgrade from the usual.
Black French Tip Nail Design
For those who love the classic French tip look but want something a little bolder, black is a go-to that'll go with everything. The black French tip nail is here to save the day. Month after month.
Cute Black Nail Ideas With a Bright Outlook
I'll let you in on a little secret: I love black, but I also love bright yellow. This is the perfect way to pull off a bright nail look without going too big. Start with a bright color, such as sunshine yellow, then use a softer golden yellow, a gray, and finally black. You can use the same order on each hand or shake it up.
Glittery Black Nails
Grab your favorite gold, silver, bronze, or multicolored glitter nail polish and add a layer to your black nails. Create a design by just painting the bottoms, sides, or tops. The world is your glittering, shining black nail design oyster.
Spooky-Inspired Black Nails
We would be remiss to not include a spooky nail design option in this collection of black nail looks. You can be a web designer, with or without a spider friend, add a spooky splash of red, or just lean into the coffin-shaped nails for your spooky black nail design.
Delicate Black Nail Designs
Give your nails a few coats of a neutral color to start things off. Then grab your tiniest brush or a sewing needle and carefully draw delicate designs or floral patterns on just one or two nails with black nail polish.
Charcoal Black Nails
Nothing beats a dark charcoal nail polish for when you're not quite ready to commit to the Wednesday Addams nails, but you certainly want to give it a try. Alternatively, these are great for when you want to lighten things up in the summer.
Jeweled Black Nails
With a touch of a nail glue, you can bedazzle, sparkle, and shine your simple black nails to go from simple to glamorous without picking the polish brush back up.
Star Wars Nail Designs
Imperial march your way to the cabinet to grab black and white nail polish and a few toothpicks to carefully and slowly craft yourself some nails that are black as Darth Vader's heart.
Simple Black Geometric Nail Designs
If you're not artfully inclined (guilty!) then these easy black nail designs are a gift from the nail gods above. Use just a line or two to create a simple and elegant look - or flip the script and use a black nail polish base with a white nail polish design!
A Touch of Gray
Paint all but one nail with your favorite black polish, glossy or matte, and then paint a single nail silver, gray, red, or whatever color makes your heart happiest to mix with that edgy black polish.
Elevated Black Nails
Like the singular not-black nail, pick a nail to feature a floral, geometric, or polka dot design with your black nail polish. And, so that you can take it a step further, adorn the neighboring nail with just a touch of glitter. Now that's perfection.
A Cow Walks Into a Nail Salon
Moooo-ve over other black nail designs, your friends are going to have a cow when they see your nails! Start with a white nail base, then add black polka dots, layering them together to make blobs that resemble the patterns cows sport. Don't forget to paint a tip pink and add some eyes to complete your majestic bovine mani.
Monochrome Hands
Can't decide on black or white? Well, why not use one color on each hand. Instead of alternating nails, stick to all black on one hand and all white on the other. Simple? Yes. Gorgeous? Oh yes. Satisfies the need for black nails? Heck yeah.
Shaped Black Nails
File your nails into an almond, coffin, oval, ballerina, stiletto ... the shape list option goes on and on. Once you've put in the hard work, apply your favorite dark hue: black!
Plaid Nails
Paint your nails white, or any other lighter color, then embellish the polish with black stripes, much like plaid. Don't be afraid to opt to paint your nails black then adorn with a little color. While white looks gorgeous, maybe consider neon, too.
Back to Black
It's time to go back to black nails! August? Black nails. February? Black nails, with a splash of pink, obviously. There's no better nail polish to get the ideas flowing than black nail polish. Prepare to be a trendsetter.