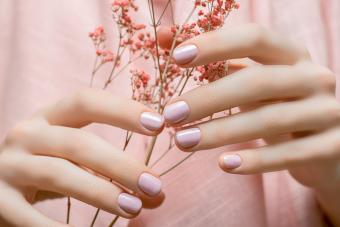 From bright bubblegum and neon pink to soft blush and elegant mauve, there's a pink nail color and design that's perfect for your summer style statement. Whether you're looking for a sweet twist on French tips or you want to embrace your inner fashion icon with a bold nail design, these pink nail ideas will set you up for a summer of compliments.
Bold & Glossy Fuchsia Is a Summer Showstopper
Nothing goes better with a bold summer outfit than a bold summer nail color. A shade of bright fuchsia on ballerina nail tips gives off flirty and confident vibes.
Pink & White Ombre Is Soft & Summery
Love the idea of pretty pink nails in summer, but want to try something subtle? A soft pink nail with an ombre effect is a fashionable choice that doesn't demand too much attention.
Subtle Summer Florals Are Sweet & Sophisticated
If you want to embrace a floral print for summer but don't love a bold look, try a subtle design. Neutral-toned florals over a soft pink are summery and sophisticated.
Pair Pink With Bold Green Designs
Pair your prettiest pink polish with a striking green and a stunning design this summer. The contrasting colors and the unique print come together for an artistic nail look that captures the essence of summer.
A Nude Pink Is Pretty & Professional
Want a fun nail look for summer that still fits in at the office? A shade of pink that's also a bit neutral is perfect. These feel sophisticated but still fun.
Try Some Summery Stripes
Summer is the season of fun - and there's nothing more fun than a nail art combo. Pair your pretty pink with soft summer stripes for a sweet nail design that's classy and fun.
Watermelon Nail Designs That Scream Summer
What says summer more than refreshing watermelon? A bright pink and watermelon themed nail design is exactly what you need for your next vacay or summer soiree.
Pink & Red Make a Summer Statement
If you're looking for a classy color pairing for your favorite pink nail color, red is the obvious choice. There's low contrast here, and that makes for a nail color combo that's blended, understated, and still fun.
Nothing Pops Like Neon Pink
If you want to make a real statement with your nails this summer, then vibrant, neon pink is another must-have color. Try a matte finish on ballerina tips for a modern look.
Barbie Pink Is Nice & Nostalgic
With Barbie making her major comeback in pop culture and maintaining her "it girl" status for decades, you really can't go wrong with her signature shade of pink. Barbie pink nails look classy on short rounded tips and stunning on modern almond tips.
Summer Floral Accent Nails Are Pretty in Pink
Pair that pretty shade of bright pink with a sweet floral accent nail design this summer. Highlight your choice of pink with a floral detail that uses the same color.
Dusty Pink Is Soft & Understated for Summer
Bold nail colors aren't the only option for summer manicures. Try a muted or dusty pink for a soft summery look that suits your day or evening looks.
Peachy Pink Is Peachy Keen
Warm up and lighten a traditional pink nail look with a peachy shade. That subtle hint of orange will have your pretty pink nails matching your favorite summer cocktail.
Glitter Is Pink's Summer Soulmate
Pink nails and glitter polish were truly made for each other. Give your favorite shade of pink an extra layer of sparkle with a not-so-subtle glitter glaze.
Iridescent Pink Feels Like a Mermaid Manicure
If glitter isn't your thing, maybe an iridescent glaze is the best way to top your pink polish. A layer of reflective top coat feels a bit like a mermaid's take on a manicure just in time for summer.
Bubblegum Pink Is Sweet for Summer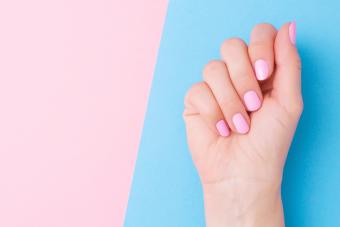 Whether you're planning manicures for a summer bridal party or just need a soft and sweet look for your summer schedule, bubblegum pink sits in that middle space between bold and subtle. Go for a glossy top coat to make this color really pop.
Top Off Your Pink With White Tips
If you love French tips but want a summery twist on the classic style, this pop of pink is the way to go. This isn't your mom's manicure, and the bold pink choice will gain you all sorts of compliments this summer.
Mix & Match With Magenta
Can't decide on the perfect pink polish application? Mix and match your favorites for a truly unique look. French tips, glossy pink, and glittering mangenta are a nail design trio to fit your signature summer style.
Paint With Pink Polish for a Stylish Summer
No matter your tip, design, and top coat choice, you really can't go wrong with pink nails this summer. Find the shade and style that fits your personality and sit back while the compliments roll in.