October is a fun nail color month — you get the best of both worlds when it comes to pretty fall and spooky Halloween themes, so you can go dark and moody, bold and eye-catching, or something on the lighter side that's just as lovely. Find the perfect look that fits your October style!
Try a Unique Autumnal Color Palette for October
Capture the bright orange colors of the October leaves paired with a warm dark mauve color similar to some of those less-common purple fall leaves. This look is trendy without being too on the nose.
Keep It Elegant With Beige and Black
Embrace your classy-but-witchy vibes this October with these beige and black-accented nails. The touch of sparkle adds a mystical elegance that goes perfectly with the month.
Shimmery Reddish-Brown for a Day Out
Planning to go to the pumpkin patch this October? While you're picking out your perfect fall outfit, don't forget about your nails! A reddish-brown shimmer will look gorgeous on a sunny or cloudy day. Between your cute nails, cute pics, and a cute pumpkin patch caption, you'll be set.
Simple Dark Green Shades
A dark olive or forest green fits well for both autumn and Halloween themes without being over-the-top. But it's a unique look that'll make people ask you what shade you used!
Plaid Nails for a Classic October Feel
Lots of people love to wear plaid in October, so why not try the design on your nails? This color combo of cream, orange, red, and a sagey green absolutely captures that autumn spirit.
Pink Ombre for Breast Cancer Awareness
October is Breast Cancer Awareness month, an important time of the year to raise funds for the cure. If you're involved in this movement, show your support with beautiful pink ombre nails. They're also a great conversation starter to spread awareness.
Play With Seasonal Shapes
Everyone knows October is the peak time for colorful leaves, so try incorporating their beauty right into your manicure. A clear acrylic nail with autumn leaf confetti will have people complimenting your nails left and right.
Toxic Green Goo Nails (But Make It Cute)
A vibrant green stands out from the usual earth tones and dark colors associated with October for a monstrously cute look. If you don't want to go all-out green goo colored, just us it as an accent color on a few nails with sparkly green tips for the rest.
Go Chic With Dark Matte Brown
Once October hits, counter those summer nude shades with this lovely, understated brown. If you want a look that's purely classy and goes with pretty much any outfit, brown might be your color.
White Nails With Black Webbing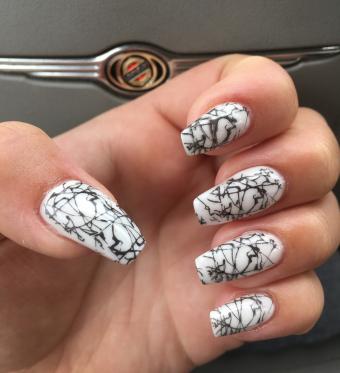 For something reminiscent of the Halloween season, but maybe not in-your-face ghouls and goblins, try a white nail with an abstract black design that looks almost like a spider web.
Dark Teal and Chunky Glitter
Dark teal is another great color for those cool October days. Add a little bit of spice with chunky glitter accents in the same shade.
Warm and Fuzzy Polka Dots
Go for light taupe and white polka dots to change up your manicure this October. This comforting color palette makes me feel like cozying up with a warm soy latte.
Quick Tip
A look like this is ideal if you want a nail design that goes with everything. Pretty off-whites and delicious crumby browns are not only on-trend fall fashion colors, but they're versatile enough to go with pretty much any outfit.
Mesmerizing Cat's Eye Nails
"Cat's eye" nail polish captures the unique glimmer of a cat's eye marble. A deep purple color with this finish will put you in the mood for a dark and stormy night. Perfect for watching a scary movie with a mug of hot cider or mulled wine, if you ask me.
Beautiful Marbled Nail Polish
Keep it light with a pale muted orange and white marbled accent nails. This look is simple but still gives you a little extra visual interest.
Opal October Birthday Nails
I'm pretty jealous of folks born in October for multiple reasons, one of them being that opal is one of their birthstones. Pay homage to this beautiful stone and your birthday month with a shimmery, iridescent white nail polish that looks just opal.
Pink Tourmaline October Birthday Nails
Don't forget about October's other birthstone, pink tourmaline. Paint your nails a darker pink color with glitter accents that Barbie would certainly approve of.
Add Extra Drama With a Chrome Finish
October's a great time to dress a little more boldly than normal (or just as bold, but with a dark edge). Dark-colored nail polish with a chrome-like shine will bring all the drama you want and more.
Bi-Tonal Nails for October
Pick any two colors that you love for October and do a dual-colored manicure that's sure to draw attention. Black and orange are a great choice, but you can pick any two you like.
Gothic-Chic Matte Black Nails With a Touch of Gold
The matte black nail color was a signature Tumblr look circa 2014, but it still holds up in my book, especially in October. You can even add a touch of gold detail to make it more interesting.
Midnight Blue Nails
Go for an eerie look with midnight blue nails. Perfect for any late-night October bonfires or séance — whatever floats your boat.
Bold Metallic Stripes
Show off your unique style with bold striped nails. You can keep it just black and white for a classic stark contrast or make it more funky with metallic complements.
Stiletto Shaped Nails
The actual shape of your nail can transform the whole look of your October manicure. A sharp "stiletto" shape takes your nails from average to eye-catching, without having to do any fancy nail polish designs.
Orange, Black & Blue Is the Perfect October Color Combo
While black and orange nails tend to be associated more with Halloween than October specifically, adding a dark blue to the party might be just the ticket.
Floral Nail Art for October
Another reason October is so great is that it's your last bit of time to enjoy most flowers for the year. A delicate floral design is just right if you're not trying to go for spooky or dark nails.
Celebrate the October Night Sky
A clear October night makes for some of the best stargazing of the year. Stars and crescent moons just happen to make beautiful nail designs, too. I'd be showing my cool mani to anybody I talk to!
Your Best Spooky Nails
We can't ignore that Halloween's in October, so it's a great time to show off your best spooky nails. Mix and match your favorite Halloween symbols like spiders, ghost faces, and jack o' lanterns in whatever creepy colors you like. The world's your oyster for this nail design!
Choose a Few October Nail Designs to Try Throughout the Month
October might be one of the most fun months to choose a nail design; there are so many cool options to choose from! Luckily there are zero rules that say you can only pick one.
Try a new design each week depending on your mood or what you're doing. If you're headed to the pumpkin patch, go with something cute and fall-themed. If you're going to a live music show, pick something bold and edgy. And as Halloween inches closer, maybe your end-of-the-month nails get a little spookier with some Halloween-themed nail designs. It's all up to you, so have fun!