Get your attic storage space organized and make finding seasonal clothes and holiday decor easy and stress-free. These attic storage solutions will have your finished or unfinished attic organized and tidy with just a few simple products or an easy weekend DIY project.
Start With Heavy-Duty Shelves
If your attic is unfinished and you need to store some seriously weighty items, start by adding a few heavy-duty shelves to your space. These shelves will help store everything from heavy totes of seasonal clothes to your large sports equipment and even furniture pieces.
Try Water-Resistant Storage Bags
In the event of a leaky roof or even just a lot of moisture in your attic, store your most precious items in water-resistant bags. Baby clothes, wedding attire, and heirloom blankets will be safe from moisture damage in these large bags you can easily stack on a shelf.
Build a Window Seat With Storage
For a finished attic, you need storage that's aesthetically pleasing and practical. A built-in window seat with storage, like cabinets, drawers, or a hinged seat, gives your attic ample storage space. The window seat works well in an attic for a kids' playroom, an office, a guest room, or just your own little reading nook or craft space.
Mount a Storage Rack on the Ceiling
Maximize the storage space in your attic by keeping as much storage off the floor as possible. Hang a ceiling-mounted storage rack to hold storage bins, large holiday decorations, or sports equipment.
Get Holiday Decor Organized
Avoid the dread of searching your attic each year for Christmas or holiday decorations. Use clever storage solutions to sort your ornaments, gift wrap, and other seasonal decor items. Gift wrap storage boxes neatly stash your paper, bows, and bags away. Tuck your ornaments into storage bags specifically made for holiday decor for safekeeping without worrying about damaged items between holidays. Keep your seasonal wreaths in bags that help you avoid crushing or damaging the decor in storage.
Add Shelves Beneath the Roofline
If your attic has a slanted roofline that leaves you with one or two extra short walls, or knee walls, make the most of the space. A few simple shelf built-ins will help you maximize the area for sorting and storing bins, bags, and other storage products.
Make Your Own Built-In Drawer System
Don't toss all your smaller items into a miscellaneous bin. Organize those items intentionally in a drawer system. This design works perfectly for finished attics that need to look stylish or for unfinished attics that require the storage space. Stash seasonal clothing, crafting items, spare linens, and tools in the drawers for easy access.
Hang Heavy-Duty Hooks
Some of your stored items are more accessible or just better kept on hooks. Use heavy duty hooks to hang seasonal clothing items, decorative wreaths, and power tools. Hang your hook system near the entry to your attic so you can quickly grab the items you're hanging up.
Choose Adjustable Shelves & Racks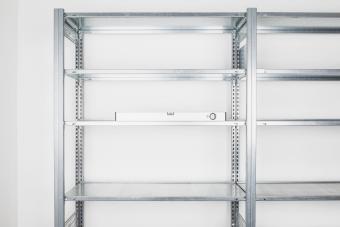 If you're buying shelving or storage racks for your attic, look for systems that are completely adjustable. Customization will help you perfectly fit shelves into the shape and height of your attic wall so you can use the most of the storage space you have.
Build Cabinets Into Your Knee Wall
For the shortest wall of your attic, maximize the space with built-in cabinets. With enough wall space, you can even transform your attic into a walk-in closet. Hang rods in the cabinet doors or even between your built-ins for current or seasonal clothing items.
Use Large-Capacity Storage Bins
Rather than sifting through countless bins in your attic when you need to find an item, use a few large capacity storage bins instead. Categorize your storage items by use, item type, or the room the items are used in. You can stash smaller storage containers inside the large ones to keep everything organized. Look for bins that offer easy access and vibisility of your belongings.
Create a System
The key to an organized storage space, whether it's your attic or any other area in your home, is to create a system that makes sense to you and helps you keep track of all your belongings.
Store items along the walls of your unfinished attic rather than from the back to the front.
Label all of your bins, boxes, and bags so you can find items easily.
Avoid storing items in plastic grocery bags, trash bags, and cardboard boxes.
If your attic is finished, choose storage solutions that double as decor like ottomans, baskets, and cabinets.
Create a spreadsheet or binder to keep track of all your items and how you stored them. When you aren't sure where to find something, reach for your list!
Make Your Attic a Storage Paradise
Once you store all your items properly and organize them well, you might actually enjoy stepping into your attic space. Get your holiday decor easily, break out your winter coats in a pinch, and find your most precious keepsakes without worrying about damage with these attic storage hacks.