As we enter into November, we step into a magical time of year when we choose to think of others and the ways we can make the world a better place. "Hello November" quotes can be the perfect captions to pair with the photos that show off your fall finale moments! 
"Hello November" Quotes to Help You Welcome the End of Fall
Is there anything better than the turning of the calendar page? It is a fresh start! Make the most of your month and greet it with excitement by sharing one of these sensational "Hello November" quotes!
Oh my gourd! October is over?
Hello November! Oh, how I have missed you!
And just like that, my November thirst has been quenched. #HappyNovember1st
Hello hygge season!
Thankful for November.
Turkey time has arrived!
October is Oct-over! #HelloNovember  
Excited for the next chapter of the year! #HelloNovember
November is the most soup-erb time of the season. 
Welcome back November — we are always sweater together!
Short November Quotes to Spice Up Your Month
Fall is almost over! That gives you very little time to squeeze in your pumpkin patch visits, apple picking adventures, and beautiful bonfire nights! Thus, keep your November quotes short so that you can fill your fall with fun!
November is the final curtain call of fall. 
It's finally November! Can I get a fall-elujah?!
November always leaves a smile on my face.
IMO, November is the most beautiful month of all.
I only have eyes for November skies. 
Shorter November days mean magical, starry November nights.
The spooks are gone, and November is on!
The final leaves are falling and November is calling. 
Cool November days mean cozy November nights.
Always November to be grateful for your most basic blessings.
Thankful November Quotes for the Ultimate Time of Gratitude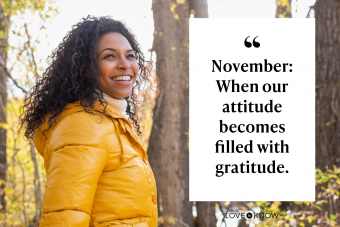 November is the time to give thanks! Thankful November quotes can help you to keep gratitude a priority throughout this busy holiday month.
November: When our attitude becomes filled with gratitude.
Thankful and grateful for every plateful that November has to offer.
November is the time to turn over a new leaf and take a pause to give thanks for life's many blessings. 
And with the turning of the calendar page, the vibe transformed from spooky to savory! Grateful for good food and the people who are willing to make it. 
As the sun sets on Halloween night and November enters our lives, we take off our masks to reveal more thankful and grateful faces. 
November is a time for family, friends, food, and football. Is there anything more fantastic? 
November reminds us that with each passing year, the best things in life are fleeting. The people at our tables change — new faces join your gatherings and others are lost like autumn leaves. Cherish those around you and make the most of these moments.
As we gather together throughout the month of November to appreciate the small things that you many times take for granted. For they may become the biggest things in the coming year. 
This November, choose to be as thankful as the turkey who is pardoned on Thanksgiving. 
As you look back on your year thus far, remember to be thankful for every moment. Your experiences have helped you learn and grow. They have shaped you into a better and stronger person. While they may not have always been pretty or pleasant, they carry great significance. This November, remember that your progress matters. 
Inspirational November Quotes to Help You Make the Most of the Season
November is the quintessential time to give back to others in your community. However, with all the fun activities that fall has to offer, it can sometimes be hard to get motivated to sneak in charitable acts. These inspirational November quotes can help you to get excited about making a difference!
As the last of the November leaves cascade to the ground, take a moment to relish in the beauty of change and the promise of new joys that the last month of the season brings.
Like a dusting of cinnamon sugar on a sweet apple pie, the November trees sprinkle the last of their leaves to give us one final warm embrace before the cold of winter sets in.
November takes us back in time to remember the joys we once shared with those who are no longer with us today. Relish in these moments and treasure those who still surround you. 
No one, or at least no one that we know, sits down to eat an entire pie by themselves. They take their creation and they share it with others. This holiday season, be like a pie. Share a slice or two of happiness with those around you. 
Throughout the past ten months, we have sprouted new relationships and grown as individuals. We will quickly learn how rooted these connections are as November takes hold and forces us to change. 
November: That fleeting moment when we realize that autumn is about to take its final bow. Make the most of its magical moments!
As the colors of fall begin to fade, let go of the negativity in your life and choose to change, just as nature does every November. 
Autumn trees show us that sometimes less is more. This November, let nature inspire you to give more than you get and share beauty with others.
Fast Fact
Giving back doesn't need to take a lot of time! You can make a difference in the lives of others in under 30 minutes. Even if you just share a smile or friendly remark, it can have a big impact, so strive to find small ways to share some joy.
Funny November Quotes to Make Everyone Grateful for Giggles
November always brings a warm feeling to our hearts as we gather together with family and friends who we do not always get to see. Make sure that your moments of joy don't stop there! Funny November quotes can be a spectacular way to spread even more smiles.
Planning to make this month an affair to November. 
November — falls well that ends well!
I can't resist the chill of November. You could say that it was love at frost sight.
Well hello Novembrrrrr. 
Orange you glad we have four more weeks of fall?
Don't stop be-leaf-ing. Hold on to this November feeling.
As we head into our kitchens early on this Thanksgiving morning, may the gourds be ever in your favor.
November?! I cran-berrily believe it is here!
This November I plan to be turkey trottin' like it's hot!
Great Odin's beard! I can see that November is in full swing! #noshaveNovember
Famous November Quotes About the 11th Month of the Year
Movies and songs have a way of making everyday scenarios seem absolutely magical. This makes November quotes from these famous works very inspirational!
November Quotes Can Caption the Last of Your Autumn Adventures
No matter if you are posting the last of your fall fun on social media or making fun greeting cards to send to family and friends who will be afar this holiday season, November quotes are a wonderful way to make your sentiments special! They can also serve as a subtle reminder to be thankful for your amazing autumn moments.