Summer is filled with color, so it's time to bring some of those bright and light hues into your home décor. Adding just a few accessories and other items will transform your home and leave you feeling like you just took a breath of fresh air.
Touch of Sea Breeze
A breeze during the hot summer months is always welcomed, especially when you sleep. You can mimic that tropical sea breeze with style by exchanging the blades on your ceiling fan for seasonal fun. Ceiling fan blades are easy to replace. Just choose the design you like best, such as palm frond, nautical sails, or flower-colored blades for that ideal touch of summer fun for cooling down.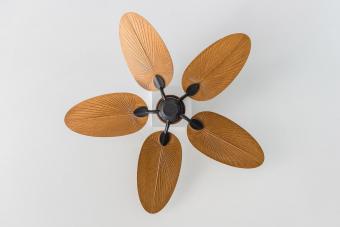 Indoor Tropical Houseplants
The easiest and fastest way to give your rooms a touch of summer is with tropical houseplants. Select a majesty palm with its feathery and wide branching stems to fill in a living room corner or soften up the edges of a dining room. If you don't have room for this wide house plant, then opt for a bamboo palm that grows in a more vertical style. Don't skip this design choice because you don't have time or the desire to care for plants. There are plenty of silk faux plants available that can fool the keenest of eyes.
Inexpensive Melamine Sumner Dinnerware and Tumblers
Setting a colorful table will infuse the energy that warmer weather always brings. You have an endless choice of colorful patterns or solid colors in melamine dinnerware. Choose a blue and white stylized Delft blue floral pattern or a tropical hibiscus pattern. There are countless colors and styles of plastic tumblers, such as coastal colors or bright rainbow colors.
Fresh Flower Bouquets
Summertime brings a world bursting with color and flowers are abundant. If you have a flower garden, cut fresh flowers to arrange in beautiful colorful bouquets for your living room mantel, or dining room table. Chose a couple of long stem snapdragons or other flower to place in a slender vase that's ideal for a bathroom counter.
Summer Fun Accent Pillows and Cushions
When summer rolls around, change out your accent pillows on the couch and chairs in your living room. Don't forget the bed pillows and the chair cushions in your breakfast or dining area. You already know how these accessories add to your home décor, so you can visualize how using summer colors will transform each of these rooms in your home.
Airy Gauzy Curtains
It's time to let the sunshine in, so swap out heavy draperies and valances for light and airy gauze type curtains. You might enjoy white curtains to go with your blue bedroom. Assess each room in your home and choose a color that goes with the color schemes. You may decide to hang light-weight curtains in a colorful pattern that are just right for your dining room during the summer season.
Bright Sunny Tablecloth
Make your dining or breakfast nook sparkle with a new sunny tablecloth. Bright colors of various patterns, like summer flowers, or white lattice designs with morning glories are just a sampling of the many tablecloths you can choose. You may decide to invest in paper tablecloths that you can change daily or go for an old oilcloth picnic style just for the fun of it!
Tall Vases of Seashells for Mantel
Decorate the mantel for summer with two inexpensive, tall, clear glass vases filled with seashells. You may decide to add some colorful sea glass. Fill the vases to about 1" from the rim. Set one on each end of the mantel. If you don't want tall vases, then opt for apothecary jars. Use a large piece of coral (faux ones don't cost much) and place it in the center of the mantel for awesome summer mantel decorations.
Summer Slipcovers
Want to refresh your living room? Try a new look with lighter colored slipcovers. White is always a hit for the best summer color. Blue and white pinstripes or floral designs are also popular. The great thing about slipcovers is they give you the look of new furniture without the hefty price tag. You can custom order slipcovers or even make your own if you sew.
Slipcovers are available for chairs and sofas. When they get dirty, toss them in the washer. When you want to go back to the original look of your furniture, remove the slipcover and pack them away until next summer. You can always purchase a couple of sets of slipcovers to give you even more decorating options.
Framed Sand Dollar and Tabletop Easel
A framed sand dollar can be displayed on a coffee table, bathroom or kitchen counter. You may decide a trio of framed sand dollars with different colored matts make a great grouping for a foyer console table or dining room sideboard. There are many places in your home or home office where this summer decoration can be used.
Family Summer Vacation Wall Gallery
If you have a wall gallery of family pictures, why not swap out the photos for ones of previous family vacations. Changing photos is easy and takes summer decorating to a different level. Imagine all the fun memories your new photos will bring along with family discussions that start off with, "Remember when…"
Decorative Seasonal Fireplace Screen
There are different types of fireplace screens that are designed to be used with a cold fireplace. These screens are made of wood and are strictly for decorative use. Some are trifold designs, while antique reproductions are a pedestal design featuring a scenic screen.
If you're creative, you can paint your own summer designs. Trifold screens are available in various shapes, such as scrolled tops, so you have plenty of options and can easily find one to go with your room décor. If you have a bedroom fireplace, consider adding this beautiful cold fireplace treatment for a seasonal change.
Sunshine Fresh Bedding
It's time to strip your winter bedding and replace that comforter or duvet cover with a white crisp one or a bright colorful pattern. Don't stop there. Invest in some very soft and cool summer sheets and pillowcases. You can layer lightweight summer bedding, the same way you do heavier winter bedding for a fresh cool look.
Floral Wall Hangings
A simple and easy way to decorate for the summer is to add a few floral wall hangings. These are available in different styles and sizes. Smaller ones can be used in a half bath or on a narrow kitchen wall. You might decide to remove the painting over your mantel and replace it with a beautiful floral wall hanging of geraniums or hydrangeas. A scene of a field of wildflowers will spruce up your guest bedroom. Don't forget to add a few accessories throughout the room to repeat the main summer color, such as bed pillows and a light-weight throw.
Cloth or Sisal Rugs
Roll out an inexpensive summer color rug for your living room, foyer, dining room, and bedrooms. This might be a blue and white stripe dhurrie rug or a sandy beach colored sisal rug. Hook rugs shaped like flowers make delightful additions to front and rear entrance areas. Stick with your color scheme but choose a rug that either complements or contrasts for an effective design addition.
Decorative Beach Themed Soaps
The slightest touch can make the biggest difference. Decorative soaps add so much to your bathroom décor. Beach themed soaps can be placed in a white ceramic bowl or a white wicker basket. If you only have a large basket, you can add other items, such as small bottles of shampoo and conditioner. Add a few rolled washcloths and hand towels in matching blue, white and/or other colors to represent the summer season. Lay a pink or white silk flower on top of your basket design for that final classic touch.
Easy and Simple Tips for Summer Decorating
You don't have to spend a lot of money to decorate for summer. When you choose two or three decorating tips, you can end up with a cohesive and fun summer décor.