Known for its perfect blend of casual and elegant style, French country decor gives your home an effortlessly cozy and regal look. With these French country decor ideas, you'll see just how easy it is to embrace this casually elegant design in your home. With the right combination of materials, colors, and textures, your home will become a classically styled space that stands the test of time.
Showcase Architectural Details
The starting point of your French country decor is all in the architectural details. Exposed wood beams are a central design element of the French country vibe, and they add timeless style to your home. Showcase this architectural detail in your great room, exterior of your home, kitchen, or living space.
Incorporate Stone Features
Appealing to the country part of the French country style, stone details will help the design stand out in your home. Stone work on a fireplace, in a kitchen, or on an accent wall anywhere in your home adds this important aspect of the French country style. If large-scale stone applications aren't an option, you can incorporate the material through decorative details like bowls, vases, and lamps.
Paint Walls White
French country decor, though ornate in its own way, also features various design elements that are purely simple. White, off-white, or cream shades on walls and trim help the more decorative details of the style stand out. Using the same shade of white or cream throughout the home also helps establish a uniform style throughout the space, in keeping with French country design.
Use Traditional Furniture Styles
From the truly ornate to the very simple, traditional furniture styles fit perfectly with your French country design scheme. The key is to mix the ornate with the simplistic for a true casual elegance that showcases the aesthetic. You might combine a sofa with simple lines alongside accent chairs that feature decorative wood details or add an ornate china cabinet in the dining room with your simplistic dining table.
Choose Toile Prints
Preppy styles have bold stripes, contemporary styles have abstract patterns, and French country style has toile prints. Toile prints, typically featured on white backgrounds, are patterns made from country scenes repeated across a fabric in a soft or neutral color. Use this classic pattern to showcase your French country style on upholstery, curtains, bedding, and pillows.
Include Rustic Metals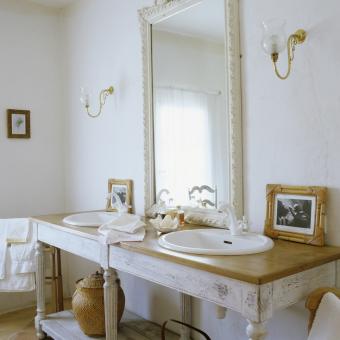 Outside of wood and stone details, you will see touches of metal materials throughout French country decor. Use distressed, rustic, or antique metal in your light fixtures, small furniture details, and frames to mix up textures and stay in tune with traditional French style.
Use Warm Wood Tones in the Kitchen
You'll notice one key detail that's consistent throughout French country interior design. Warm wood tones in the kitchen are an absolute must! You can achieve this look with your cabinetry, going the two-toned route if you feel drawn to painted cabinets. Island accents, butcher block counters, or wood accent walls also add this design detail to your French country kitchen.
Add a Mini Art Gallery
Though modern design schemes popularized the gallery wall in recent years, they have always been an aspect of French design. For this style, your gallery wall should feature antiqued frames, nature portraits, muted colors, and a mix of frame shapes and sizes to truly fit the aesthetic.
Look for Curves in Furniture
Though the mix of simple and ornate furniture is in keeping with the French style, there is one furniture detail you'll want to look for to elevate your French country home. Curves in your furniture will help add the soft elegance of French style to your home. Add this detail with rounded chair backs, lamps with curved bases, and tables with curved edges. Arches in doorways and soft lines on lighting fixtures also add curves to your home.
Embrace the Shabby Chic Look
The shabby chic look fits into many styles, but it appears regal within the French country design aesthetic. Add shabby chic details to your home in a French country way by including lamps with distressed bases, vintage furniture pieces that show gentle wear, and furniture that is antique but updated with new upholstery, paint, or hardware.
Select Upholstered Accent Furniture
Though the French country style showcases materials like stone and wood, there's also a large amount of upholstery within the aesthetic. Incorporate this design detail with accent furniture pieces to avoid overwhelming the space. Ottomans, side chairs, and love seats are perfect for showcasing your favorite French country textiles.
Choose Colors With Warm Undertones
Whether it's the paint for your walls, the stain for your hardwood floors, or the upholstery on your sofa, choose a color with a warm undertone for a true French country design scheme. Subtle warmth is a key component of the style, and warm shades of beige, cream, brown, gold, and even blue will help elevate the welcoming and casual vibe of French country decor.
Look for Small Prints
One detail you won't often see in French country design is bold prints with bold colors. Most prints within the style are neutral, small-scale, or muted. Even floral patterns sport monochromatic color schemes for the French country style. Stick to small patterns in understated colors for an inviting and elegant space.
Thrift Some of Your Decor
For an effortless way to add regal and perfectly aged items to your home, thrift some of your French country style decor. From lamps and photo frames to accent chairs and benches, thrifted items will help you stay on budget and offer unmatched character to your home.
Select Neutral Textiles
For your throws, bedding, and pillows, stick to mostly neutral fabrics. The French country style incorporates some color, mostly shades of blue or green, but neutrals are the true star for textiles. Focus more on prints, textures, and creating a monochromatic and layered look.
Make the Dining Room Simple
Though there are elegant and high-end elements within the French country style, casual simplicity is also an important factor. You will note this particularly in the kitchen and dining spaces. Tables are simplistic in shape and color, while there is more room for decorative flair with chairs and accent furniture. If you make simplicity your foundation, the more elegant pieces will shine that much more.
Display Vintage China
If simplicity is the foundation of French country decor, then the details of the style showcase its delicate elegance. Highlight that elegance with displays of simple items that feature beautiful details. A buffet or china cabinet with vintage china, whether a matching set or a varied collection, fits perfectly with the French country aesthetic.
Know Which Rugs Work Best
The softness and texture of a rug is a must for the French country style, but the key is to know what type of rug works best. Look for understated patterns, neutral colors with a monochromatic look, worn or antique details, and warm shades like beige, tan, and cream. Be sure your rug is large enough to suit the room and select textures that are softer and more feminine rather than heavily textured.
Make Stone or Brick Flooring Work
If your home features a heavily textured floor, achieving the French country look is truly effortless for you. Highlight a brick floor in your kitchen, stonework in your mudroom, and distressed hardwood flooring in your living space. The imperfect character of these heavily textured floors give you the ideal foundation for a French country style.
Use Vintage-Inspired Decor
Foundational elements are important, but even in the most contemporary home, you can achieve a French country look with the right decorative details. Choose pieces, whether brand new or thrifted, that look truly vintage-inspired. Try grandfather clocks, antique trunks, vintage-inspired light fixtures, and oversized ceramics.
Combine French Country With Complementing Styles
You don't have to go all-in on the French country style. You can incorporate the design components of French country style that you love the most alongside another style that fits your home. French country works will with general rustic aesthetics, cottagecore, the modern farmhouse trend, and touches of glam or regency style.
Curate Casual Elegance in Your Home
This timeless design aesthetic will create the perfect balance of casual warmth and upscale elegance in your home. French country style is more about seeing life and your home through a simplistic and romanticised lense. Blend simple staples with regal details for a classy home vibe that showcases your outlook on life.