Fun Examples of Unique Containers
Examples of container gardens cover a wide range of creative and unique ideas. A container garden can be simple with one plant or an elaborate design with multiple plants. You can choose more than one unique container for your garden to add interest with a whimsical or magical touch.
Repurposed Wooded Pallet
You can repurpose wooden pallets to make a fun and cheap container garden. Choose pallets marked HT. This stands for Heat Treated usually via kiln dried. You want to avoid MB marked pallets since these are fumigated using methyl bromide (MB), a toxic pesticide. Depending what was shipped on the pallet, other toxins may have been introduced. Pallets for appliances, furniture and hardware are usually safe bets for no additional treatments than HT.
Transform Old Bicycle Into Planter
With a little creativity, you can transform a favorite old bicycle into a permanent fixture in your garden. This rustic, charming container can be added to your garden offering a unique and whimsical feature sure to surprise visitors. Place in a sunny area in your garden and fill baskets with marigolds. Add a small flower box to complete the look.
Succulent Chair Container
Don't toss that favorite dining chair. Cut boards for back of seat and chair back. Set the chair so the back is horizontal. Fill the chair cavity you created with moist soil. Staple wire with a small grid over the dirt. Add wetted sphagnum moss and secure with greening pins and floral wire. Add rooted succulents. Keep chair back horizontal for two to three weeks until succulents are firmly rooted. Repeat the process with the seat. Set in a garden niche or along a garden path.
PVC Pipe Plant Tower
If you need to go vertical with your garden due to limited space, you can cut a large PVC pipe into several lengths, ranging from two to three feet. Sink one end of the pipe into the ground using a posthole digger so it won't topple over. Fill with potting soil and plant your flowers or other plant at the top. This project works best if you select vining or trailing plant varieties. You can always cut alternating holes in the pipe for inserting other types of plants or flowers.
Whiskey Barrel Container Garden
You can repurpose whiskey barrels cut in halve. This type of container can be purchased or salvaged. If you have a color theme for your container garden, be sure to paint the metal bands to reflect that main color. Fill your whiskey barrels with a mixture of plants and flowers for a brilliant display. Your vibrant container garden will be the envy of all your neighbors!
Suitcase of Flowers
You won't pack this suitcase but one time when you fill it with potting soil and blooming spring flowers. This is a truly unexpected find in any garden and guaranteed to be a great icebreaker for a garden party or summer evening meal in the garden. Plant wildflowers for a casual happenchance theme.
Turn Shoes Into Flowerpots
Don't toss out those worn shoes. Instead, turn them into flowerpots. This type of container garden can be used two ways. The first is to plop a flowerpot into the shoe opening. The other is to ditch the flowerpot, fill the shoes with dirt and plant your flowers right in the shoe. This design makes a cute display along a garden path.
Footloose With Flowers
You need a foot -- or two -- flowerpots to go with your shoe containers! This pair features painted toenails for a truly hilarious container garden. Fresh cut white lilacs make this pair of feet special. If you're looking for shade flowers to replace once the lilac blooms are gone, go with a color mix of impatiens.
Toy Containers for Mini Succulents
Don't throw away broken or obsolete toys. Transform them with child's play into a whimsical garden as a tribute to all the fun they once provided. Toys make great containers for mini succulents. Most succulents need a minimum of six hours of full sun. The east, south or southeast part of your garden is a good spot for this container garden idea.
Off the Top of Their Heads
There are many types of head planters you can use to give your garden a unique flair. Get creative with a little paint to transform a rather plain head planter into one that vibrates with personality! Red geraniums are a super flower choice for a sunny spot.
Get a Handle on Small Garden Space
If your garden space is limited, you can use part of an old bicycle. Mount the partial wheel and handlebars to a garden or building wall complete with a flower basket. This solution to limited garden space also creates a work of art. Plant ivy and flowers for a year round treat.
A Different Pallet Container Garden
Not everyone has room for a flower garden. This gardener took advantage of discarded pallets, stained them and attached various flowerpots. You can get creative with this type of container garden by painting the pots bright colors, the same color, or stencil designs. Choose plants based on the amount of sun the wall area receives.
Spare Tires Garden Idea
Everyone with a car or truck ends up with old worn-out tires. You can create contained flower areas in your garden and never worry about needing to replace! Use two different tire sizes to create a more interesting container by stacking the smaller tire on top of the bigger one. Fill with prolific bloomers like orange and yellow marigolds and make sure they get plenty of sunshine!
Creative Examples of Container Garden Ideas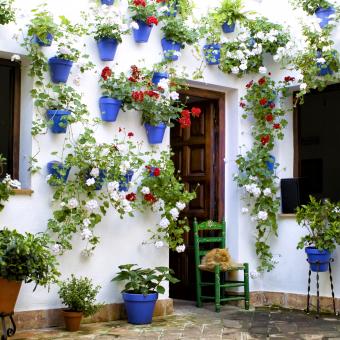 There are many themed container garden ideas you can incorporate into your garden plans. You can always find a unique garden container when you consider everyday items, such as a chipped soup tureen, old shoes and even old tree stumps. You can grow a container vegetable garden, herb garden, evergreen plants, or a perennial flower container garden.