As the cozy season is setting in, you might want to update your look with a new hair color. From the trendy colors of today's looks to the classic autumn shades that work year after year, we've found the best fall hair colors for the season.
Pass these looks on to your stylist to get the effortless autumn vibe you're looking for.
Frame Your Face With Cozy Copper Highlights
If your hair is naturally dark and slightly warm, trendy copper highlights add a subtle touch of autumn to your look. Ask for a small amount, just enough to frame your face. This gives you a lingering sun-kissed look as summer fades into the cooler months.
Ask for Honey Blonde
Your stylist will know exactly what you mean if you tell her you want a warm, honey blonde hair color. This trendy fall color for blondes is so popular that most stylists will recognize the request right away. If your go-to color is a golden blonde, this is just one step warmer, and it's a subtle change that will complement your fall outfits.
Fast Fact
You don't have to go all the way to honey blonde to get this trendy look. The warm shade will blend right into your blonde locks as lowlights or into your light brown strands as highlights.
Try a Trendy Chocolate Cherry Hair Color
Dark hair always looks sultry for autumn, but this trending look really amps up those vibes. Medium red tones bring the autumn essence to dark chocolate brown hair for a "chocolate cherry" look.
If you're looking to get the chocolate cherry hair color at the salon, you can ask for it in one of two ways. A red balayage is a blended, natural-looking approach. If you prefer a more obvious change, chunky red highlights will do the trick.
Helpful Hack
To avoid a clashing color catastrophe, ask your stylist to identify whether the chocolate brown of your hair leans warm or cool. Once they do so, choose a red that complements the warmth or coolness of your main hair color.
Try Blended Caramel Hair Colors for a Warm Blonde Look
Blonde hair exists on a large spectrum, ranging from cool platinum to buttery caramel. If you really want to warm up your blonde look, ask for various shades of warm caramel. Blending a soft, butter-like blonde with a rich and warm amber gives you a dimensional caramel blonde that feels vibrant and playful for autumn.
Fade Ash Brown Into Warm Pink
Can we call this fall hair look "business at the roots and party at the tresses"? This lovely fall hair color is anything but boring — and it's definitely on trend.
If your natural hair color is an ashy brown (or if it's your go-to at the salon), a soft pink complements the muted tones of your locks. Ask your stylist for a pink that leans coral to get this look and have her give you a naturally faded look so you can make the color last all season as your roots grow out.
Rock Pumpkin Spice Red
Make pumpkin spice your whole aesthetic this autumn with a medium red hair color that's warm and muted. If your skin has a warm undertone, this look will be especially flattering.
Ask your stylist for a cinnamon red hair color that's soft instead of vibrant. You can also ask for dimension within the overall color or lowlights in a deep shade of auburn.
Mix Chocolate & Mocha for a Trendy Dark Fall Hair Color
Warm and rich meet deep and moody with this trendy dark autumn hair color. Starting with a deep, mocha brown base color, you'll want to ask for a chocolate-colored balayage to get the look. This technique, using the two dark colors, gives you a deep fall hair color with a subtle sun-kissed detail.
Need to Know
"Balayage" is a hair-coloring technique where a stylist applies the highlight color directly to your hair without using foils. This process creates a more natural and blended look.
Don't Be Afraid to Rock Orange Hair
That's right, we said orange hair. It's trendy, it's daring, and it's actually very flattering on warm skin tones. This is the perfect look if you love the boldness of a cool, bright red hair but you need something a littler warmer.
Instead of sticking to the traditional warm red hair colors, ask for a true orange shade. Your stylist can always add dimension with more muted red tones or some blonde highlights.
Bronze Hair Color Is Bold & Beautiful
Glossy bronze locks strike that perfect balance between warm copper and soft auburn. This look is defined by its slightly metallic appearance and that signature rusty hue that's a bit muted.
The reason this warm autumn shade is trending in hair colors is that it can complement various skin tones. Because bronze falls between the bold warm shades of a spring red and the purple-based hue of a winter red, it's a neutral in the redhead world.
Helpful Hack
If your hair is naturally blonde and cool, like a shade of ash blonde, ask to gradually move toward bronze by warming up your current hair color with a honey or caramel shade first.
Add Black Lowlights to Soft Gray Hair for Fall
If you're rocking a silver mane for most of the year, jet-black lowlights give you an autumnal edge. The depth of the black lowlights will help the darker fall fashion colors blend into your look. This gray and black mix is especially flattering against cool skin tones and eye colors.
Need to Know
You can also use the reverse method for this look and ask for gray highlights in your jet black hair.
Fuchsia Streaks Are Stunning & Stylish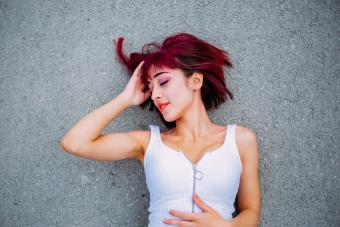 If chocolate cherry hair isn't quite your thing, maybe you need something closer to a chocolate raspberry look. Bright fuschia streaks in chocolate brown (or even black) hair are a cool-toned alternative to the cherry chocolate hair of the moment. Ask for piecey, or even chunky, streaks to make a statement, or try an ombre style for a soft approach to the look.
Mocha Is a Classic Brown Fall Hair Color
If you like sleek and simple for your fall style, rich mocha brown always looks elegant. We're loving this color on the trending bobs and lobs of the season. This dark brown hair color has remained a classic choice since it's a mostly neutral hair color.
Quick Tip
To create a more definitive warm or cool tone with this color, ask for corresponding warm or cool highlights.
Ask for Ash to Caramel Ombre
There are so many directions you can go with a fall ombre hair color, but a medium shade of brown into a caramel blonde is warm and stylish for the season. If you have long hair, you can work three fall hair colors into this look.
Ask for a base color of ash or chocolate brown — whatever is closest to your natural color is best. Let your stylist know you want an ombre look that ends with a golden caramel blonde so she can work in the perfect in-between shade as well.
Try a Blended Blonde With Subtle Roots
Lightening your hair is common for summer hairstyles, but it's also an easy way to add warmth to your look for autumn. If your hair is a darker shade of blonde or a lighter shade of brown, this blended rooty look is easy to achieve.
Ask your stylist for a subtle balayage using a shade of blonde only slightly lighter than your roots. Make sure you specify that you want the lighter shades blended so your roots can grow without notice. This warm autumn look works best with golden shades of blonde like honey, caramel, and butter.
Add Purple to Black for a Fun Fall Hair Color
If you love the sleek, sophisticated look of jet-black hair in autumn, but want something that shows off your playful side too, a few streaks of cool purple can give your usual black locks a funky update.
The best part of this look is that it's totally DIY-friendly. You can use purple hair dye to get the look, or even opt for a few purple clip-in hair extensions so you can remove the color when needed.
Fast Fact
Cool purple with a blue undertone is harmonious with jet black hair. But if you're rocking a dark brown hair color, you might want to choose a purple with a red or pink undertone instead.
Mahogany Is a Stylish Red Hair Color for Fall
Auburn is the blend of red and brown hair that usually falls right in the middle of light and dark hair colors. But a rich, mahogany red is a bit darker and slightly cooler than auburn.
This hair color creates striking contrast on lighter and darker skin colors and it looks lovely against the autumn fashion color palette. A full dye job of mahogany color is lovely, but you may want to ask for some dimension with complementary shades of red and dark brown. If your hair color is naturally dark brown, mahogany highlights help you subtly embrace fall.
Caramel Highlights Pop Against Dark Brown Hair
Since caramel is a trending hair color this fall (and a timeless shade of blonde), it's perfect for highlighting darker hair colors. Frame your face with buttery caramel highlights to warm up a cool hair color or to complement rich chocolate brown locks.
Have Fun With a Playful Strawberry Blonde Color
Embrace the cute and cozy vibes of fall with a playful shade of strawberry blonde. Blue and green eyes pop against this autumn shade and hazel eyes blend in beautifully.
Strawberry blonde falls between the blonde and redhead categories. It's slightly pink and usually fairly light. Ask your stylist to blend a touch of pink with a golden blonde base to get the look.
Try Classic & Cool Jet-Black Hair
The allure of jet-black hair is always in style. From long straight locks to bouncy curls and trending pixie cuts, this color creates depth and vibrancy. Pair the color with jewel tones in your fall fashion colors to complement the cool and bright qualities of this hair color.
Add Warm Lowlights to Your Soft White Hair
If your hair leans more toward white than silver, you can play up the warm vibes for an effortless autumn hair color. Ask for warm blonde lowlights and have your stylist blend them so they look natural as your hair grows out.
Try a Bold Red Shade for Fall
If you're going to be a redhead this fall, have fun with it! Opt for a trending hairstyle (we love a pixie cut or trendy bob) with a bold and warm shade of red. A coppery, pigmented red pops for the season and shows off your knowledge of all things trendy when it comes to style.
Quick Tip
Specify that you want a warm (but bright) shade of red-orange to get this look. If it's too light, you'll lean toward a traditional copper and if it's too cool, you'll have more of a crimson red color.
Channel the 2000s With Chunky Blonde Highlights
Whether we like it or not, the early 2000s styles are back and they extend far beyond low-rise jeans. With other 2000s and 90s hair trends gaining popularity, we're low-key excited for the return of chunky highlights.
This time around, try an updated version of the trend by asking for warm highlights instead of the once-popular platinum blonde. Remember, this look isn't just for blondes. Chunky highlights work for shades of brown and red hair as well.
Ask for Blended Shades of Red & Copper
We love a bright and bold red look, but the muted and blended style might be your preference. In that case, ask your stylist to blend copper and cinnamon shades of red with a dark brown or deep auburn. This is the perfect balance of cool and warm shades for your fall style.
Pair Blue With Your Dark Fall Hair
Stand out this autumn by adding a shade of blue to your dark brown or black hair. You can easily add the color yourself with dye but make sure you use a dye specifically designed for dark hair if you want to avoid the bleaching process.
Helpful Hack
If your hair is closer to jet-black, a cobalt shade of blue will pop. For brown hair, teal will complement the warm tones in your locks.
Add Golden Highlights to Auburn Hair
Complement the warmth of auburn hair with golden blonde highlights and don't be subtle about it! You'll look like a sun-kissed goddess with this lovely color combination.
Add Romance to Your Look With Rose Gold Hair
Rose gold is still on trend and we love how it fits perfectly into the autumn season. Rose gold hair has an icy, metallic look, and it's an easy shade to blend into your natural hair color.
The hue adds a subtle romantic vibe to ash blonde, strawberry blonde, and light brown hair. It's even lovely in gray hair or as a lowlight in darker hair colors.
Helpful Hack
To get rose gold hair color, you'll blend three parts of a light blonde shade with one part of copper red.
A Blended Approach Uses Different Shades of Red Hair
So many fall hair colors and such a short amount of time to test them all. You may not be able to try every shade of red individually this autumn, but you can definitely try a playful look to incorporate a few of fall's most popular red hair hues.
You can try a true balayage, which looks more natural, or opt for an ombre approach to this colorful tier of red locks. Have your stylist use a dark shade of cinnamon at the roots and work in shades of copper and strawberry blonde to get the look.
Pair Honey Blonde With Platinum Highlights
We get it, you want that Barbiecore aesthetic without changing too much of your own appearance to achieve the look. That's why this update to your blonde locks strikes the perfect balance between trending hair colors and your own personal style.
Honey blonde mixed with platinum blonde helps you get that Barbie style and keep some of your current color. There are two ways to go about this hair color:
Ask for honey-toned lowlights in your current light to platinum blonde hair.
Or give your honey-colored locks the Barbie treatment with platinum highlights.
Burgundy Hair Is Striking for Fall
Call it maroon, call it burgundy, or call it wine. Whatever you call it, this reddish-brown shade with a slightly purple hue feels just right for fall.
You can lean warm (more red and brown) or cool (more purple) to suit your skin's undertone or your eye color. Depending on your choice, your stylist will need to add more or less blue color to the mix. Whatever you decide, this color will be a head-turner in all the best ways.
Soften Your Look With Light Brown Color
We often think of autumn as the season to try darker hair colors or embrace the warmest shades on the spectrum, like red. But it's also a season of embracing softness and leaning into comfort. This is why it's an ideal time to test out that lighter shade of brown you've been considering.
Choose a lighter shade of brown, like chestnut or ash, for your overall color. If you prefer to introduce the shade subtly, golden brown shades make lovely highlight and lowlight colors. Either way, you'll stand out in your lighter colors as everyone else is aiming for depth.
Warm Up Your Look With Cinnamon Highlights
You don't have to change your entire look to get a cozy autumn hair color. Strategically placed highlights make your fall style transition smooth.
Ask for cinnamon highlights toward the front of your face, focusing on your bangs or the front of your part. These reddish-brown highlights capture light as your hair moves and give you that quality of "something is different" without being too obvious.
Spice Up Your Autumn Style With a Color Update
As we gear up for fall, it's not just our closets that deserve something new and exciting for the season. Treat yourself to a DIY fall hair update or an afternoon at the salon. These hair colors will help you embrace the season's trends while practicing a little self-care as well.