Whether you're off to the salon for your fall manicure or testing out a fall nail DIY at home, you'll need some serious fall fashion inspiration. These on-trend fall nail colors and cozy designs complement every style from classic to quirky.
Fall nails can be simple, glamorous, or just plain cute — and we have all the inspo for your next salon trip at at-home mani.
Try Burgundy for a Dark Nail Color This Fall
Autumn is the time for dark nail colors, and burgundy is a classic choice. Whether you choose glossy or matte, this shade complements so many fall colors and brings those moody autumn vibes to all your fall fashion fits.
Classic Red Is an Elegant Fall Nail Choice
If you're looking for the fall nail color that always looks timeless but still feels fun, you truly can't go wrong with red. Candy apple red nails are elegant for fall.
Fast Fact
Bring personality to your red nails with glitter, metallic details, or a fun French tip.
Jump on the Mustard Yellow Trend
Mustard yellow is a little more daring than some of the other classic fall colors, but it can be very flattering. If your skin's undertone is warm, this shade is especially beautiful. A pop of color like this reminds us of all the excitement we feel as autumn approaches. It's a perfect color for September or October.
Dark Purple Feels Unique for Fall Nails
We often seen warm shades of red and orange and tons of neutrals on autumn nails. Purple is sometimes the forgotten fall shade, which means your nails will look unique and original if you sport the deep color.
Quick Tip
Look for a deep purple that has a red or pink undertone so your look is still warm while maintaining that moody refinement.
Choose Dusty Pink for Soft Autumn Nails
Maybe you're looking for the muted warmth of autumn, but you still want to embrace the trending Barbie fashion of the moment. Dusty pink nails are your answer for blending the girly style with fall vibes. There's something so cozy about this muddy pastel pink.
Copper Is a Trendy Metallic Nail Color
We're officially calling copper the metallic shade for autumn nails. It's warm, sophisticated, and blends well with the fall fashion colors we love to sport this time of year.
Choose Warm Rainbow Nails
Yes, you can still rock bright rainbow nails in the fall! Look for slightly warmer shades of those classic rainbow colors and you have a fall-friendly rainbow manicure.
Greige Is a Trending Fall Neutral
If you love to rock sophisticated grays, but you need something slightly warmer for the fall season, this might be your shade. Cue the trending color "greige" (that's a blend of gray and beige). It's still elegant and classy, but it has just enough fall warmth to have a slightly cozy vibe.
Fall Leaf Nail Art
We can't talk about fall without acknowledging the beautiful fall colors and foliage. Try a fall-inspired leaf art design for a fun and pretty look.
Obsess Over Elegant Black Nails
Slightly spooky and super sophisticated, glossy black nails ooze elegance. This color choice fits right in with the dark nail trends of fall and feels like a subtle nod to the approaching Halloween season. It's perfect for fall or for an understated Halloween nail look.
Neutral Fall Nails Call for Powdery Gray
Let's have a moment of appreciation for the style versatility of the color gray. We love this powdery gray look for a soft and subtle fall manicure.
Try a Unique Fall Look With Gold & Jewels
Diamonds may be a girl's best friend, but gold is autumn's soulmate. Fall is the season of jewel tones (think rich blues, ruby reds, and deep greens) and golden details. We love the idea of adding those jewels and golden touches to your nails this autumn.
Cheetah Print Is the Pattern of Fall
We all do it: save our cheetah print boots, sweaters, and t-shirts for the fall season. We're not sure why, but this pattern has a moment in fashion nearly every autumn. Which is why cheetah print nails are a must for all the fall fashionistas.
"All That Glitters Is Gold" French Tips
If you want to upgrade your traditional French tip manicure to a fall-themed version, glittering gold is the way to go. A touch of gold leaf on your colorful French tips is extra fun. You could even try a gold French tip with all the chic metallic vibes you love for autumn.
Swap Traditional White Nails for a Cream Color
White nails have been on trend for a few years now, and we especially love them for our summer manicures. But, since fall adds that touch of warmth to the world, we think a creamy white is in order.
Script Printed Nails Feel Right for Fall
More Details
Fall is back-to-school season, curling-up-with-a-good-book season, and a season of reflection and journaling. Script print nails are giving us all the fall vibes for those reasons.
Whether you're headed back to campus or excited for the season of the bookworm, these nails are just plain adorable.
Add Pumpkins to Your Fall Manicure
More Details
Pumpkin is the king of autumn, in lattes or otherwise. So, the autumn royalty deserves a spot on your manicure. You could add a single pumpkin to one nail on each hand, try a pumpkin pattern, or just rock the classic shade of pumpkin orange.
Need to Know
If you're wondering what direction your nail design should face, it's honestly up to you! Some prefer to see the design in its proper direction when gazing down at their hands, while others like to have the design face outward for others to admire.
Celebrate Sweater Weather With Unique Fall Nails
Say it with us, "it's sweata weatha." In the name of the coziest season of the year and it's signature fashion top, we're predicting that sweater-themed nails will trend for autumn. Nails that sport a cable-knit sweater texture will gain you all sorts of compliments this fall.
Opt for Simple Matte Black Nails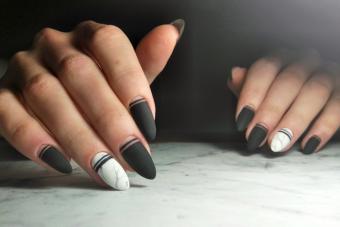 The casual elegance of matte nails is still on trend, and we love using this finish for black nails. They dial back the glamour just a bit for a simple approach to dark autumn nails.
You Can Totally Rock Turquoise Nails This Fall
You may not have considered just how versatile turquoise is, but we think it's one of those colors that works year round. It can be icy for winter, soft for spring, or vibrant for summer. In autumn, a deeper turquoise is warm enough to fit right in with all the other fall colors.
Sage Is a Popular Green Nail Color This Fall
The vibrant greens of spring and summer move aside for the warm, muted tones of autumn greens. Sage is trendy but still feels sophisticated and timeless for your manicure.
Shades of Purple Make Darling Fall Ombre Nails
We've said it before and we'll say it again: purple is a classy nail color for fall. In fact, various shades of purple make a soft and sweet ombre nail look this autumn.
Unexpected Animals Prints Are a Quirky Choice
We love a quirky look! Since fall is the season of farm tours, afternoons at the zoo, and hitting up the petting zoo at your local fair, this nail look makes total sense.
Cow, giraffe, zebra, and tiger prints are unexpected but absolutely adorable on your fall nails.
Orange Amps Up Multicolor Nails
If you're going to do bright and multicolor nails this fall, don't sleep on orange! It's the signature color of the season and a neon version of the hue is perfect for the pumpkin-picking occasions.
Glittering Rose Gold Is a Girly Fall Nail Choice
Slightly pink and overflowing with glitter, this nail look is all about those feminine fashion vibes. Honestly, you can't go wrong with a metallic nail, a pinch of pink, and as much glitter as you can possibly fit on one finger.
Mix Warm Colors With Cool Neutrals
Take the warm, vibrant shades of autumn and pair them with the sleek neutrals of the season for acontrasting nail look that will capture all the lingering gazes. The contrast of shade and hue in this nail design makes for a striking autumn manicure that's daring and beautiful.
Glossy French Tips Make Matte Polish Pop
More Details
Want to make your trendy matte nails pop this season? Ask for a glossy French tip in the same color. A monochromatic nail look with a French tip detail will convince everyone you're a true style icon.
Helpful Hack
If you want the monochromatic look this fall, deep and warm colors have the moody vibes we love this time of year. Ask for shades like coffee, cognac, camel, rust, and terracotta.
Cutesy Fall Icons Are Playful
More Details
We love elegance and glamour. We also love a simple, casual fall nail look. But we'd be lying if we didn't admit to absolutely adoring a cute fall nail design featuring our favorite seasonal icons. Ask for these darling details during your autumn manicure.
Pretty pumpkins
Multicolor leaves
Sweet apples
Adorable ghosts
Cute cats
Spiders or spider webs
Cauldrons
Witch hats
Skulls or bones
Flying bats
Vampire fangs
Cups of coffee
Mushrooms
Acorns
Owls
Try Nails the Color of Pumpkin Spice
More Details
This nail color is oddly specific, but it's too good not to try. It's not quite rust, too dark to be terracotta, and we're simply refusing to call it burnt orange. No, this is officially the color of pumpkin spice and it's the perfect shade for fall nails.
Use All of Autumn's Signature Colors
More Details
If you find yourself unable to choose between all of autumn's beautiful colors, just ask for all of them! You could easily make an ombre nail look with this approach, but choosing five of your favorite fall colors is totally fine as well. Here are a few colors you could ask for:
Mustard yellow
Gold
Olive green
Sage green
Orange
Rust
Tan
Chocolate
Coffee
Plum
Eggplant
Candy apple red
Maroon
Burgundy
Let Your Fall Coffee Order Inspire Your Nails
More Details
Getting to trade summer iced coffees for warm autumn lattes is one of the best parts of embracing fall. This is why letting your rich coffee order inspire your nails is totally suitable for the season.
Nails coated in a muted latte shade, a warm mocha brown, or a nearly black coffee hue will look stunning when wrapped around your coffee mug.
Have Fun With Poppy Red Nails
We love a classic red nail, but a touch of orange takes them from typical to sensational. Poppy red nails are fun, flirty, and bright for your autumn manicure.
Have Everyone Falling for Your Nail Looks This Autumn
From the rich jewel tones to warm neutrals, these nail looks are all so cozy for the season. Whether you choose a simple glossy manicure, a trendy French tip, or a quirky pattern, you're going to rock your fall nails with confidence.