There are smart ways to organize your purse collection to look stylish with a little know-how. It's all about smart storage ideas to keep your purses organized in the storage or closet space available.
Creative Ideas to Organize Purses
Turn loose your creative diva and get that stylish look happening for your purse collection. You don't have to go drab when it comes to organizing and storing your cherished purse collection.
How to Organize Purse Collections With Smart Cubby Look
One of the smartest looks for organizing and storing purses is with cubby hole storage units. If you don't have room to install this kind of unit, then check out shelf dividers for purse organizers that can convert your existing shelves into great cubbies. These are available in clear acrylic dividers or colored fabric dividers to coordinate with your color scheme and/or purses.
Relegate Old Bookcase for Purse Storage
You can transform an old bookcase into a stunning purse organizer. Give the bookcase a second life with a fresh coat of paint. Get creative and add a removable wallpaper in the back to coordinate with your handbag colors. If you're using a cubby design, paint the back of each cubby a different color.
How to Store Purses With a Purse Rack
A spiral handbag rack or purse caddy tucked in the corner of your bedroom or walk-in closet make a bold display that's easily accessible. If space is premium, try a handbag hanger with cloth hooks; fill it up and hang from the closet rod.
Repurpose a Chest of Drawers
If you have an old chest of drawers, repurpose it. Paint it and add a few stencils and drawer dividers. Now you have an ideal, dust-free, organizer for your clutches and mini purses. Don't have a chest of drawers? Reorganize your dresser and convert one of your drawers, add a few dividers and you're all set!
Handbag Storage With Containers and Boxes
Buy a few boxes and decorate them with fabric and rope trim to store your purses. Plastic storage containers are ideal solutions for under the bed storage options.
Repurpose a Curio Cabinet
Curio cabinets are made for displaying items. Transform your curio cabinet into a purse organizer, complete with display lights. Jazz your storage up a bit with a few silk flower stems lying on the shelf beside your purse, seashells, or other decorative objects.
How to Organize Purses in Closet
You can organize your purses in a closet with transparent dust cover storage bags. These clear plastic bags zip closed and come with handles for hanging. Perfect way to protect your favorite bags.
Decorative Baskets
If you have smaller purses, you may find a few decorate baskets placed on the top shelf a great purse storage solution. You can use different designs, patterns and colors to add interest and style to your storage area.
Expensive Designer Purse Stylish Display Idea
If you've purchased expensive purses, you want to show them off. Break out of boring storage options by displaying your cherished bags while protecting them with clear, moisture controlled acrylic cases.
Don't Forget the Shelves
Once you have them safely tucked away in the cases, you can display them on matching clear floating shelves for a truly chic storage option. Don't forget to arrange your bags by color to coordinate with your shoes.
Floating Acrylic Shelves and Pedestal Hangers
You can spotlight your designer bags with acrylic shelves supporting pedestal hangers. You can backlight your displays or use mini light strings or tube lighting for a glamorous touch.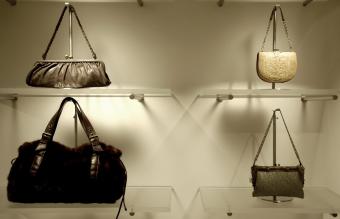 How to Store Tote Bags
Tote bags can be stored flat on top shelves. Another option is to hang totes from a hanger rack.
How to Organize Tote Bags
Organize your tote bags by size and color. Install a peg board and purse hook to place the larger totes in the back with the smaller totes in front.
How to Store Bags and Backpacks
Painted wine crafts attached to the wall or stack up and turned on their side are a great way to store bags and backpacks. You may decide you like the casual look for some of your more casual purses.
Overdoor Coat Rack to Store Backpacks
You can use an over the door coat rack for storing backpacks. If you don't have room for this type of storage, you can use a peg board hat rack to hang your purses.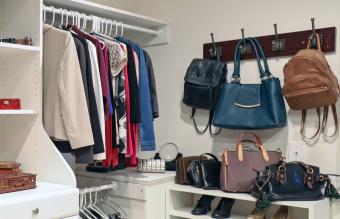 Doorknobs Make Great Purse Wall Hangers
You can get really creative with a variety of doorknobs attached to the wall or wood plaque to build a purse hanger. Use wooden drawer pull and paint different colors for a fun display idea.
Create Popular Purse Section
Set aside an area for the purses you use the most. This can be on a shelf or cubby space close to the closet door; just make sure that no matter how you store your purses, the ones that see frequent use are accessible.
Smart Ideas and Ways to Organize Your Purses
A few smart and stylish ideas can help you organize your purse. Choose one or more storage ideas for different purse sizes and styles.