The open concept and simplistic decor of the past decade is stepping aside for the collected, colorful style of the maximalist trend. Maximalist interior design is bringing back the love of print, color, texture, and luxury in modern home decor. You can achieve this glamorous look with a few professional tips on getting the maximalist style without creating clutter and staying true to your own design preferences.
Be Intentional With Pieces
One of the key factors in maximalist design is intentionality with the abundance of furniture and decor pieces. You don't want to choose items for the sake of maximalism. Rather, you want to be intentional and subtly coordinate every piece. Choose pieces that add visual interest through height variation, texture, color, pattern, and material. Opt for decor that looks luxurious - or even kitsch - in place of cutesy or overly trendy. If one element seems out of place, add another that helps blend it in or consider removing it altogether.
Be Bold With Color
One of the key features of maximalist design that differs from the characteristics of previously popular trends is bold color. Neutral colors certainly have their place within the style, but vivid color sets maximalism apart. Use a mixture of bright and bold colors in your paint, furniture pieces, and art to showcase your personal style within the umbrella of maximalism.
Create Movement
Maximalism is less about clutter and more about intentional movement. While minimalism trends of the past decade have focused on sharp, open spaces, maximalism encourages flow within a full space. Look for rounded edges on furniture, abstract designs in art and accent items, and movement within patterns and prints.
Display Your Collections
The design rule of three all but disappears in this up-and-coming trend. If you have a collection of ceramics, books, antiques, or anything else, show it off! Showcase your treasures in stylish ways on fireplace mantels, accent tables, and even on your windowsills.
Mix Your Textiles
Maximalism doesn't have to feel like cluttered chaos. Choose your pieces with thought and consider how they play with other elements in the room. An effortless way to do this well is to mix your textile textures and patterns. Combine pillows, throws, and upholstery that showcase a wide range of textiles from animal print and floral patterns to smooth leather and fluffy fur.
Play With Pattern on the Walls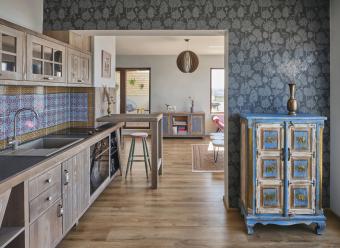 Move aside white and gray painted walls, there's a new wall trend in town. Pattern on your walls creates interest and lets you add personal flair to your maximalist style. Try vibrant wallpaper, unique tile features, and colorful accent walls as you step into the maximalist trend.
Maximize Your Plant Collection
As design trends have changed over the past few years, one element of nearly every style remains. Plants as decorative details aren't going anywhere, and they fit in perfectly with the maximalist trend. Instead of choosing one or two statement plants in your home, try a collection of flowering plants and green foliage to help amplify the green side of your maximalist style.
Decorate Surfaces Thoughtfully
For tabletops and fireplace mantels, be thoughtful in your placement of decor or art. Find balance with height and group like items together so every vignette in your room has a clear direction. For a truly maximalist fireplace mantel, less isn't always more.
Combine Glam & Vintage Details
Mixing luxurious, feminine decor with a few vintage pieces will give your maximalist style an instant eclectic vibe. The balance between old and new will help your space feel welcoming while maintaining a refined style.
Embrace Bold Patterns
A key component of maximalist design is the daring approach to color and pattern. Don't shy away from a couple of statement furniture pieces that sport an eye-catching print. A large-scale floral or a vibrant animal print will give your room an intentional shock factor that leaves your guests in awe.
Add Moody Colors
If the bright and vivid colors in traditional maximalist design intimidate you, strike a balance with a few moody colors throughout your home. Muddy shades of green and blue or muted magenta will give your interior a dark, sophisticated look. Combine these shades with light wood tones to maintain an inviting atmosphere.
Style Your Coffee Table Like a Pro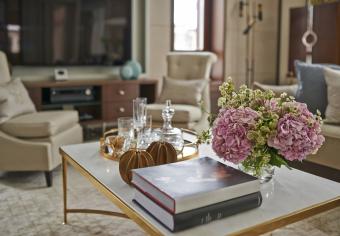 Layers, layers, and more layers. That's the key to a perfectly styled coffee table that any professional designer would approve of. Layer trinkets on books, ceramics in trays, and candles on risers for an intentional eclectic style.
Dress Up Your Walls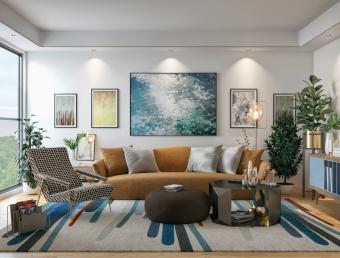 Bare walls are a no-go for the maximalist design aesthetic. Style your wall space with shelving, statement art pieces, or thoughtful gallery wall layouts. You can also add interest to walls with panel molding or hanging collections of tapestries or ceramics.
Learn How to Style Your Shelves
Book shelves, floating shelves, and built-ins are all design opportunities to show off your maximalist style. Create visual triangles with stacks of books, decorative items, framed prints, and vases. Draw the eye to mini vignettes on your shelf to create an intentional collection rather than a cluttered catch all.
Break Out the Trinkets
In maximalist style, it's perfectly acceptable to cover every tabletop space with decor. Small trinkets in collections or styled on trays will help you achieve the maximalist look elegantly.
Discover Your Signature Maximalist Style
The beautiful part of choosing a maximalist approach to your home's decor is that the maximalist design style is really an umbrella for tons of specific interior aesthetics. Inside the maximalist design category, you can choose from granny chic, general eclectic, coastal grandmother, traditional rustic, cottagecore, and countless glam styles. You can even combine styles for the ultimate maximalist interior.
Maximize Your Style With the Latest Interior Design Trend
Whether you prefer the cottagecore aesthetic or the granny chic approach, the maximalist design trend is an instant way to elevate your interior. Mixing the right textures, colors, and patterns alongside thoughtfully placed decor will help you maximize your style throughout your home.