Summer kitchens have come a long way from the early designs of 18th and 19th century homes. New, modern summer kitchens are structured more like an outdoor kitchen and entertainment hub. These summer kitchen decor ideas will help you modernize your historical summer kitchen or decorate your home's newer outdoor kitchen space.
Add Conversational Seating
Summer kitchens were once the behind-the-scenes space for meal preperation. Modern outdoor kitchens, an update on the historical structure, are an extension of the home's main kitchen and make outdoor food prep feel luxurious. While you're grilling or preparing sides in the outdoor kitchen, make sure your family and guests have a seating area that encourages conversation and leisure. A round table with cushioned seats helps everyone feel seen and heard while comfortably waiting for the meal you've planned.
Dress Things Up With Outdoor Rugs
Modern outdoor kitchens are reminiscent of the interior summer kitchens of years gone by. Bring softness and texture to your patio kitchen and dining space with elegant outdoor rugs that are soft underfoot and add modern decorative flair to the outdoor space.
Make Food Prep Stylish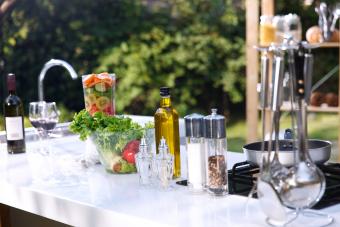 Summer kitchens of the past hid most of the sights and smells of food prep. Modern outdoor kitchens invite your guests into the prep and cooking process, so make sure your kitchen tools and utensils match your aesthetic. Mixing bowls in matching colors or patterns alongside luxurious wooden utensils and stainless steel cookware will have your guests as impressed with your outdoor kitchen decor as they will be with your meal.
Add Appliances You Love to Use
Summer kitchens centered on practicality in the past, and the modern outdoor kitchen can still have some of those essential characteristics. Make sure you include appliances and tools you will actually use regularly. If your family loves Friday night pizza, a brick pizza oven might be a fun addition. If your home is the entertainment hub for sports games and summer dining, a high-end grill will be worth the investment. Don't forget enough seating for all of your family and friends.
Incorporate Reclaimed Materials
Historical homeowners constructed summer kitchens with wood, brick, and stone. Add some reclaimed versions of these materials to your own patio kitchen for a touch of historical detail. Reclaimed materials offer character to your outdoor fireplace, walkway, posts, and even the patio covering or roof.
Mix Modern & Vintage Styles
Outdoor kitchens of current trends are mostly contemporary, but some vintage details will help your space stand out and give a nod to the historical summer kitchens of the past. Include vintage outdoor furniture in the dining area, antique ceramics for plants or food prep, and rustic details in your furniture and construction materials.
Create a Transitional Space
What sets the modern outdoor kitchen apart from the summer kitchen structures of centuries ago is how the space transitions seamlessly into the living spaces of the home. Summer houses were once completely detached from the main house, but modern outdoor kitchens usually flow from the dining or interior kitchen space in a smooth transition. Make sure your own outdoor kitchen transitions well with patio doors that open up to create a larger space or slide open for a comfortable traffic pattern. This modern take on the old style is more conducive to entertaining, preparing meals as a family, and simply enjoying every inch of your home.
Remodel & Repurpose Your Existing Summer Kitchen
If your home is old enough to have an authentic summer kitchen, this is your chance to get creative and use your design skills to create a whole new space on your property.
Add desks, computers, and a sofa for a modern home office or schoolroom.
Line the walls with shelves and add a conversational seating area for a library you can escape to.
Lay down rubber-top floor mats and add your favorite workout equipment for a fully equipped home gym.
Soft curtains, fresh wallpaper, new flooring, and an inviting bed create a restful and beautifully designed guest space.
Find the history buff within yourself and transform the space into a replica of what a summer kitchen would have looked like in the 18th and 19th centuries.
Bring the Historical Summer Kitchen Into the 21st Century
You may not need a separate room outside of your home for your meal prep, but you still might enjoy the luxury of an outdoor kitchen. Whether you're decorating a patio cooking and dining space or looking to use the historical summer kitchen building on your property, a few modern touches combined with vintage details will bring the essence of this centuries-old design element into modern day.