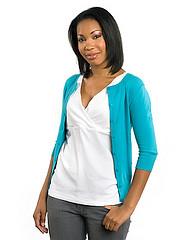 Women's cardigan sweaters are a quintessential classic accessory for cool weather fashion. Cardigans, or cardis, are available in such a wide range of colors and styles that every woman can find the perfect button-up or belted sweater to complete an outfit.
Wearing Women's Cardigan Sweaters
Cardigans offer women a good deal of versatility, as they can be dressed up or down. They work just as well in a work environment as they do for casual occasions. A style-savvy woman can create different looks from one basic cardigan. Unlike pullover sweaters, which tend to work best with slacks, jeans or skirts, cardis also pair well with dresses in a variety of styles.
In some cases, you'll find a matching shell, or sleeveless knit top, sold alongside a cardigan. These two pieces are designed to be worn together. It's a smart and easy outfit choice for times you want to grab something and go.
To look your most fashionable, try following these tips when wearing cardigans:
Tips on Wearing
Belted or not: When skinny belts are all the rage, you often see fashion magazines showcasing models wearing these accessories over their buttoned cardigans. If you have an hourglass figure and aren't petite, a belt in a contrasting color over your cardi can be a flattering look for you. However, if you're petite, keep the belt and cardigan the same color so that the vertical lines of your body aren't cut in half, thereby making you appear shorter. If you're more apple or pear-shaped and don't have a well-defined waistline, this is also a trend to skip.
Lacy designs: Some women's cardigan sweaters feature lacy details; these are great choices for evening or for wearing over slinky dresses.
Casual events: Whether it's spring and there's a nip in the air, or it's fall and you need an extra layer for warmth, cardigans are easy to carry along. In springtime, wear them when an unexpected breeze crops up; when they're not needed, tie the sleeves together and wear the sweater over your shoulders. In the fall, cardis can be worn over blouses, turtlenecks and sweater vests.
Office-friendly: A simple button-up cardigan can add a touch of easy elegance to a workplace ensemble. Cardis look just as good over dressy blouses as they do shift dresses. If your work environment is more business casual, these sweaters can be the perfect key work wardrobe pieces that you can slip into almost anytime.
Punch of color: Neutral colors such as black, tan, gray, brown and cream can match a variety of outfits that you already own. But a bright cardigan can add a punch of color to an otherwise solid outfit. Wear a vibrant turquoise cardi over a white blouse and dark slacks. Better yet, pull a color out of a pair of patterned pants or skirt and wear a cardigan in a matching shade; this pulls your entire outfit together.
Long cardigans: Cardis that fall past the hips should be paired with skinny bottoms, such as leggings. This is a look best reserved for the young, tall and leggy. A wide belt tied over the cardi, leggings in a matching or contrasting color, and ankle boots will complete the look nicely.
Where and When to Buy
Cardigans are typically sold year-round. While women who live in hot climates won't get as much use out of them all year, women who live in cooler areas can wear them in nearly all seasons. Light and pastel cardigans are perfect for spring; orange and brown coordinate with fall; and black and gray will get you through the winter. Don't forget a bright cardigan, however, for those times you need a pop of color in your wardrobe.
These retailers carry a variety of women's cardigans in a range of price points:
A Staple Accessory
Along with items such as long scarves, belts and hats, cardigans should be an essential part of a woman's wardrobe. Easy to wear and available in enough patterns and styles to satisfy every taste and budget, cardis may be your new must-have this season.