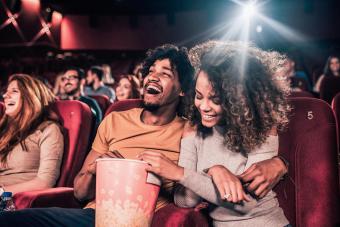 Bring the silver screen to your little screen. Your Instagram screen that is. Snuggled up in your pajamas on the couch or cozy in a reclining movie theatre seat with a jumbo bucket of popcorn, snap a photo of the memory and add a cheeky or cheesy caption to document your documentary. Or scary movie. Or rom-com. The world is your stage.
Funny Movie Date Captions Just Pop-corny Enough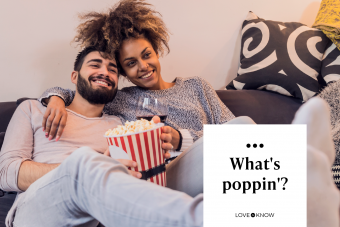 Claim your role as the funny woman with these smirk-worthy captions for your snap of movie night.
What's poppin'?
My favorite type of marathon
I reel-y love movies.
It's a-maizing how much I love popcorn.
I definitely won't be asleep in ten minutes.
I'm fluent in movie quotes.
What did the corn kernel say to his dad? Hi pop!
I know a popcorn pun but I won't tell you. It's kinda corny.
Not only is cheddar popcorn cheesy, but it's corny too.
This crime movie really steals my attention.
Short Movie Date Captions You'll Love
Keep your movie date night thoughts short and sweet; you don't want to miss the credits!
Showtime
Pass the popcorn.
Shhh, the movie's starting!
Don't make a scene.
Lights, camera, action!
Pop over for a movie.
To all the movies I've loved before
Got my snacks, got my blankets, I'm ready
Blockbuster who
Let's go to the movies.
Movie Date Captions for Scary Movies
Everyone loves a scary movie ... when they aren't alone. Which makes a scary move the optimal date night movie.
Skeletons don't have the guts to watch scary movies.
Hopefully no one boo's the movie.
Like a skeleton, I have nobody to watch this movie with.
What's your favorite scary movie?
I'm sleeping with the lights on tonight.
I'm prepared to be scared.
If it ain't scary, I ain't watching.
Checking under my bed after this movie.
My cardio is jumping during scary movies.
If you're not scared, you're doing it wrong.
Movie Night Captions for Watching Flicks at Home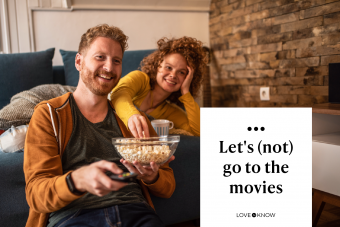 Pants are the worst, everyone can agree. So why not have a movie date night at home? The best snacks, unlimited bathroom breaks, and comfy couch snuggles. Share the joy!
Best seat in the house
Friday night vibes
Couch Potato Status: Unlocked
The living room's the stage tonight.
VIP Action
Sold out showing in the home theatre
Netflix and chill
Be kind, rewind
Dorothy was right, there's no place like home.
Let's (not) go to the movies.
A night at the [your name] Theatre
Romantic Movie Date Captions
If your favorite romance movie or rom-com is your own life, then these captions are the perfect way to capture not only your love, but the movie you'll be enjoying together.
We go together like butter and popcorn.
Showing for two
You're more than a stage to me.
Directed with love
My love language is movies.
You know how to butter me up.
There's no one else I'd share popcorn with.
Watching a movie with my own rom-com on my arm.
I don't need a rom-com, I already have a happy ending.
Lights, Camera, Caption!
Date night is the best night. And a movie date night is even better. Whether you two are cozying up with a cult classic, a hilarious new rom-com, or you're having a marathon, snap a picture before the lights dim and complete the experience with one of these captions. Fin.