Wahoo! These Mario party ideas help you celebrate with a video game character that so many kids and adults all know and love. Instead of rescuing the princess, your mission is to throw the best Super Mario Brothers party a kid could dream of. With clever food displays and tons of Mario-themed party decorations, you'll win the party game with ease.
Start With Mario-Inspired Primary Colors
Have you ever noticed the main colors in the Super Mario Brothers world? The game scenes are mostly made up of red, green, blue, and yellow in fairly bright shades. Start planning your party around those four colors - think balloons and table settings - to create a Mario party color palette Princess Peach would approve of.
Make Boo Balloons
King Boo and his minions may terrorize Mario most of the time, but they should still be invited to the celebration. Make your own Boo balloons for a simple party decoration that kids will love.
Start with plain white balloons and use markers to create the basic shapes that make up Boo's face. Remember, don't turn your back or those Boo balloons will start to chase!
Play With Polka Dots
The red and white toadstool is a signature symbol throughout the Mario world of games, movies, and comics. Pay homage to the famous mushroom in your party decorations with red decor sporting white polka dots. Plates, tablecloths, balloons, and gift wrap are easy to find in the print and tell all your guests "it's-a-me! Mario!"
Invite the Piranha Plants
More Details
It's not an official Mario party without at least one piranha plant in the mix. Make your own to use as centerpieces or party favors. Don't worry, these DIY piranha plants don't shoot fireballs.
Toss in a Few Golden Coins
This clever Mario party decor idea doubles as a sweet treat for party guests. Chocolate gold coins inspired by the ones Mario grabs during the game fit with the theme when spread across your party table or displayed in a dish near the snacks and desserts.
You can also use the chocolate coins as prizes in fun party games later on, so little guests feel just like Mario and Luigi as they compete.
Serve Italian Food
Mamma Mia! This party calls for an Italian food spread kids will devour. Try a fun pasta bar with various pasta shapes and sauces to choose from.
Italian subs are another easy way to feed a large crowd and still pay tribute to the Italian plumber duo beloved by generations.
Put Together a Piranha Plant Platter
An ordinary veggie platter just won't do for this extraordinary Mario party. Make this simple piranha plant veggie platter to get kids excited about eating veggies.
Ingredients:
Ranch or other veggie dip in a cup

Yellow bell pepper slices

Baby carrots

Cherry tomatoes

Cucumber slices

Broccoli florets

2 black olives (sub with red grapes if needed)
Directions:
Place your cup of dip in the top center of your platter, leaving room for the rest of the plant body.

Start building the flower face with the yellow bell pepper slices in a layer around the cup of dip. The layer should be about 4 slices deep all the way around.

Next come the baby carrots. Follow the same pattern in a slightly thinner layer.

Finish the flower face with cherry tomatoes by placing one around the entire circumference of the flower.

At the base of the flower face, start layering the cucumber slices to build the stem.

Use the broccoli to create branches halfway down the flower stem.

Complete the piranha plant with two olives for eyes on the top of the dip.

For an extra fun detail, place a few cheese puff balls in a bowl or scattered on the platter to act as the fireballs piranha plants often fire toward Mario.
Make It an Eatsa-Pizza Party
Mamma Mia! What a throwback! Make your Mario birthday a pizza celebration in honor of one of the classic Mario Party games from the 90s. Adults will love this little detail that takes them right back to their childhood Nintendo days of playing Eatsa-Pizza.
Serve Star Cookies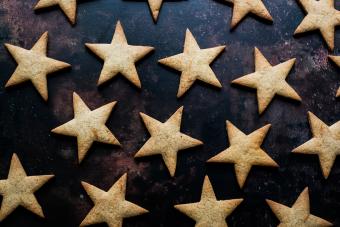 This party dessert is easy to make and features one of the most exciting details in Super Mario world. Sparkling, yellow star cookies look just like the ones from the game with those signature black eyes. Just use a basic sugar cookie recipe, frost, and use this treat on your dessert table or offer them in a goody bag as game rewards for guests.
Honor Mario With Mustache-Inspired Desserts
It's-a-me, Mario's mustache! The classic symbol of the beloved video game character will level up your party plans. Choose mustache-inspired desserts like cake pops or chocolates on a stick so guests can play as Mario before digging in.
Dish Out Character-Inspired Cupcakes
Making your own kids' cupcakes for this party? Look no further than this simple approach to Super Mario character cupcakes.
Make Mario cupcakes with red frosting and a white "M" or mustache detail.

Create a Luigi cupcake with green frosting and an "L" candy letter on top.

Present a pretty Princess Peach cupcake in pink frosting with silver sprinkle pearls and a tiara candy on top.

Bowser cupcakes are easy! Spread green frosting on your cupcakes and top them off with white frosting dollops for spikes and a ring of white frosting on the edges to create the shell.

Create Yoshi-inspired cupcakes with a swirl of white frosting and green chocolate candies to replicate his signature egg design.

Go the simple route with toadstool cupcakes in red and green, sporting white candy dots on top.
Create a Game-Inspired Candy Bar
A candy bar or dessert table will grab guests' attention - and tying in your Mario theme is easier than you might think. Start with platters and clear bowls and fill them with fun candies that represent each character.
Malted milk balls represent the explosive Bob-ombs.

Colorful chocolate eggs look just like the ones Yoshi is associated with.

Peach gummy rings are perfect for Princess Peach's representation.

Spicy fireball candies look just like the ones in the game.

Starburst candies look like the blocks that Mario ground-pounds.

Mini peanut butter cups represent the Goomba minions of the game.

Colorful jelly beans in separate dishes showcase the signature colors of the game characters.
Slice Into a Mario-Inspired Cake
The cake is the star of the birthday party show - so make it worthy of a Mario "Yippee!" Try a square cake in yellow frosting with a fondant question mark to represent the gold blocks full of coins that Mario likes to find.
A tiered cake with tons of Super Mario character representation is lots of fun. If your little one loves a particular character from the games, like Princess Peach or Toad, base the cake around their signature colors.
Swap Party Hats for Character Hats
Kids love dressing up as their most loved characters and Super Mario character hats make it extra fun to play their favorite part. Have cute Mario and Luigi hats or masks, Princess Peach and Daisy tiaras, and the rest of the gang in the lineup so little party goers can grab their fave and play the day away.
Have Video Games at the Ready
It's a Mario party, after all! So make sure kids and adults can enjoy their favorite video game world. Crowdsource your guests for some of the older systems and games and get a few rounds of Mario Kart, Mario Party, or the classic Super Mario Bros game going during the party. Who will you crown the Nintendo champion?
Pin the Mustache on Mario
It's a classic party game with a Super Mario twist. Invite little guests to help Mario find his signature mustache and pin it in place. Other variations might include pinning the spots on Toad, the spikes on Bowser, or the tiara on Princess Peach.
Send Guests on a Yoshi Egg Hunt
This fun party activity is perfect for a backyard celebration and includes one of the most beloved characters in the Super Mario gang. Much like an Easter egg hunt, this Yoshi-inspired game sends partygoers on a search for his signature speckled eggs. Fill the eggs with candy, small prizes, or yummy chocolate coins.
Replicate the Mario Party Video Game
There's a reason there are 25 installments of the Mario Party video game - it's irresistibly fun! Surprise your party guests with a real-life version of the battle royal style game.
Create a live action game board with colorful paper plates in your living room or sidewalk chalk in your driveway. Challenge players with trivia, small competitive games - think relay races and jump rope competitions. Give out chocolate coins or star stickers to keep track of points. Whoever has the most by the end of the game is the official Mario Party champ.
Host an Official Mario Kart Race
Let's-a-go! One of the most popular branches of the Super Mario world is the wide selection of Mario Kart games. Host your own real-life race by inviting guests to party at the Go-Kart track and find out who gets to take home the Super Mario racing trophy. If you're hosting your party at home, turn the kart race into a foot race and encourage kids to come dressed as their favorite driver.
Crush the Goombas in an Interactive Party Game
Kids and adults might enjoy this hilarious life-size version of Goomba stomping. Brown balloons attached to paper plates act as the Goombas hidden throughout your yard. Don't forget to draw a simple Goomba face on the front of each balloon. Break up into teams - like team Mario and team Luigi - and see who can stomp out the most Goombas before its game is over.
Set Up a Mario Obstacle Course
Everyone loves playing the original Super Mario Brothers game, but imagine getting to run through the exciting courses in real life! Free of fireball-shooting plants, of course. Make your own Mario inspired maze or obstacle course so kids can live out a shared childhood dream of generations.
Let Guests Battle It Out With a Game of Tag
Mario Kart features a fun battle play option that allows players to chase each other through a course, aiming to pop all three balloons of their opponents. Make your own version of the game for this Mario celebration.
Loosely tie three ribbons to rope or yarn belts wrapped around your party goers. Let them choose the corresponding color of their favorite Mario character. Give them a basic course in the backyard and let them play this Mario-inspired version of tag. Players attempt to capture the ribbons of their opponents and the last player standing wins the game.
You can make this a teen or adult version by replacing ribbons with balloons and encouraging guests to pop the balloons of their fellow players.
Host the Super Mario Party of a Lifetime
Grab your favorite Nintendo console and tap into that childhood nostalgia to throw the best Mario party ever. These clever ideas will have your little one and all the party guests shouting "wahoo!"
Looking for more video game themed parties? Host a fun Sonic party.